Anyone who has seen Gustavo Salazar onstage can tell he is quite comfortable there – as if that's where he was born to be. Nevertheless, he says he still feels as if he's about to faint before every one of his concerts with the National Philharmonic Orchestra. He has been one of the orchestra's vocalists almost two years now.
As in the case of many artists, Salazar was chased by music until he decided to listen the call coming from the bottom of his heart. But the decision wasn't easy. When he was a teenager, choosing to become an artist did not seem like a wise decision, so he tried five different universities, studying physiotherapy, industrial design, and education. None of these attempts succeeded in erasing the idea of becoming a musician from Salazar's head.
"When I was trying to leave music, I felt so uncomfortable. So, it's not that I chose [music]; it made me choose it. It was like: accept you are a musician, or else," Salazar recalls.
Salazar has sung with many bands, and as a soloist, has performed covers and original songs. He has recorded four original albums, one of which won an Association of Composers and Authors (ACAM) award in 2010. He also works in acting, photography and video production. He has just started a personal project Duriegna photo digital magazine and is a book finder at his wife's digital library, Libreria Infinito.
The Tico Times met the artist at the National Auditorium before one of his presentations with the Philharmonic Orchestra to talk about his beginnings, the closed doors he faced, and his experiences with the orchestra. Excerpts follow.
How did you become a musician?
In high school I started to listen to Guns N' Roses, Nirvana… At that time [many] families didn't understand what was to have an artistic child, so it was pretty difficult to tell my parents, "I like music, and that's what I'm gonna do." Everybody told me I would die of starvation working as a musician, so I tried to go to university. It didn't work. I asked myself: What are my life goals? To have a big house, a great car, and be unhappy and frustrated? Or to have a little house, like the one I have now with my wife, and offer happiness and love? I said: "No, I'd better behave like a real person." So I started to struggle. It was hard. It was painful.
When I realized I was empty, when I realized music was not about behaving like an idiot, I decided to find what it really was. I believe that something outside helps if you trust in it. I believe in God and in the Virgin Mary. I felt a lot of help from that side. I made it out [of that world], and met my wife. And I understood that fame doesn't exist, that money can't define me, and that the love of people is the only thing that matters, and how you respond to such love; in the best way you can, singing with the soul. I do what I do because it's what I like.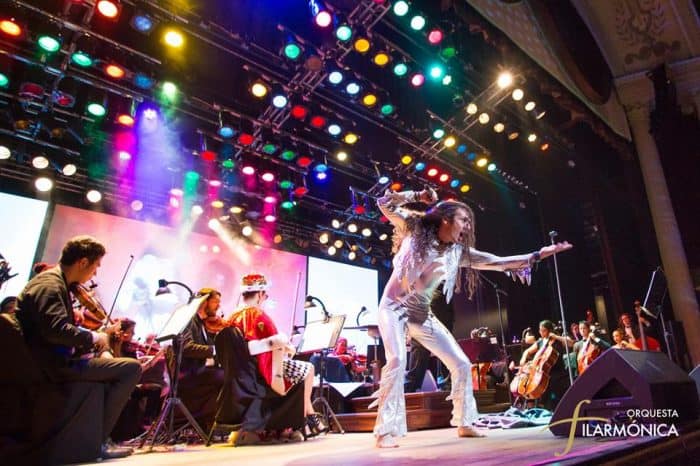 How did you become a singer with National Philharmonic Orchestra?
I was used to performing at restaurants and bars in front of 15 or 20 people. I thought I was happy like that: my wife and I managed to have food on our table. I was invited to go to an audition, but I thought "Come on, it's the Philharmonic Orchestra, and with the talent we have in Costa Rica, they will never choose me." Years passed, and another friend told me to call the orchestra. I said to my wife, "Why am I gonna call if they're gonna say no?" She said, "OK, then call to hear them say no."
They asked me to send them a video, and then they asked for more… then to do an audition. [When I was accepted], I had to learn three songs for the show "Italia con Amor." When they told me that, I started getting ready to go, and the conductor asked me, "Gustavo, where are you going?" I told him I was going to practice. He answered: "But we haven't discussed how much we will pay you," and my reaction was like, "What? You will pay me?" Honestly, if I had had to ask for a loan to pay to play with the Philharmonic Orchestra, I would have done it.
How was that first experience with the Philharmonic?
I can't tell you all the times I was about to cry, to throw up, to faint… During the rehearsals, one of the singers didn't show up. The orchestra had to practice the song and I knew it, so I started to sing so they could practice it. The conductor told me I was going to sing that one, too. I ended up singing five songs. I thought I had to rehearse under the same kind of pressure I was going to feel at the Melico Salazar Theater, so I went to the San Ramón park in the afternoons, put on my earphones, and started to sing a cappella. If I made a mistake, I started all over again. But the stress I felt was not even close to what I felt at the theater.
When I was going to sing my first song, I thought I was going to go unnoticed for being a novice, but when people gave me a standing ovation, I was crying! I can't tell you how exciting it was. Even though we later did a concert at La Sabana in front of 20,000 people, and at Parque Viva for 7,000,  that first day at the Melico Salazar Theater is a day I will never forget. It marked my life, my soul. I want to cry just remembering it.
How would you describe your introduction to Costa Rica's music scene?
Before, when there was no internet, the radio played Costa Rican music. I think that when the radio realized it had that power, it stopped supporting those bands if it didn't get anything in return. I went to knock on doors and all of them were closed. I once saw my CD under the desk of a radio programmer: he said it was lost because it has been sent to a radio station in Argentina, but really, he had thrown it on the floor… That was a terrible time, when you had to pay a lot to have one song played on the radio.
But then YouTube and Facebook came along. Saying, "Now I don't need the radio," felt so good. Some friends had to pay a ₡150,000 (about $300) to have a song played on the radio, and now I play ₡20,000 or ₡30,000 (about $40-60)  and my song can be put wherever I want. Now, it's so easy.
What is the relationship you want between the public, you, and your music?
So close, you can't see any division. I have to be onstage because that's the way people can see me, but there must be no division between the artist and the public. It's just someone from the public who went up onstage and sang. We don't have to idealize that. It is someone who will hug you and thank you for coming. We're all the same.
The relationship with music is simple to understand. I say it's like a moody lover, because if you ask music for money, it will not only not give it to you, but it will also take away whatever money you already have. If you ask music for fame, it will not only not give it to you, but the moment will come when not even your mom knows your name. If you ask music for power, it will put you at the end of the line. But if you just give it love, at some point it may love you back.