A golden opportunity for Costa Rica's golden generation turned into a dud with its ill-fated Copa América performance, where La Sele failed to follow the hype from its 2014 World Cup run.
One tie, one loss, and one win showed off the good, the bad, and the ugly of coach Óscar Ramírez's team in the most important international tournament it will play until its possible berth at the 2018 World Cup. Even with a somewhat promising 3-2 win over a Colombian side, which played mostly with its substitutes, Costa Rica's overall performance leaves behind a flurry of questions surrounding this selection's future.
Costa Rica was torn apart by the U.S. in a 4-0 clinic that exposed Ramírez's defensive-heavy scheme as extremely vulnerable, while his offense was disorganized and ineffective.
"After the United States put up a bunch of points on us it opened up room for questioning," Ramírez said. "But this is a process and there's going to be slip ups that make you stronger. We're going to keep switching things around and look for a balance here."
The optimism built up from La Sele's strong start in World Cup qualifying play, where Costa Rica leads its group with a 3-1-0 record, was wiped away in a tidal wave at the Copa América.
Now, on the road to Russia for the 2018 World Cup, what can we take away from La Sele's disappointing showing?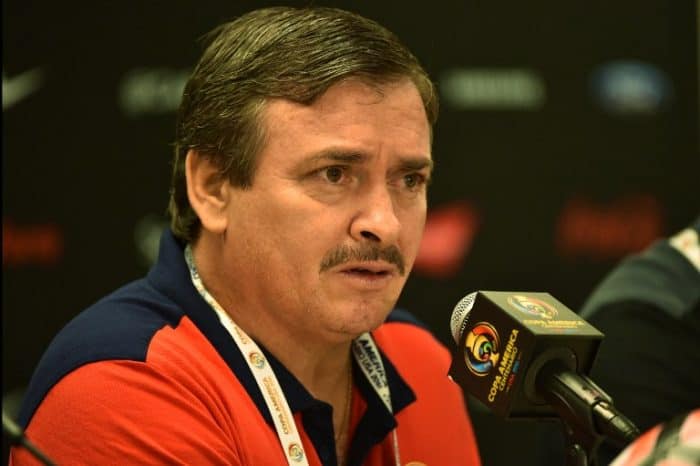 'Macho' Ramírez may not be the right fit
Following the loss to the U.S., which is likely to hang over Ramírez's head for a long time, the coach said he'd rather do well in World Cup qualifying than at the Copa América. Of course, the end goal for any country is to get to the World Cup, and do well there. But this latest tournament was supposed to be a litmus test to show how La Sele stacks up against high-caliber teams.
There's no escaping the feeling that this Copa América was an all-out failure, and not just because of the results, but because of how consistently bad Ramírez's system looked. It culminated in the nightmarish loss to the U.S., where the defense was burned time after time.
"The way that we want to play isn't just made overnight," Ramírez told reporters. "Obviously the game that bothers us the most from this tournament is the one against the U.S., but there's always going to be things to correct."
Although this team has only allowed two goals in four World Cup qualifier matches, there is now a clear problem with the five-man backline that Ramírez employs.
You can say that this team being without Keylor Navas equated to more goals allowed in the Copa, and he may very well have been able to mitigate two or three of the goals taken in against the U.S. and Colombia. Still, the insertion of a world-class goalkeeper is not the patch that this bleeding defense needs.
Both Colombia, which did not play any of its starters until the second period, and the U.S. took advantage of an undisciplined Tico backline that got caught too often in no man's land. A defense that was so remarkably cohesive in 2014 is now late to react to counters, and struggles in the middle — even with an added man.
Currently the best defenders on the back end may all be wingers, with Cristian Gamboa, Bryan Oviedo and Ronaldo Matarrita all vying for two spots. The oft-injured Oviedo came on in the second half against Colombia for his first action since October and was essential in matching up with, and largely negating, James Rodríguez, one of the planet's most feared offensive attackers.
He also chipped in on offense when he one-touched a beautiful ball from Christian Bolaños to assist Celso Borges for the game's third goal.
#CopaAméricaEnTyC ¡GOL DE COSTA RICA! Borges hizo un gol de novela. 3-1 ante Colombia: https://t.co/QoVosq2qwB https://t.co/VHLprqfHpt

— TyC Sports Play (@TyCSportsPlay) June 12, 2016
That pass to lead Oviedo was excellent from Bolaños, who looked brilliant all game against Colombia, delivering extremely precise volleys, including the assist on Johan Venegas' opening golazo. Oviedo ran to the space and made a decisive, first-touch pass into the middle where Borges did a great job of finishing.
Again, its hard to get too excited against Colombia's backups, but that play represented La Sele at its peak. Countering with confident and accurate passes down the field is where this team will excel.
"Hopefully we take the best lessons from that game going forward," Ramírez said. "I wanted to emphasize that our style wasn't lost and I think we recovered it against Colombia."
If Ramírez wants to stick to his five-man line, it may end up hurting him down the road. He should seriously consider moving up the young Matarrita, who is prone to get beat, as he did repeatedly while up against the wizardry midfielder Juan Cuadrado in the second half of the Colombia game.
Matarrita remains too valuable of a counter-attacker for La Sele to keep on the bench, and could fit better on the left wing in a four-man middle alongside Bolaños, Borges, and captain Bryan Ruíz.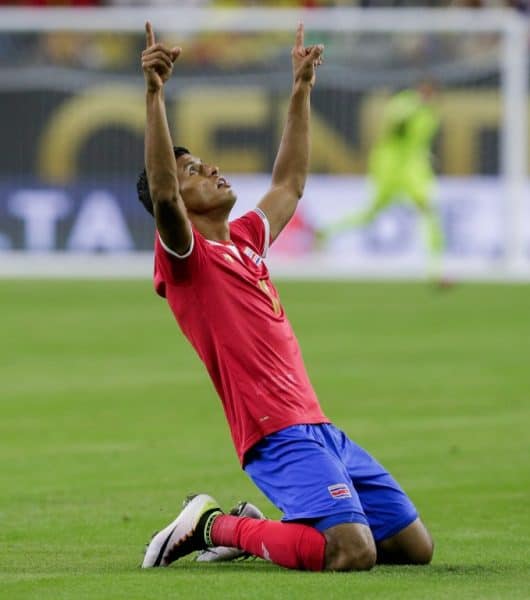 Lack of scoring threats
Once such positional move already paid off dividends for Ramírez when he put usual midfielder Venegas in the starting striker role. The 27-year-old looked like the best player on the field Saturday night.
In La Sele's stalemate against Paraguay and its disaster against the U.S., it was rare that the offense provided real, goal-scoring threats. A lot of that had to do with a midfield that looked rattled and in flux, but forwards Joel Campbell and Alvaro Saborío didn't help at all.
That's why Venegas' emergence Saturday should merit more games at striker, although his coach pointed out the luxury of having players like him who are multifunctional.
"He's a utility player and with him we're arriving to a tactical point where we can switch around players on the field and not have to make those changes from the bench," Ramírez said.
Also, the injured Ariel Rodríguez, who scored in the friendly against Venezuela leading up to the tournament, may deserve a look for that role.
Ramírez is now tasked with doing anything he can to find more consistent magic on the front end. In this team's biggest test in two years, La Sele came up short at crucial moments. Campbell, though at times this team's best talent on the offensive end, is still far too inconsistent to make opposing defenses always have to worry about him. In front of him, striker Marco Ureña gives the team very little boost.
If this team is not going to play consistent defense against high-quality opponents, then it needs a way to apply pressure from the front. The midfielders, who should be this team's best group, disappeared for large portions of the Copa América.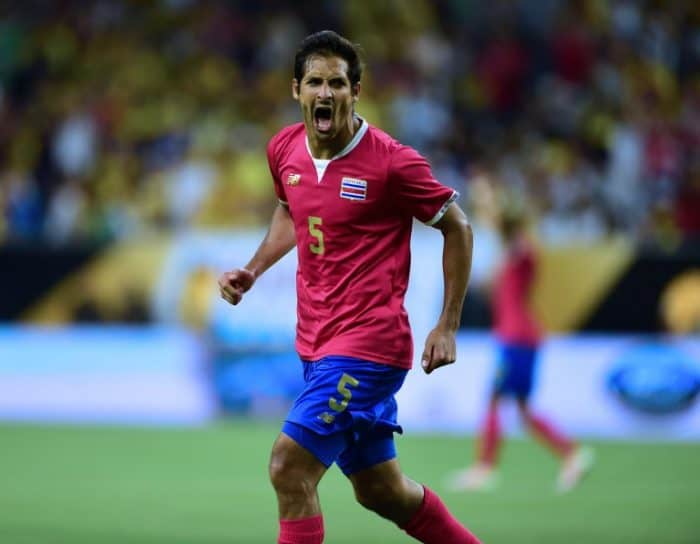 Window closing on golden generation
Early elimination and a less-than-mediocre performance have made it clear that there is a real risk/reward element to keeping Ramírez at the helm for the 2018 World Cup. Though no change will be made before then, barring a total collapse in qualifying play, there is nothing to suggest this team would have any chance of advancing past group play in Russia following its flop in the U.S.
Looking at a clear void of talent in the upcoming generation, Costa Rica needs to get as much out of its current group as it can. Stars like Navas, Ruíz, Borges and Campbell not only provide the best nucleus of talent this country has ever had, they're all playing well overseas in some of the world's top leagues.
Center backs Giancarlo González, who was held off the Copa América roster, and Óscar Duarte are solid talents also playing within Europe's top five leagues, but have been out of form lately. It's fair to call into question whether their dip in play, and the defense's overall decline, coincides with the coaching changes made after the 2014 World Cup when successful headman Jorge Luís Pinto parted ways with La Sele.
Ramírez has tried to reform the once-dominant defense, but it's been a somewhat blundering attempt even in the victories he's had during his 10-month tenure to create the controlling backline he's envisioned.
Behind its core group of players, Costa Rica should be the second best team in CONCACAF next to Mexico. That's why the way in which it lost to an average U.S. team is so disappointing.
The coach sent a message to the fanbase after the U.S. loss apologizing for the lopsided score, but not for the way Costa Rica played football. That's a statement that fans are only going to hear as stubborn from a coach whose scheme was so roundly beat.
If this team doesn't string together another solid outing the next time it is put on the international stage, any more apologies may just fall on deaf ears.