CHICAGO, Ill. – Sometimes all it takes is one loss for the heat to start turning up on a coach. Considering that Tuesday's 4-0 debacle against the U.S. in a crucial Copa América match was uglier than any loss in recent memory, doubt has started to surround Ramírez's role as La Sele's leader.
"I understand there's going to be a lot of questions coming my way," he said. "I didn't want this to happen but it happened and I have to push it out of the way."
Ten months into his tenure as the head coach of the Costa Rican men's national team, Ramírez has enjoyed a good showing in World Cup qualifying play, where La Sele is well on its way to advancing to the final round. But it's going to be hard to erase away the glaring stain created when an inconsistent U.S. side going through turmoil dominated Costa Rica on every level.
Ramírez, however, said he didn't see the 4-0 blowout in the same way that most fans are sure to remember it. He called it one of the strangest games he's ever coached.
"I thought in terms of football style we were superior," Ramírez said. "We had more control. But that's football and with the goals I thought the U.S. hurt us in a big way. They hit us in the biggest moments."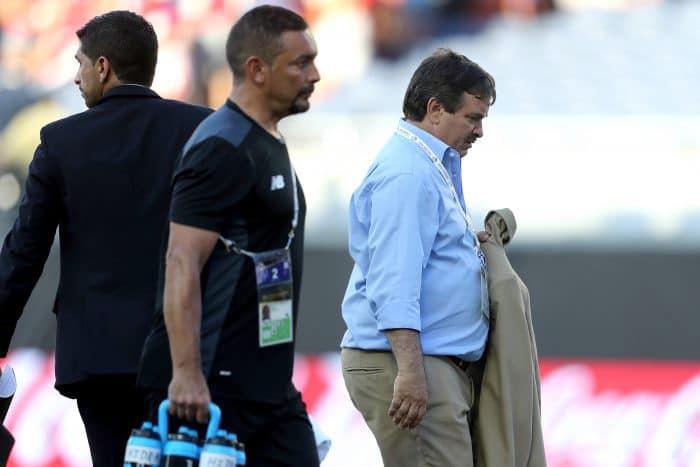 To suggest you were the better team when you lost by four goals is one thing. To suggest you were the better team when you lost by four goals with defenders who seemed dizzy from confusion and an offense that couldn't string together anything resembling an attack seems borderline delusional.
Against the U.S., Costa Rica looked like the better team for all of seven minutes. Then, when a questionable call on Cristian Gamboa inside the box led to a Clint Dempsey penalty kick, La Sele became overwhelmed.
Stealing an early goal can often turn the fate of games, but it provides little excuse for a team to implode the way Ramírez's group did. His beloved five-man backline was outpaced again and again by a U.S. attack that Colombia wiped away just days before.
Defender Óscar Duarte was slow to react on the second and third goals from the U.S. and the backline lagged consistently near the end of the first half. Costa Rica was lucky the U.S. didn't score five goals in the first period; forward Gyasi Zardes botched a pair of goal-scoring opportunities.
"I apologize to Costa Rican fans for the score, but not for the way we play football," Ramírez said. "I prefer this result come in this tournament rather than in World Cup qualifying."
It was a horrible game from the front of the field to the back for Costa Rica. And that happens. But what's most worrisome for the Ticos is that some ugly patterns are starting to form. Offensive catalysts like Bryan Ruíz and Celso Borges have disappeared for long stretches of games, lacking the creativity this team needs if it's going to score against improved competition.
Another bad sign is that Ramírez's defensive backfield gets beat far more often than it should, which is a trend that became most noticeable in the 1-1 World Cup qualifier tie with Jamaica, where the Reggae Boyz stretched the field on Costa Rica and used their athletes to speed by defenders on long volleys and opportune crosses.
Without Keylor Navas, or even usual backup Esteban Alvarado, the defense has to rise to the challenge and realize they don't have the usual security blanket behind them. Not only did they not respond, they looked lifeless in their most important match in this "group of death."
The difference between Keylor Navas & someone who's not Keylor Navas: the US have scored with every shot on target. https://t.co/0bKMIBEbpE

— Sam Kelly (@HEGS_com) June 8, 2016
"If we want to be among the world's best, then we need to take care of the ball," said starting wing defender Gamboa. "They came in the area three times and got three goals, plus the penalty, and that doesn't reflect the type of football we're used to playing."
This tournament is useful for Costa Rica and other CONCACAF teams, like the U.S., to measure themselves against the powers of South America. U.S. head coach Jurgen Klinsmann said Tuesday night after the game that his team watched Monday's battle between Argentina and Chile in total awe of what the two world powers were able to do on the pitch.
"We were exhausted at halftime just watching it," Klinsmann quipped.
But Costa Rica should be better than this once-struggling U.S. team, or at least competitive in a meaningful game. The only thing anyone has learned from Costa Rica in this tournament is that it might be in over its head against top-level competition right now. And, for sure, this team is a far cry from the defensive power that toppled giants like Italy and Uruguay in the World Cup two years ago.
"Since I've been on La Sele, we've had these tough games that wake us up a little bit," Borges said. "We've got to see where we can improve. Right now it's difficult, of course, because people are going to be disappointed."
Though there should certainly be concerns when looking at this team's talent pool for the future, the core group that made it to the quarterfinals of the World Cup in 2014 is still around. What's clearly lacking is creativity on offense and consistency on defense, both problems that Ramírez must solve on this team's road to Russia.
The disappointing blowout has virtually disqualified Costa Rica from the Copa América already, but there are still successes to look forward to if Ramírez can correct problems that the U.S. had no trouble exposing.
"I'm a football man and I know that these things happen," Ramírez said. "I can't go crazy over it. We can't start thinking that because of this beatdown, nothing works now."