When the 89-year-old man with his belly protruding from his half-buttoned tropical shirt poured me a full shot of contraband guaro at 10 o'clock in the morning, I really had no choice but to take it.
I looked at the warm, gold-colored drink with some suspicion before I glanced back up at Napoleón "Don Polo" Arias, who was giggling at the sight of a Gringo drinking contraband guaro, also known as chirrite, for the first time.
"That's one way to wake up," I said.
"I think I'll take one, too," Don Polo said before pouring himself a healthy glass of Costa Rica's moonshine equivalent.
On a recent Sunday morning, Abdenago Torres Meléndez, a celebrated musician better known as "Nago de Nicoya," took me over to meet Don Polo and get a better idea of Guanacastecan culture, specifically homemade guaro. Little did I know we would go on to drink a whole bottle of the stuff with Don Polo before noon, as he told us stories collected from nearly a century-long life and sang original folk songs with his son Efraín Arias.
"Lloramos con locura / No me importa lo que digan los demás / Estoy tomando porque me haya traicionado / Estoy llorando porque dice que se va"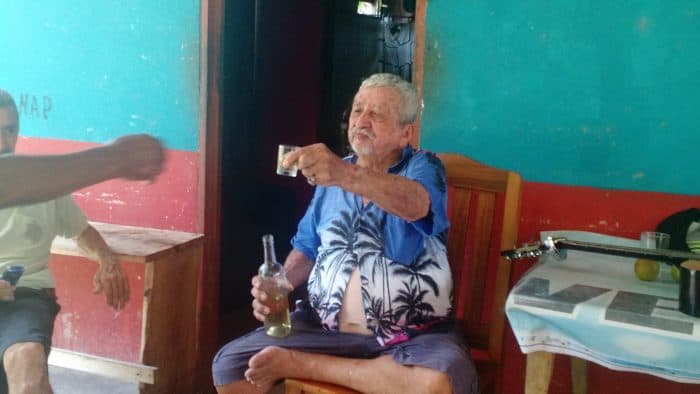 Contraband guaro is notoriously strong, and the batch that Don Polo had received from Santa Barbara de Heredia was no exception. Don Polo adds honey to each bottle of the corn-made liquor, crediting that for being the secret to his longevity. And he's been drinking the stuff for so much of his life that he remembers when the authorities used to bust contrabando producers and sellers.
"Nowadays the cops in the area come by to take drinks of it with Don Polo," said Torres.
Neighbors and family members stroll through Don Polo's porch as casually and as frequently as if it were their own home. And for each one, Don Polo is waiting to pour a drink or regale with a song, even when his hospitality is taken advantage of.
Just recently, a pair of kids from the neighborhood had come to ask for a drink of the contraband guaro that a family member brings regularly to Don Polo's house. After accepting a customary shot from Don Polo, they stole his shoes and ran off.
"So ungrateful," he said. "¡Hijueputas!"
The man who turns 90 in September shows no signs of slowing down, except for a small cough that's been bothering him. He said he has somewhere between 19 to 22 children, 85 grandchildren, 40 great-grandchildren, and four great-great-granchildren, making him something like the Genghis Khan of Guanacaste.
As the sun grew hotter and the air filled with dust, Don Polo unveiled more and more of the anecdotes that make him so beloved in the area.
One time, Torres was the guest of honor at a Liberia music competition and he took Don Polo as his guest to perform at the contest. When Don Polo walked on the stage, Torres said there were some people in the audience that laughed at the old man.
"They looked at him and thought he was some bum," El Nago said. "Then he started playing music and everyone that was laughing at him started cheering."
Don Polo ended up winning the competition, which was voted on by a panel of judges.
Torres told another story about a time a decade or so back when he came over to Don Polo's house to play music. As he approached the door he could hear music blaring and saw disco lights coming through the windows. Then, when Don Polo opened the door, Torres looked over the old man's shoulder to see two naked women dancing behind him.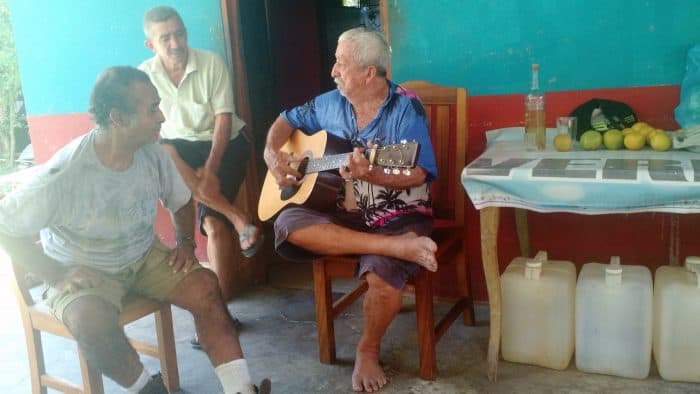 Though he's been blessed with good health, and a tolerance for booze that would make a frat boy blush, Don Polo said his hasn't always been the easiest of lives. He started working in the fields with his family in San Ramón when he was 12 years old, picking and harvesting a variety of crops. Though as he sees Guanacaste change with the added influx of tourism and foreign money, he said he learns to appreciate his modest means even more.
"I would rather have this life," Don Polo said. "The life of a millionaire seems horrible to me. They take everything. They take land, they take women. But they don't know what to do with it."
Incredibly, Don Polo said he didn't start to play the guitar until he was 30, around the time he started to drink guaro.
"I always had to work when I was younger," he said. "There was no time for anything else."
Don Polo said the hardest part of his life is having seen friends and family members, including his own children, die over the years.
"Life is like that," Don Polo said. "Old people die around you and then the next generation comes up and they die, too, while you're still here."