A tiny town in Naranjo, Alajuela, is once again home to the best coffee in Costa Rica.
On Friday evening, judges named Francisco Mena of Monte Llano Bonito in Lourdes, Naranjo, the winner of the 2016 Cup of Excellence prize. Mena's top-rated coffee came in with a cup score of 93.4 out of 100 points possible. This is the fourth time a farm in Lourdes has won the Cup of Excellence.
The top finalists were a "Who's Who" of Costa Rican coffee, including past Cup of Excellence winners Manuel Antonio Barrantes of Cafetalera Herbazú, Luis Enrique Navarro of Monte Copey and María Mayela Quesada of Agrícola del Cafetal MEDN.
Cup of Excellence has been organized here since 2007 by the Specialty Coffee Association of Costa Rica with the aim of finding the country's best coffee. Winners have their coffee auctioned internationally for sums of money that could be life-changing for some small farmers.
There were 54 coffees out of 123 entries that qualified for judging. The 21 finalists whose coffee scored 86 or more will have their lots auctioned on June 21. The bidding for each lot will start at $5.50 per pound. The coffee from the 2015 winner, Barrantes, sold for $41.20 per pound, totaling more than $64,000 for the lot.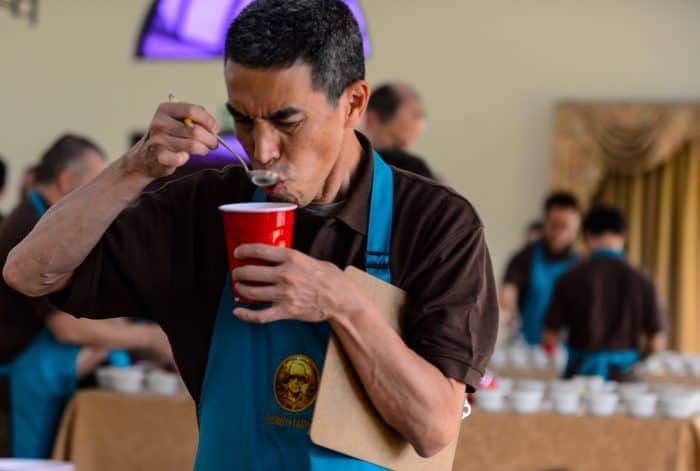 Still room to grow
The first Cup of Excellence was held in Brazil in 1999 as a way to demonstrate that there was amazing coffee hiding in the bulk coffee sold at the time. Susie Spindler, executive director of the Alliance for Coffee Excellence, which oversees Cup of Excellence competitions around the world, told The Tico Times that competitions like this one have helped drive the growth of the speciality market.
Today, specialty coffee roasters and retailers like Intelligencia, Stumptown, Counter Culture, and Blue Bottle have latched onto these unique varieties and micro-lots and helped push the demand for high-quality coffee.
"When the industry figured they could find these, they started asking for it. The famers then said, 'Oh, OK.' It all just sort of happened at the same time," Spindler said. "Without this transparent discovery process, it never would have happened."
Buyers like Nordic Approach's Kaya Caretta are part of that discovery process. Caretta, a first-time judge, said African coffees have a big market share in Norway but Costa Rica's reputation is growing there.
"People are starting to ask for it because people are doing different varieties, new processing. They're still experimenting and doing a lot of new stuff," she said. "Right now, there's a demand for Costa Rican coffee in Norway."
The same goes for importers and roasters on the other side of the world. Kentaro Maruyama of Maruyama Coffee Roasters in Tokyo, Japan, was another judge this year.
"Costa Rica is always doing something new," Maruyama said. "It's the best place to come to see new innovation."
He's been cupping coffees in Costa Rica since 2002 and said there is a "big difference" in the quality of the coffee since he took his first slurp here. Maruyama said Costa Rican coffee's acidic notes could be a turn-off to the Japanese palette, but the clean-tasting coffee coming out of the country today is a hit there.
"Japanese customers generally don't like acidity but if you offer them nice, well-refined acidity, they like it. Costa Rica has that quality," he said.
The search for that quality is ongoing, even after nine years here. Spindler said there is still a lot of untapped potential here. Even first-time entrants can come out the shadows and win the top prize.
"It happens more often than you think," she said. "There are still farms here that are languishing in anonymity and probably could produce great, blow-out specialty award-winner coffee."