The Legislative Assembly's environmental affairs committee on Thursday approved the draft animal welfare bill, which sets harsher punishments, including prison time, for abusing or killing animals.
The bill would also penalize bestiality and organized animal fights.
The draft bill was submitted by lawmakers from the previous legislative period, but its discussion and approval began just over two years ago.
Among its main provisions, the bill sets prison penalties for animal cruelty and also penalizes some activities deemed cruel such as animal fighting.
The latest hurdle for the bill's approval were two articles opposed by National Liberation Party (PLN) legislators Aracelly Segura and Juan Marín. Both had requested that the bill be amended to include an exception for events deemed "traditional," such as horse parades, rodeos and Tico-style bullfights. Marín even threatened to file more than 200 motions against the bill to prevent its approval if such an exception wasn't included.
All other committee members initially opposed the changes, believing they could open the door to legalizing, for example, cockfighting. Committee member Marcela Guerrero from the ruling Citizen Action Party noted that the spirit of the law proposed "to punish abuse against all kinds of animals, not just pets."
The approved draft now exempts the use of animals in traditional celebrations as long as the events are permitted by the Agriculture and Livestock Ministry (MAG) and the Public Health Ministry.
Prior to the vote on Thursday, committee chairman Abelino Esquivel submitted for approval more than 70 motions filed by various lawmakers, mainly from Libertarian Movement lawmaker Otto Guevara. Most of those motions were rejected unanimously.
Following the vote PLN's Marín said he was satisfied with the exclusion for public events.
The approved draft also was amended to reduce prison penalties, as lawmakers considered some of them disproportionate.
The original draft bill proposed penalties of up to six years in prison for animal cruelty or killing an animal (livestock and other animals raised for human consumption are excluded). The current draft now sets separate penalties for cruelty and death.
Those found responsible for causing the death of an animal now will face sentences ranging from six months to three years. It also sets monetary fines of up to $1,600.
Animal cruelty or abuse will be punishable with prison time from six months to two years and fines of up to $1,300. The bill describes abuse as any action affecting an animal's health, including the loss or disabling of a body organ.
It also includes penalties for those who promote animal fights, perform sexual acts on animals or practice vivisection on them for purposes not related to scientific research.
Funds collected from fines will be used to fund MAG's National Animal Health Service.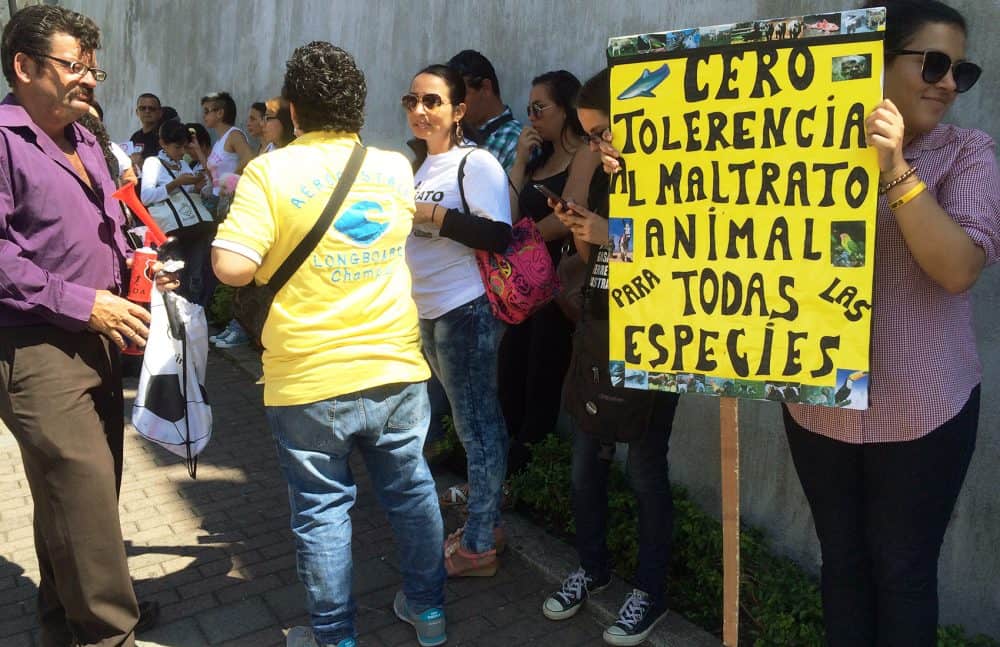 Long road
The animal welfare bill was originally introduced during the 2010-2014 legislative period by Accessibility without Exclusion Party lawmaker Rita Chaves. But it never had enough support to move forward on the Assembly's agenda, mainly because most legislators believed the proposed prison sentences were too harsh.
The bill also faced opposition from various industry groups such as the Agriculture and Agribusiness Chamber, and pork and cattle producers.
During the session, dozens of animal rights activists protested in front of the Legislative Assembly. They chanted slogans, played music and displayed banners with messages demanding the adoption of the law and asking lawmakers to stop animal abuse.
Among those messages was one that started circulating on social media in recent weeks as a reaction to lawmakers' attempts to eliminate prison sentences and monetary fines from the proposed bill. Opponents called this version of the bill the "Ley de Mierda" (Shit Law), saying it would only serve to punish those who failed to clean up their dog's poop from sidewalks.
PLN legislator Ronny Monge said the approved draft has the support of 32 of the Assembly's 57 lawmakers, therefore committee members believe the bill has a good chance of passing the full Assembly during the current session that ends in April. The Legislative agenda during this extraordinary period of sessions is led by the executive branch.
Monge recalled that passing the animal welfare bill was one of the promises made by President Luis Guillemo Solís during his campaign. He said he hoped the president would table some other bills in favor of the animal welfare bill so that it can be voted on as soon as next week.
To become law the proposal must be discussed and voted on by the full Assembly in two separate rounds of voting.