MONTREAL – Canada as the birthplace of hockey faces the humiliating prospect of not fielding a team in the upcoming National Hockey League championships for the first time in nearly half a century.
To find any mention of a Canadian team in the NHL rankings this season, you have to read the list upside down, in fact.
In the Western Conference, Edmonton, Calgary, Winnipeg and Vancouver trail. In the Eastern Conference, the Toronto Maple Leafs are dead last, while Ottawa (11th) and Montreal (13th) are hoping for a miracle to boost their respective standing and get into the playoffs in April.
The season started off well for the Montreal Canadiens, with nine consecutive victories, achieving the best start in the team's history. Fans dreamed of a championship parade through downtown Montreal's main St. Catherine Street.
The last time a Canadian team won the Stanley Cup was in 1993, when Montreal trounced the Los Angeles Kings.
This season Montreal's star player, goaltender Carey Price, has been benched due to a "lower body" injury suffered at the end of November.
Cost of losing Price
Without Price, his teammates have struggled, losing 24 of their last 35 games, earning jeers from fans who are arguably among the most devoted in sports.
In the bleachers at Montreal's Bell Centre and in pubs around the city where hockey is considered a religion, rumors are rife: What is the extent of Price's injury and will he return to the ice this season?
Meanwhile, in Alberta, the heart of Canada's oil industry, playoff hopes also evaporated suddenly.
The Calgary Flames were widely expected to shine after an amazing last season and a strong start in 2015-2016, led by Bob Hartley, who has been voted the best coach in the league.
But a strong offense led by forward Johnny Gaudreau failed to make up for weakness in the team's defensive lines.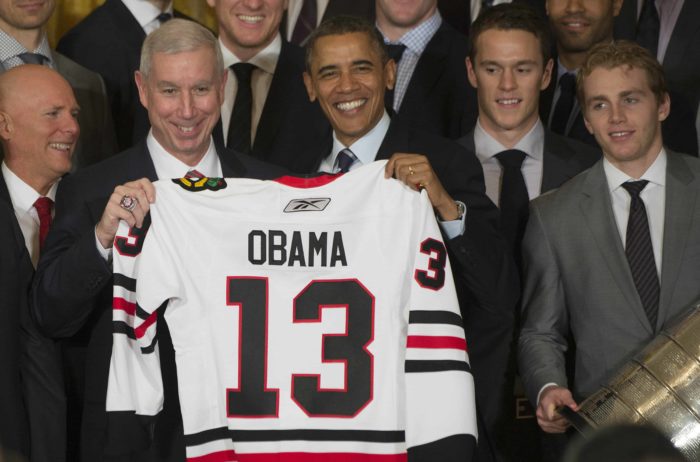 Obama, Trudeau drop gloves
In Edmonton, a few hours drive from Calgary, the Oilers' rookie Connor McDavid wowed with his masterful stick and puck handling, but injuries and a porous defense would be this team's undoing, precipitating its fall to last place in the Western Conference.
Currently this season, Toronto has the worst league record with a mere 21 wins in 60 games heading into Monday's contests. Looking to shake things up, the team recently traded some of its veteran players, including captain Dion Phaneuf, for a slew of young rookies.
If no Canadian team should participate in the playoffs, as in 1969-1970, when the NHL had only 12 teams, Canadian broadcaster Rogers Media Inc. — which paid a record $5.2 billion in 2013 for the multi-year rights to show games in Canada — and sub-licensees including French-language broadcaster TVA can expect a significant drop in viewership, accompanied likely by a collapse in advertising revenues.
Ahead of Canadian Prime Minister Justin Trudeau's upcoming state visit to Washington on March 10, U.S. President Barack Obama recently teased that his hometown Chicago Blackhawks were the defending NHL champions.
"We've got a state dinner with Canada coming up, so we may just leave it [the Stanley Cup] right in the middle of the room," Obama said to applause from the Blackhawks visiting the White House. "We'll see. We could gloat a little bit."
Trudeau immediately shot back, saying in a Twitter message that he would bring Canada's 2002 and 2010 Olympic hockey gold medals to show off at the dinner. The United States finished second in both contests.