Prosecutors painted a dark portrait of 53-year-old real estate developer Cyrus Sepehr in their closing arguments Friday, saying the U.S. citizen defrauded plaintiff Dan Kohanarieh of nearly $8 million in failed property partnerships.
In arguing that Sepehr's alleged scam has tainted the national image and potentially soured it in the eyes of investors, a prosecutor asked that Sepehr be sent to a Costa Rican prison for 20 years.
Both prosecutor Miguel Villalobos and attorney Alfredo Chirino made impassioned claims against Sepehr and Kohanarieh's former business partner Ali Moradshahi, who cannot attend the trail because of his failing health. At one point while Chirino was making his case for Sepehr's conviction, defense attorney Guido Nuñez interrupted Chirino to request to the trio of judges that he stop hurling insults at his client. Meanwhile, the 53-year-old, who has been in preventive prison since September and suffers from crippling post-polio syndrome, sat across the room in a wheelchair with a court translator repeating the words in English.
"They gained enough trust from Dan to get his money arriving in their bank accounts," Chrino said. "They gained enough trust from him to have him to get into waters where a shark was waiting for him."
Chirino argued that, beginning in 2007, Sepehr and Moradshahi worked together to swindle Kohanarieh of four property deals in different locations throughout the country, including the towns of Santa Ana in the Central Valley and Quepos on the Pacific coast.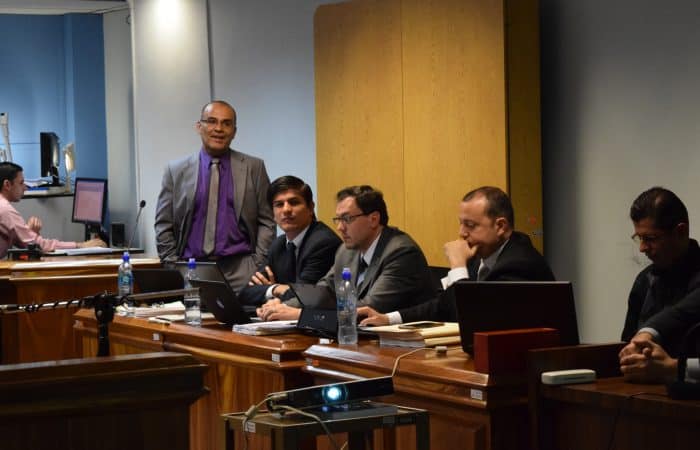 Kohanarieh, who is also a U.S. citizen, testified Thursday, Feb. 4, and said he was responsible for money that his investors gave him to develop Costa Rican properties. He said that he has never been given access to any of the four disputed pieces of real estate even though he principally agreed to a one-third ownership deal on all properties with Sepehr and Moradshahi.
"As far as I know on the books of record, I'm not the owner of anything," Kohanarieh told judges last week.
He said he gave a total of $7.2 million to Sepehr, who opened up a large number of corporations to put each property under. Along with Moradshahi, the two investors were set to put a combined $13 million into a shopping center project in Santa Ana but the plan never materialized.
"We did not make the decision to make the investment because Cyrus kept changing the project," he said. "He never had any intentions of actually building anything so all the conversation was just to get us to commit more money."
In an earlier interview in San Sebastián prison in San José, Sepehr had told The Tico Times that all of the transfers for the four properties in question were made legally and that the properties belong to Kohanarieh. The defense is expected to give its rebuttal when the trial resumes, and potentially concludes, on Monday.
Nuñez said that Sepehr's preventive prison sentence expires on Tuesday, although it would take a separate court order to release him from the overcrowded prison in the southern part of the capital.
Costa Rica's Constitutional Chamber of the Supreme Court in December ordered that Sepehr be released from prison and put into a medical clinic or under house arrest if authorities there cannot provide him proper medical treatment. Sepehr told The Tico Times that he can go days without eating or drinking without guards noticing because he is afraid to go to the bathroom at night since his disease has left him unable do so without assistance.
Prison system director Reynaldo Villalobos, however, told The Tico Times that Sepehr is being adequately cared for in preventive prison.