GERMANIA, Honduras — Hondurans ushered in 2016 on Friday by burning symbols of last year's problems — an effigy of President Juan Orlando Hernández among them.
Wooden representations of a former president, Rafael Callejas, who was also an ex-football chief caught up in the FIFA corruption scandal, and symbols of government graft and violence also went up in flames overnight.
The New Year tradition, held across cities and towns in the Central American nation, is meant to burn away the "bad things" of the passing year to make way for the new, positive ones.
The effigy of Hernandez sitting in a mock-up locomotive was torched in the town of Germania, just south of the capital Tegucigalpa.
One of the man who made it, a 64-year-old owner of a tire-repair business named Francisco Cruz, explained: "The locomotive is Honduras, and the president is the driver driving the country to ruin."
Another resident, Francisco Luis Lagos, 38, added that the effigy was a form of protest meant to show that "the people are unhappy, we can no longer handle so much violence, so many deaths."
Country of violence
Honduras is ranked as one of the deadliest peacetime countries in the world. Along with neighboring El Salvador and Guatemala it is prey to vicious gangs given to widespread murder and extortion.
That violence, along with rife corruption, unemployment and poverty, have pushed many in the three countries, often called the Northern Triangle, to try to emigrate to the United States.
"This country is a disaster because of the corruption, because — even though they try to cover up the statistics on violence — there are massacres everywhere," Lagos said.
Some of the incendiary anger was also directed at Callejas, who in December flew to the United States to face charges that he was part of a cabal of FIFA officials who took bribes in exchange for handing out lucrative broadcast rights of football games.
The former president — who was also accused but not convicted of graft in his country dating back to his years in power between 1990 and 1994 — pleaded not guilty.
He has been released after posting a $4 million bail, pending trial in the United States.
Otoniel Martínez, a 40-year-old upholsterer in Germania, built an effigy of Callejas boarding a plane.
He told AFP that each year he builds figures representing the past year's major news event in the country.
His latest work "symbolizes the corruption in FIFA and that in the United States they are going to put him in  prison… because here he got 11 get-out-of-jail free cards."
Martínez disagreed about mocking up President Hernández to be consumed by flames, however.
"The president is doing good things, the number of murders has gone down," he said.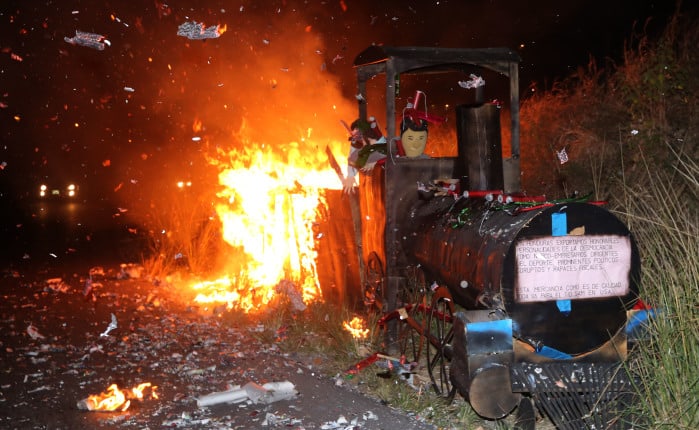 'Nightmare' in Honduras
In the next village, a cardboard mock-up of a ballot box marked with the words "Corruption," "Poverty," "Impunity" and "Violence" goes up in a blaze.
One resident, Vilma Matute, explained that the annual tradition was a way to "vent over the past and to hope for new things for the coming year."
Not all is political, however.
In the nearby town of Ojojona, where work is focused more on creativity and structural design, the effigies included a two-meter high werewolf and a giant model of Freddy Krueger, the razor-fingered villain of the "Nightmare on Elm Street" horror films.
But even there, residents cast their work against the real-life conditions they live in.
"Krueger is a nightmare character, and what we're living through is a nightmare with so much violence," said its 24-year-old builder, Walter Hernández.