CARACAS, Venezuela – The Venezuelan government lost control of its National Assembly early Monday morning, a major electoral defeat that revealed the deep discontent with President Nicolás Maduro's socialist administration and the country's unraveling economy.
The victory by the opposition coalition set the stage for further confrontation and could energize a movement aiming to remove Maduro from power before the end of his term in 2019. The result also marked a turning point for the "revolution" launched 16 years ago by the late Hugo Chávez.
About a half hour after midnight, the head of the country's electoral body announced that the opposition coalition had won at least 99 of the 167 legislative seats. Cheers went up at the opposition's campaign headquarters in a Caracas hotel. Another 22 seats had yet to be called, giving the opposition a possibility of winning an even larger majority.
The country has experienced a wrenching economic crisis in recent years. Opponents blame government mismanagement; Maduro – who is a tireless critic of the United States, as Chávez was – blames enemies in the business community for sabotaging the economy to turn people against his government.
"I can say today that the economic war has triumphed," Maduro said in a televised address. He added that he accepted the results.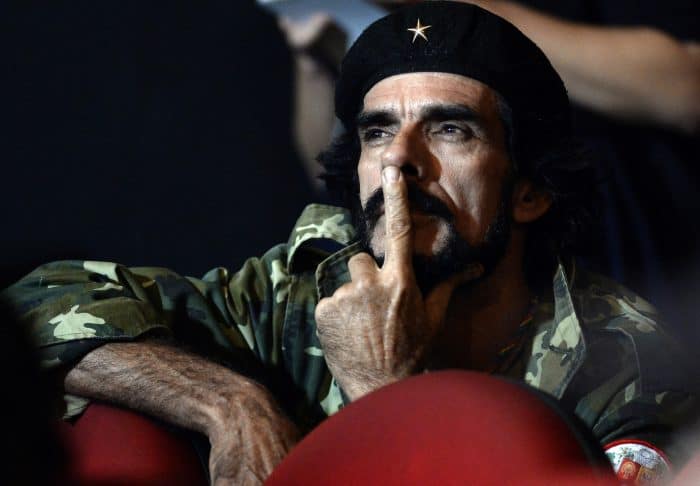 As oil prices have plummeted, sapping revenue from the country's main industry, the crisis has worsened, causing widespread shortages of basic goods and soaring inflation. Venezuela also has faced rising crime and one of the highest murder rates in the world.
The mounting problems have energized opposition candidates in the election for the 167-seat National Assembly. Their supporters hope they can seize a majority and begin to roll back the power of Maduro's government. Polls showed the opposition coalition, known as the Democratic Unity Roundtable, leading by around 20 percentage points, but pollsters said the gap narrowed in the days before the election.One of the opposition's prominent leaders, Leopoldo López, has been imprisoned by Maduro's government for almost two years.
Tension has been building as opposition protests have grown. Depending on the reported outcome of the Sunday's election Sunday, fears are growing that those protests could sharpen considerably. More than 40 people died during street protests last year.
Maduro threatened last week to take to the streets with his supporters if his side lost its majority in the assembly, although he backed away from those warnings Sunday. The two sides remain determined enemies; opposition leaders say they haven't talked to government officials in more than a year.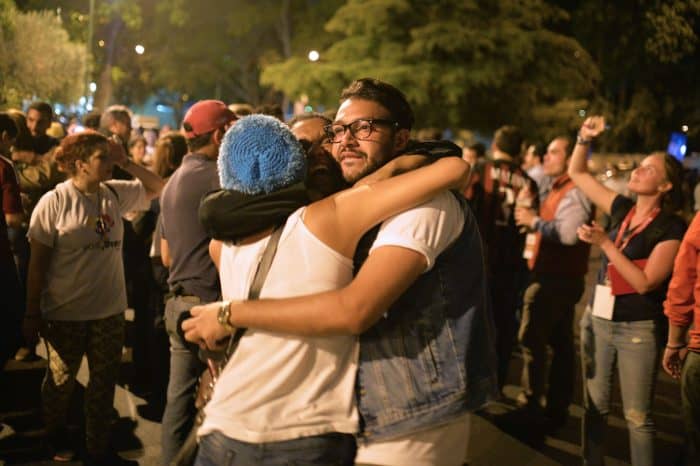 In a city coursing with nervous energy, residents formed orderly lines Sunday to cast their ballots. Maduro's government has blocked many international observer missions from monitoring the election, but the opposition brought in more than 100 foreign parliament members as observers. There were reports of some irregularities, including malfunctioning machines and government supporters campaigning near voting places, but no immediate reports of violence or major disturbances during the day. The government outraged the opposition by keeping polling places open for an extra hour, until 7 p.m., a tactic the opposition assumed was used to rush in late voters for the other side.
The opposition relied heavily on social media to spread its message before the vote. Denied access to Venezuelan television stations, it formed a YouTube channel.
"We showed we could overcome democratically a system that isn't democratic," opposition leader Julio Borges said in an interview at his coalition's campaign headquarters Sunday night. "We confronted all the obstacles of repression, the media, the abuses of power. The good thing about this story is that when people are determined, they're capable of overcoming any obstacles."
The economic unraveling has sapped the morale of many Venezuelans. Nine words into her answer about what it's like to live in this country, Omaira Laja was in tears.
It wasn't only the economy that troubled the 51-year-old manager of a women's clothing store, or how her chain, which had 40 employees, is now down to 19, or that the prices of dresses have risen 60 percent just in the past few months, or that three-fourths of her income is gone. Standing outside a public school on Avenida Libertador in Venezuela's capital, Laja worried that the country had grown so divided that a dangerous confrontation was coming regardless of the outcome of Sunday's election.
"I want freedom, I want peace," she had begun. And now, "There isn't any."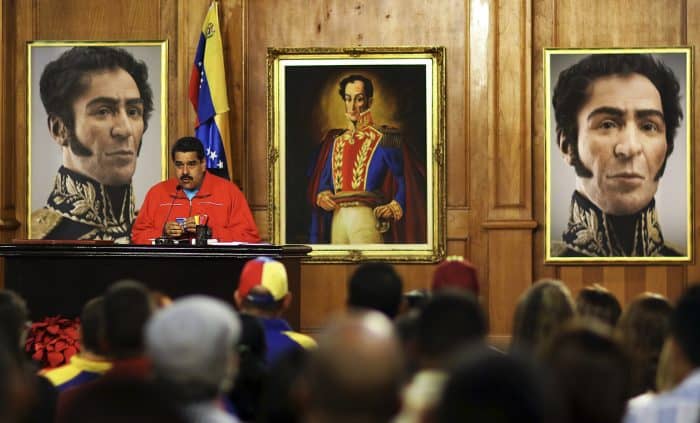 It is unclear how much pressure an opposition victory would apply to Maduro's government, which might be able to largely ignore what has been a rather inactive legislature. But some argue that an opposition win could accelerate calls for Maduro's impeachment before the end of his term in 2019 and the freeing of political prisoners.
Even among supporters, Maduro has nowhere near the popularity of Chávez, and he has lost some former allies, who accuse him of bungling the economy by holding fast to outdated subsidies that make gasoline close to free and encourage the smuggling of Venezuelan goods out of the country. Maduro is also criticized for refusing to devalue the currency and instead holding on to four different exchange rates, including an official rate that helps government allies enrich themselves.
"What can't be forgiven is that a government that tries a radical transformation of the Venezuelan economy and society is committing errors that help the attacks of those who want to retake power," said Victor Álvarez, a leftist economist and government minister under Chávez who is critical of Maduro's administration. "They didn't correct a series of decisions that remained from the Chávez years and committed additional errors that have aggravated all of these problems."
The government still has a formidable political machine at its disposal. In the working-class neighborhood known as January 23, a bastion of support for Chavismo and the site of Chávez's grave, the vote-whipping was in full swing. As in previous elections, government supporters set up shop outside polling stations to write down the names of residents who voted. One of the volunteers, Carolina Hernández, said she had been working since 3 a.m., sending text messages to encourage residents to vote and ferrying the handicapped in ambulances.
Workers taking apart stage at Caracas plaza where Maduro was supposed to speak. Election results still not in pic.twitter.com/k9lPArp7h2

— Hannah Dreier (@hannahdreier) December 7, 2015
For Reyes Medina, a 47-year-old supporter of Venezuela's socialist project, the day felt momentous because "what's at stake is the continuation of the revolution."
"The people are going to respond to Chávez," he said.
In La Vega, another Chavista stronghold, Armando Pereira found himself in a familiar place while waiting his turn: "One more line," he said.
The 62-year-old electric technician had voted for the left throughout his life, and Sunday was no exception. For many Venezuelans, the goodwill, even adoration, that Chávez generated through his charisma, omnipresence on television and attention to the poor has left a residual pool of support for Maduro even as he has stumbled through the punishing economic crisis.
"Yes, there are difficulties, but since Chavez arrived they've never let them govern," Pereira said.
After the victory was announced, an impromptu crowd convened in the street outside of opposition headquarters, cheering and exchanging hugs. Jan Carlos Romero, a 36-year-old stylist, waved a Venezuelan flag in celebration.
"Free. I feel free," he said. "Now we're going for the presidency."
Joseph Poliszuk contributed to this report.
© 2015, The Washington Post