You are interested in buying a property in Costa Rica. You're familiar with how this is done in your homeland. How does one go about this in Costa Rica? Is it the same as "back home"?
Problem: Costa Rica is not like your homeland.
Reason: Costa Rica has no Multiple Listing Service (MLS).
Understanding the difference between what you are likely used to, and what it's like here, can have a profound impact on whether you'll achieve success in your real estate endeavor in Costa Rica or not.
MLS recap
In the MLS system, you work with one real estate agent. He or she has all available properties that fit your criteria at his fingertips because of the MLS system. The agent plugs in the attributes of the property you are looking for: view, location, amenities, services, budget and, voila! a report is generated of all available properties appropriate to your search.
After working here in the Costa Rican property market for over 10 years, I long for the ability to deliver this type of service to my clients. Alas, it does not exist. There is no central database of properties (read: MLS) here.
There is however, a work-around.
When one considers the importance of this topic — that the buyer may be choosing a new home and there is a large investment in time and energy required to purchase the property — we'd like to do better than "hope for the best" or "leave it to chance."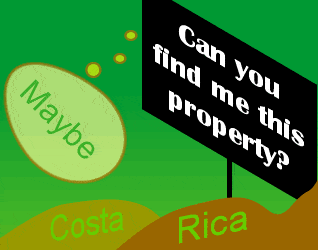 Non-MLS overview
When a prospective buyer approaches agents with specific criteria here in Costa Rica, what the agent will end up showing may be limited to the properties he or she personally knows of. Granted, an experienced agent can be a good guide in these situations because of time in the market and knowledge of available properties. But there exists the possibility that one of the other agencies has a property or two that fit the criteria perfectly that your own agent won't know about.
The Costa Rican property market is maturing, slowly. A lot of the maturation process is seen in changes that more closely mimic the effect of the MLS system. In fact, it may be that what we are seeing are the growing pains of someday finally having an MLS here in Costa Rica. For this veteran real estate agent, I'm not holding my breath. There have been numerous, and at times, extremely costly efforts to provide an MLS in Costa Rica. To date, they have all failed.
In years past, the agent would receive the entire commission on most deals. There was rarely another agent involved — no listing agent, no buyer's agent. Real estate listings were primarily non-exclusives. Exclusives at that time were a formality that would primarily benefit the agent and not the seller.
When on rare occasion an agent would sell a property that another agent told him about, he would then share the commission ("co-broke" in the States) and would likely feel it was a so-so deal because of the shared commission.
We can see how there could be a strong bias in the mind of the real estate agent, who could easily be swayed towards showing properties that did not involve a co-broke. This helped create a rather seedy reputation for the industry.
Conversely, the noble-hearted agent would focus primarily on the buyer's criteria and not the commission in an effort to find the right property for the buyer. Key word here: "noble".
Unfortunately, not everyone operates on the "noble motive" approach to business. Yes, I know, you're surprised to hear that there are some business people who are more motivated by what's in it for them than what's in it for you, but it could happen.
Let's fast-forward to the present day. We now do lots of exclusive real estate listings here, and most deals are co-brokered. As one of the last hold-outs on this, I too have converted. I now will actually encourage buyers to do an exclusive. This encouragement, however, is conditional. The primary condition is that the listing agent does what he says he'll do.
The Costa Rica MLS mimic
The seller needs to read the exclusive listing agreement to see what the agent's responsibilities are and make sure that they include communicating with all the agencies in the area about the property. The seller will make herself available to show the property to all the agents and/or accompany them on the first client showing. She may also provide photos for easy listing on other agencies' websites. I like to include a creative write-up on the property just to make it easier for them to get the property posted to their site.
Now, imagine if all of us real estate agents did this. You, dear buyer, could look at any website and see all the appropriate properties for your criteria. Lamentably, this is not the case, but we're taking steps in this direction.
In the meantime, here are a couple of steps you can take to assure your success.
Step 1: Do your homework
I was recently educated on the extent to which a determined buyer will go to know of every property that fits his criteria. Richard found websites with real estate listings previously unbeknownst to me. He is clearly taking his project of buying a Costa Rican property quite seriously. And I feel that he provides an excellent example of a buyer who recognizes the limitations presented by the non-MLS system and how to offset those limitations.
So do an Internet study of the type of property that you are looking for. Search by location, size, view and so on. There are a number of amenities that vary from buyer to buyer. Some want a gated community. Some are hoping to go off the grid. Some want the glory of Costa Rica's natural splendor while not being too far removed – and so on.
Step 2: Pick your agent
At this point in your search, you likely have a good feel for what's available in the market. You have seen a number of properties on a number of agencies' websites. Pick one and inquire about it. See how responsive the agency is to your inquiry. Richard found me through my blog, so he apparently did a search for "Costa Rica real estate blog" or some facsimile thereof.
From here on it's basic human relations. Is the agent you're dealing with interested in what you hope to achieve with your property? Is the agent proactive in finding all available properties that fit your criteria? Go ahead and ask if this agent shows what he has in his listing database or if he'll reach out to other agencies.
The MLS system developed as a response to problems that were becoming quite evident and common in the business of real estate. It is a superior system to the non-MLS system. Besides the challenge of knowing of all appropriate properties that are available, the MLS system also provides comparative values on past sales of similar properties, and one of the most important aspects offered by the MLS system is buyer/seller "representation" – a great topic but one that will have to wait for another day.
The reality that an MLS does not exist for Costa Rica and what this involves for the buyer is important. By applying the two steps outlined here, you can be proactive in offsetting this system's weak points and very likely find the property that is right for you.
Ben Vaughn moved to Costa Rica in 1999 with his family and started working in real estate in Dominical in 2004. He keeps what may be the longest running Costa Rica real estate blog. His blog deals with the nuts & bolts of real estate and its changes over the years, as well as what it's like to relocate and live in Costa Rica. Ben is available for real estate services in the southern Pacific zone of Costa Rica. Contact him by email at ben@guysinthezone.com or by phone at 8816-9444.