SAN SALVADOR, El Salvador — The bicycle is reclaiming its space in the overcrowded streets of Central America as a healthy form of exercise, efficient means of transportation and as a "workhorse" for bustling bakers, vendors and police officers.
On streets crammed with cars and buses freely belching exhaust, cyclists who dare hit the pavement are besieged by car horns and cursed at by drivers. They also have to deal with reckless pedestrians walking in the street, motorists making illegal turns and bus drivers who don't respect red lights and pick up and drop off passengers wherever and whenever they want.
In this context, cyclists have begun to claim — and, in some cases, conquer — space to move through the region's cities.
In San Salvador, nearly a hundred women and men with helmets and colorful outfits congregate three times a week at night to "go for a pedal." They've been doing it for five years now.
"Our goal is to raise awareness of how the bicycle is a cheaper means of transportation, you can enjoy the city more and the best thing is that we do not pollute the environment," cyclist Javier Romero told AFP.
Romero represents Ciclistas Urbanos, an organization that has come to gather up to 800 followers on a good night. At the same time, San Salvador and its peripheral cities are witnessing a growth in the number of bakers, couriers, fast food vendors and police officers who use bikes as their means of transportation.
Juan Carlos Hernández is a 36-year-old baker who rides his bike every day to sell his product in neighborhoods in the northern part of San Salvador. "I've already taken a couple of hits," he told AFP. "Cars don't respect you; They push you off the road."
Costa Rican Mariano Marinoni spent a year riding 25 kilometers daily to work at a customer service center and had to look for safe routes to navigate the city. "San Jose has collapsed as far as traffic is concerned," Marinoni, who's also a bicycle mechanic, said. "Violence among drivers, cyclists and pedestrians is daily bread," he said.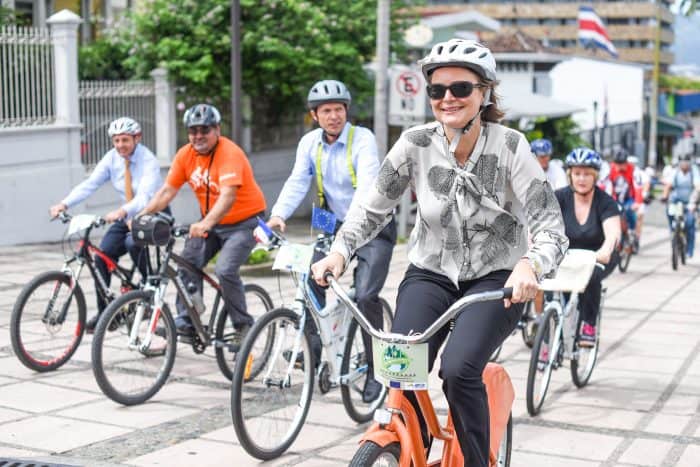 Bike paths and collectives
In the capitals of Central America, which house a total of 10.05 million people, according to official figures, there are 3.2 million vehicles circulating daily: 1.2 million in Guatemala City; 600,000 in San José, Costa Rica; 400,000 in Tegucigalpa, Honduras; 390,000 in San Salvador; 388,000 in Panama City and 300,000 in Managua, Nicaragua.
In this chaos, the group ChepeCletas emerged in Costa Rica in 2010, pioneering the movement of cyclist organizations claiming a space for cycling in San José.
One of the group's founders, biologist Roberto Guzmán, told AFP that this year the city of San José began building a 7-kilometer bike path that crosses the city from east to west, though safe routes to get to downtown from the suburbs are lacking.
Guzmán hopes that experiences such as those of Mexico and Colombia, where exclusive routes have been set up so that cyclists can travel safely, can be emulated in his country.
In Panama City, about 200 cyclists go on a several-kilometer ride every Wednesday, while on Sundays a 17.5-kilometer bike lane is open to the public and used by entire families.
Three bike lanes are in place in Guatemala City and there are at least 30 groups of cyclists who take to the streets for collective rides, said Richard Hernández, from the collective BICIudad.
Cycling is also growing in Honduras. While many use bikes for work in the country's smaller cities, in Tegucigalpa there's a kind of "boom" in cycling for sport, according to Gloria Leiva, Manager of DIBISA, one of the country's largest bicycle distributors.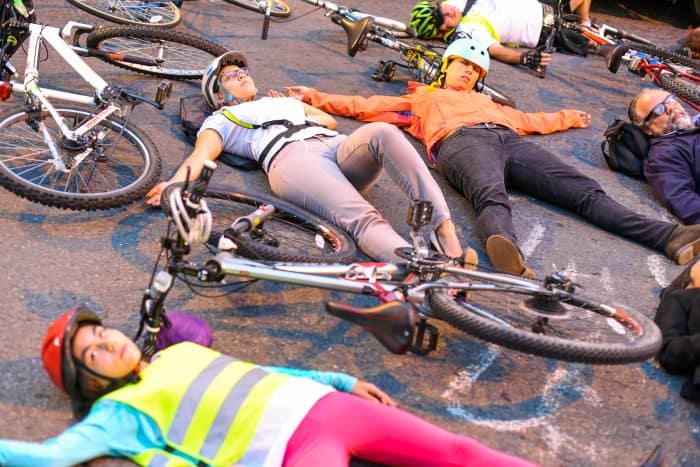 Hostility on the streets
Still, lack of respect for cyclists is widespread in the region. In Nicaragua, bicycles are practically only used in sports because there are no special bike lanes in cities and the danger in the streets is high. "If the routes aren't improved, there can't be any promotion of bicycle use," Yader Grijalba, president of the Nicaraguan Cycling Federation, told AFP. "Parents would not send their children out in those dangerous streets."
On September 27, some one hundred cyclists protested in Panama the death of cyclist Monica Licona, who was run over by a car a week earlier while training.
"The reality is that sharing the streets with cars is not good," said systems engineer Juventino Quiroz, president of the cycling movement that protested in Panama. "We have to change the idea that the streets are exclusively for cars."
In the region, Honduras is the country with the most cyclists killed by cars: 134 so far this year, according to the police.
So far this year in Costa Rica, 27 cyclists have been killed by cars, according to the group Bicis Blancas, although official reports put the death toll at 17. In Panama, 14 cyclists have died this year, according to police records.
Cyclist organizations report that in Guatemala and El Salvador 10 and eight cyclists have been killed while pedaling, respectively.