Ronald Matarrita ya luce la nueva camiseta de #LaSele pic.twitter.com/FCDVj0w5pg

— FEDEFUTBOL Costa Rica (@fedefutbolcrc) September 29, 2015
Now that the Costa Rica men's national team has earned its first win of 2015 with a victory earlier this month over Uruguay, it's earned the right to show off a bit. On Tuesday, players took part in a mock fashion show at the Costa Rican Football Federation's Proyecto Gol to unveil the third uniform that all Costa Rican football teams will wear in international play.
The third Costa Rican uniform made by fitness apparel company New Balance keeps the collars featured on the previous red and white kits, but adds red pinstripes to the frontside of the latest jerseys. A faint font blended into the dark blue base reads "La Sele" over the right hip while "Costa Rica" is emblazoned in a more visible white font on the back of the neck.
La Sele head coach Óscar Ramírez got into the fashion craze on Tuesday, showing off an impressive beer gut as he donned the jersey with his old No. 10, which he wore during skinnier times as a player on the national team.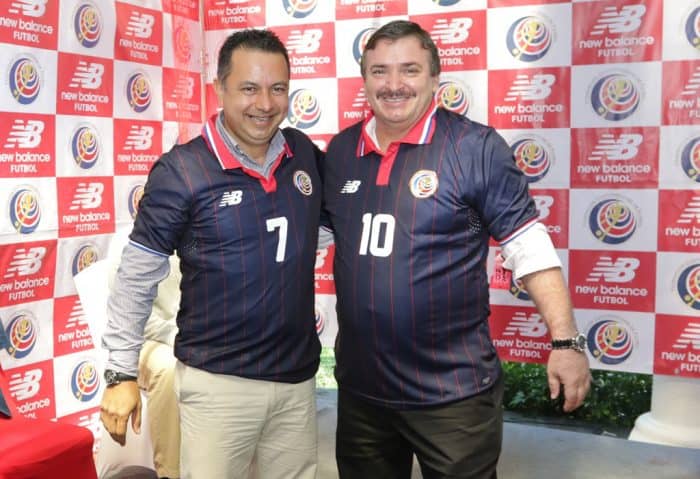 The team is slated to debut its blue uniforms for Costa Rica's next friendly, an Oct. 8 meeting with South Africa in San José's National Stadium. On Tuesday, Ramírez confirmed that star goalkeeper Keylor Navas will join the team after missing both of the friendlies in September due to the botched trade between his club Real Madrid and English Premier League's Manchester United.
The blue kits are on sale in select stores and will set you back about $80-$90 for men's and women's short or long sleeve replicas. Kids and baby jerseys are also available.
¡Ya la puedes conseguir! pic.twitter.com/2cWN19xbKr

— FEDEFUTBOL Costa Rica (@fedefutbolcrc) September 29, 2015