Looking to buy a house in Costa Rica? How many millions of dollars were you looking to spend? Or tens of millions?
Here are the 10 most expensive homes for sale in this country, as compiled by Point2 Homes, a leading consumer property search portal that researched all real estate portals listing homes for sale in Costa Rica, while also looking at individual agent websites. All prices are in dollars.
Know of a home that should be on this list? Leave your comments below.
And here we go, in reverse order…. Start saving now!
10. 15,554-square-foot Santa Ana home, San José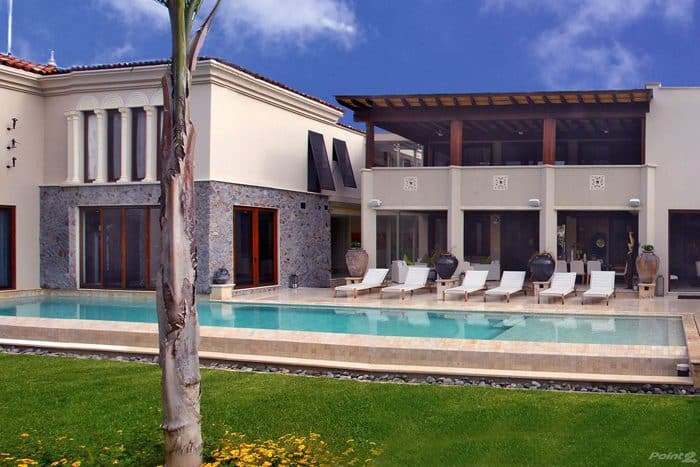 Asking price: $5,600,000
Located in one of Santa Ana's most exclusive communities, La Hacienda, this luxurious 7-bed, 8-bath home is marketed as "the pinnacle of excellence." Featuring well-crafted architectural elements (like hand-carved figures etched into the custom doorway), the $5.6 million home comes with his and hers walk-in closets, a playroom, movie theater, gym, lap pool, sundeck and a 2-bedroom guest house.
9. Lavish ocean-view mansion, Flamingo Beach, Guanacaste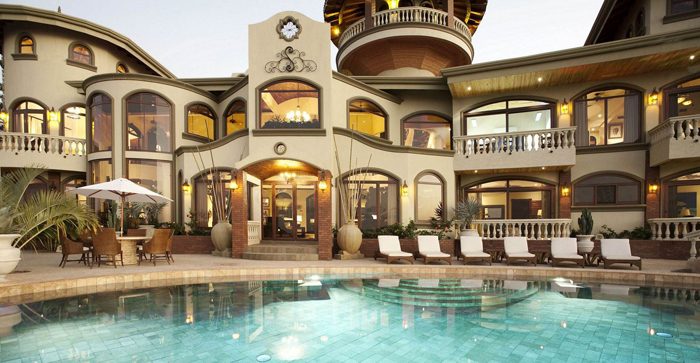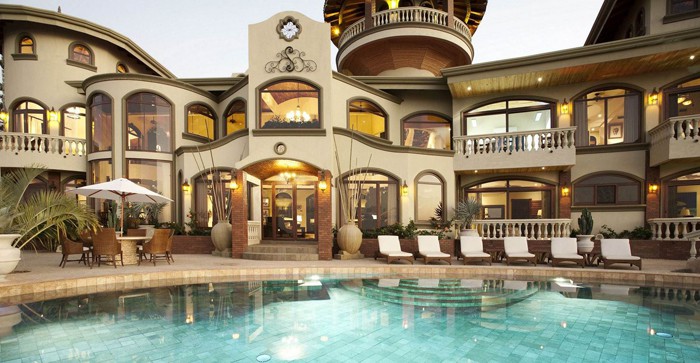 Asking price: $5,850,000
This lavish 5-bedroom home in Flamingo Beach, Guanacaste, may seem more like a 5-star hotel with its guest suites, each featuring its own balcony, plus dining area with ocean views, infinity pool and staff quarters. Nevertheless, the 9,800-square-foot home is on the market and looking for a buyer who wants to become the ultimate host.
8. 404 Calle Rincón Del Mar, Peninsula Papagayo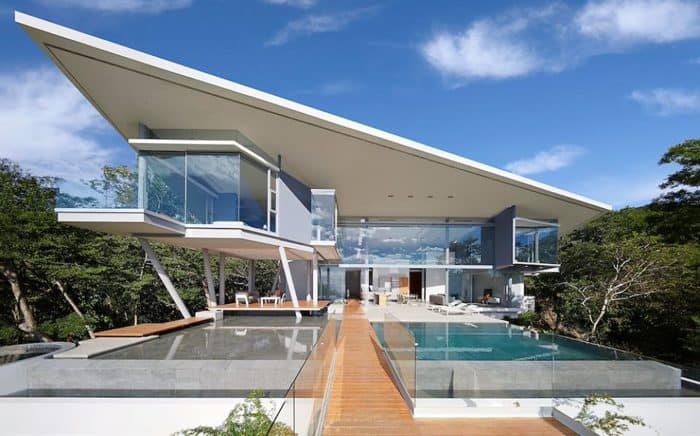 Asking price: $5,900,000
Designed by famous Costa Rica architect Víctor Cañas, this ultramodern home features glass walls throughout – ensuring unparalleled views of the seasonal forest and the Papagayo Gulf.
7. Montaña del Sol, Santa Ana, San José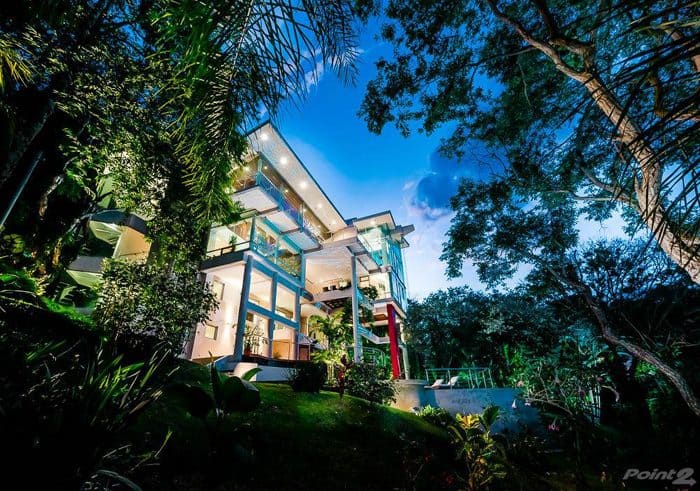 Asking price: $6,000,000
Another architectural gem – the work of German-Swiss architect J. Van Wilpe – this 12,023-square-foot home offers stunning mountain views from every corner. The modern house has been equipped with the newest technology appliances and security system.
6. Impressive beach mansion by the cliff, Punta Leona, Puntarenas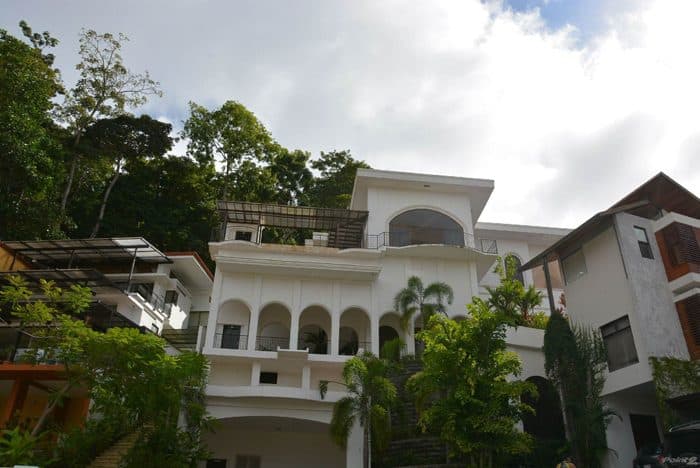 Asking price: $6,200,000
An hour away from San Jose, in the middle of the Costa Rican rain forest, stands this 2-apartment, 1-studio mansion, currently on the market for $6.2 million. The hefty price tag is not only credited to its luxurious interiors, but also to the 19,375 square feet of space it offers.
5. Mountaintop mansion with views of Central Valley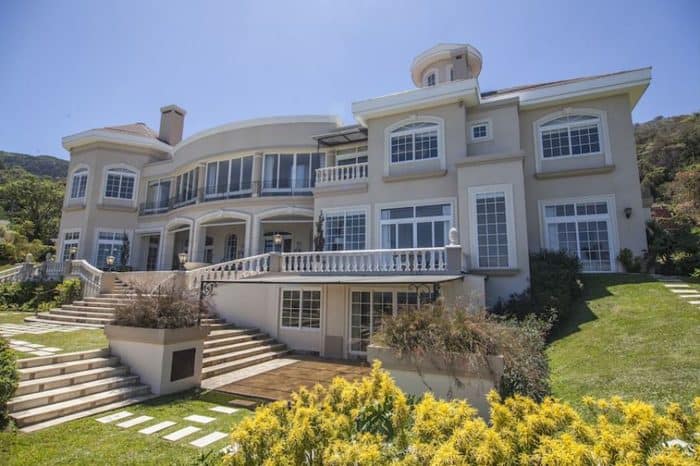 Asking price: $6,800,000
Seeking a buyer willing to pay close to $7 million, this Mediterranean style mansion set on the mountains of Escazu comes with a 5-car garage, but mentions that it can house an extra 40 cars (if needed).
4. Villa Paraíso, Santa Teresa, Puntarenas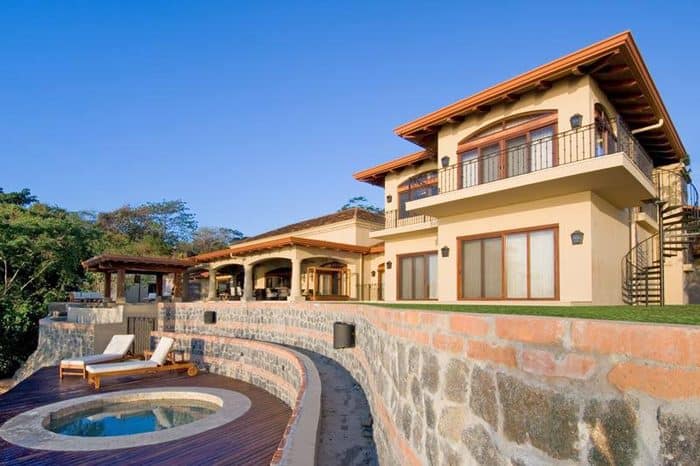 Asking price: $6,900,000
The huge compound, designed by well-known Costa Rican architect Ronald Zurcher, is a good choice for those looking for an upscale holiday rental house – if not a luxurious vacation residence. With 180 degree views of the beaches, coast line, and jungle, the villa features a wide array of luxury amenities, including a free-form infinity pool with a swim-up bar.
3. Villa La Sata, Playa Flamingo, Guanacaste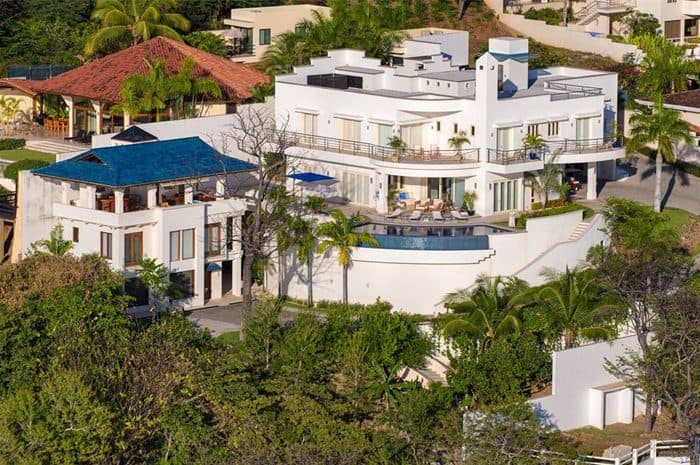 Asking price: $7,200,000
Perched atop the cliffs of Playa Flamingo, the villa features elaborate folding glass wall systems throughout that allow indoor spaces to blend perfectly with the outdoors – so that its new owners can soak in the stunning views at all times.
2. Oceanfront mansion in Guanacaste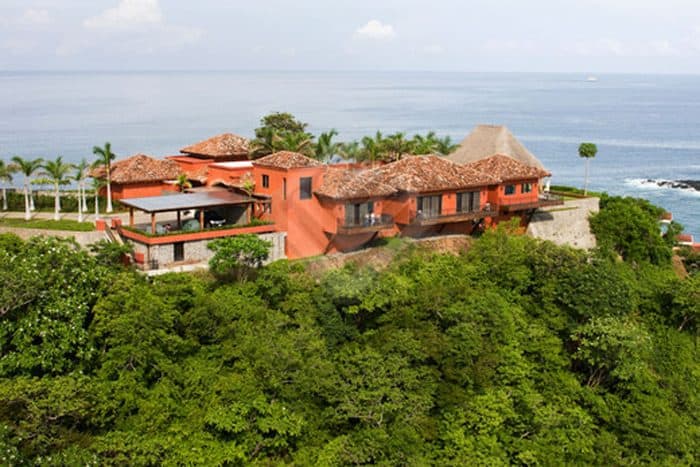 Asking price: $10,900,000
The second most expensive home in Costa Rica has been specially designed for those looking to entertain on a grand scale. It boasts stunning 360-degree views, tropical landscaping, an infinity edge swimming pool, and a stately English garden.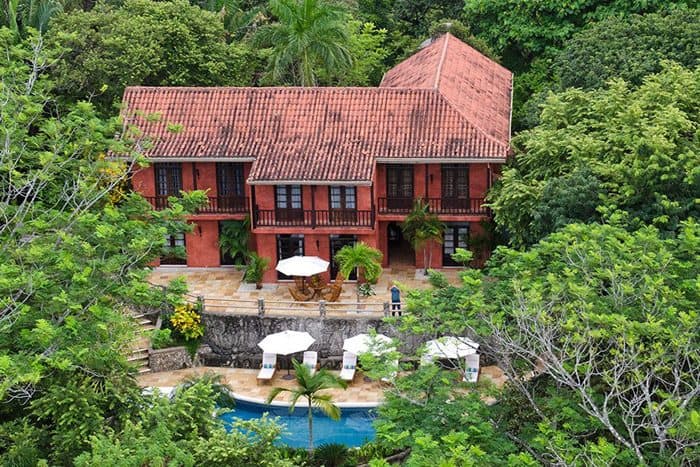 Asking price: $29,750,000
Owned by actor Mel Gibson and supremely situated amid 500 acres of private jungle in a remote area of Costa Rica's lush Nicoya Peninsula, the villas on Playa Barrigona are tropical retreats unlike any other. Consisting of three villas overlooking the Pacific Ocean, each of them custom-fitted with native Costa Rican woods and Spanish and Italian tiles, the stunning property is just a short walk away from its own secluded white-sand beach.
Contact Georgiana Mihaila at GMihaila@point2.com. Point2 Homes is a leading consumer property search portal offering neighborhood-based search and rich listings content for many international locations, connecting U.S. and Canadian buyers with local agents.