MEXICO CITY – A silencer was used to kill a Mexican photojournalist and four women last month, a lawyer said, providing new details of a murder that drew a new international call for justice.
Rubén Espinosa, social activist Nadia Vera and three other women were found dead with their hands bound and their bodies bearing signs of torture in a Mexico City apartment on July 31.
Espinosa, 31, and Vera, 32, worked in the eastern state of Veracruz but had taken refuge in the country's capital after receiving threats.
The motive behind the killing is under investigation, but press rights groups say the case highlights the threats and violence that journalists face in Mexico, which has become one of the world's most dangerous places for reporters.
See: Salman Rushdie, Paul Aster and other prominent writers blast Mexican president over journalist slayings
New details suggest the multiple homicide was a professional hit job.
Karla Micheel, a member of the National Democratic Attorneys Association who represents Vera's family, told AFP that the victims were shot in the head at point-blank range with a 9mm handgun fitted with a silencer.
The gun was "clean," meaning it had not been used in other crimes and was loaded with untraceable bullets, said Micheel, who has seen the investigation's report.
While a fingerprint was found in one room, the killers did not leave any prints on the tape they used to tie the victims, she said.
Forensic reports show that Vera was strangled and stabbed six times, while Espinosa had 12 stab wounds. They were both found in the same room.
"The cuts were not due to resistance or a struggle. The wounds were literally aimed at causing pain," Micheel said.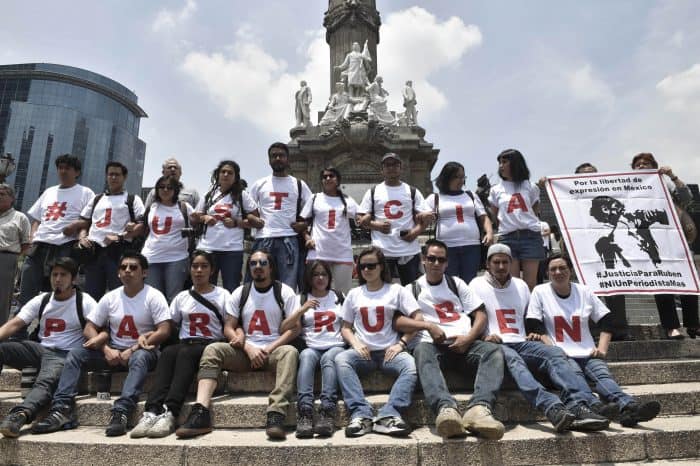 Justice 
The other victims included Mile Virginia Martín, a 29-year-old Colombian, and Yesenia Quiróz, an 18-year-old Mexican. They were both models. A domestic employee, 40-year-old Alejandra Negrete, also was killed.
Martín was sexually assaulted while Quiróz was strangled. They were also shot and found in another room. Negrete was shot and her body was left in the bathroom.
The investigative reports suggest the assailants may have used the bathroom or something else to clean up the blood, Micheel said. The killers did not leave any murder weapon behind.
Mexico City authorities detained on Sunday a former police officer in connection with the killing.
Abraham Torres Tranquilino, 24, worked as an officer in the capital until 2011, when he was sentenced to almost five years in prison for torture in another crime. But he only spent one year behind bars.
Another suspect, Daniel Pacheco Gutiérrez, was detained on Aug. 4. He is also a former convict who served time for rape.
Hundreds of writers, filmmakers and journalists published a second open letter to President Enrique Peña Nieto over the case on Monday, urging him to solve the crime and better protect journalists.
British novelist Salman Rushdie and Oscar-winning Mexican director Alfonso Cuarón were among the signatories of the missive published in El Universal newspaper with the front-page headline "They Won't Silence Us."
More than 80 journalists have been killed since 2000, while 17 more have disappeared, according to Reporters Without Borders.
At least 12 reporters have been killed in Veracruz since Governor Javier Duarte took office in 2010.