Costa Rica's best kept secret is its talent pool, according to several international business leaders speaking at a foreign investment conference Thursday.
Business leaders met to discuss the investment climate in Costa Rica during the Americas Society/Council of the Americas 2015 Cities Conference in San José. Costa Rica's human talent and advanced manufacturing won accolades while analysts argued that the country needs to invest in infrastructure and right its finances.
"Costa Rica's workforce is a wonderful secret that most don't know about," said Vincent Guglielmetti, general manager of Intel Costa Rica.
Representatives from several U.S.-based precision manufacturers, including Intel, MicroVention and General Microcircuits, said that the offering of technical and professional workers in Costa Rica was a major attraction when they decided to bring their businesses here. Proficiency in English, professional skills and work effort were listed among the advantages Costa Rican workers brought.
Costa Rican labor was a big pull for U.S. businesses, but there might not be enough of it. Several panelists said they are doubtful there are enough professionals to scale up operations in Costa Rica.
"There's a need to invest in universities," said Guglielmetti, referring to the small number of students with the necessary skills.
During a recent trip to Germany, President Luis Guillermo Solís, who also addressed Thursday's conference, spoke with Chancellor Angela Merkel about Germany's system of "dual education," which links universities, technical colleges and the private sector to train workers in the skills businesses need.
If Costa Rica's workforce is its biggest advantage, infrastructure is its biggest disadvantage. High transportation costs and lost productivity are two examples of how inadequate roads, public transportation and ports hurt business here.
Roberto Echandi of the World Bank said Costa Rica has fallen behind its rivals because of its lack of infrastructure investment.
"We've been waiting 20 years to address this, we need to act now," Echandi said.
Alongside the country's infrastructure woes, other structural issues are holding back foreign investment and economic growth.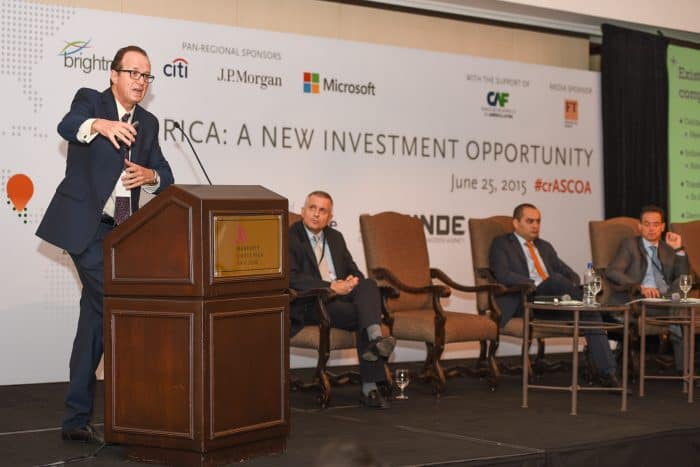 Ecoanálisis analyst Luis Mesalles said that Costa Rica is well positioned in the global economy but should be growing more.
The country's GDP grew 3.5 percent in 2013 according to the World Bank. Costa Rica's growth beat the Latin American average but fell behind its neighbors Nicaragua (4.6 percent) and Panama (8.4 percent).
Costa Rica has benefitted from falling global prices of petroleum and raw materials and an ascendent U.S. economy, Mesalles said. But a strong colón, rising U.S. interest rates and red tape have been drags on the country's competitiveness. Unemployment is over 10 percent.
Atop these challenges the country's budget deficit has made some investors weary about Costa Rica's medium-term outlook.
Foreign investors have been "losing patience" with Costa Rica, said César Arias, Latin America director for Fitch Ratings. Costa Rica's investment outlook from Fitch Ratings is a stable BB+, but the ratings agency is pessimistic on the country's ability to address the budget deficit, he said.
On Wednesday, Moody's Rating maintained its Ba1 rating for Costa Rica. The agency downgraded Costa Rica's credit rating in September 2014.
The outlook may be negative but Costa Rica has proven in the past that it can tackle fiscal reform, Arias said. Without solid public finances, needed investment in infrastructure and higher education would remain out of reach.