The Costa Rican Social Security System (Caja) has launched a campaign to combat skin cancer, the most prevalent type of cancer in Costa Rica.
According to the Caja's records, every year approximately 100 cases are diagnosed and the disease claims 40 lives.
The campaign, launched Friday on the Internet and social media, aims to inform people about preventive measures. Some messages encourage people to "get naked for their lives" and perform full body checkups at least once a month to detect any changes in their skin.
Roxana Gaspar Taylor, a dermatologist at Calderón Guardia Hospital in San José said that early detection of skin cancer increases chances of survival. She also noted that people of all skin types should take adequate measures to prevent overexposure to sunlight.
"Excessive exposure to sunlight can cause skin cancer, regardless of a person's skin color. Previously, we believed that only light-skinned people were prone to develop skin cancer, but today we know that everybody, regardless of their ethnicity, can be a victim of cancerous lesions," she said.
According to Caja records most cases in the country develop among residents of the highlands in the provinces of San José, Heredia and Alajuela, and it happens mainly because people do not take adequate precautions against the sun, believing that cloudy skies prevent its effects.
Ultraviolet radiation affects the skin even when the sun is covered by clouds. "Radiation is absorbed by the body and it can be stored for up to three hours, even if a person is indoors," Gaspar said.
The Caja's campaign urges people to check their entire bodies until they are so familiar with it that they will notice the slightest change in every mole or birthmark. "That's the best way to detect skin cancer's early symptoms, as early stages do not cause any physical discomfort such as pain or itching," she said.
The Caja's Cancer Experts Group warned that the risk of skin cancer increases after the age of 45. Although the age range of Costa Rica's largest group of patients is between 50 and 74, cases of adolescents with skin cancer have been reported.
Recommendations
The campaign recommends that people protect themselves by wearing clothes and accessories to act as shields against radiation including hats and sunglasses with ultraviolet protection.
Sunscreen with an SPF of 30 or higher should be applied at least 20 minutes before direct sun exposure and reapplied every two hours after swimming or sweating.
Experts recommend to avoid direct sun exposure from 10 a.m. to 4 p.m – the hours when ultraviolet rays are perpendicular to exposed skin, even on cloudy days.
They also urge people to avoid smoking as it consumes the skin's oxygen and nutrients. Smoke also constricts blood vessels in the outer skin layers and severely decreases blood flow.
Finally, they recommend to avoid tanning beds as several studies show that they are sources of ultraviolet radiation.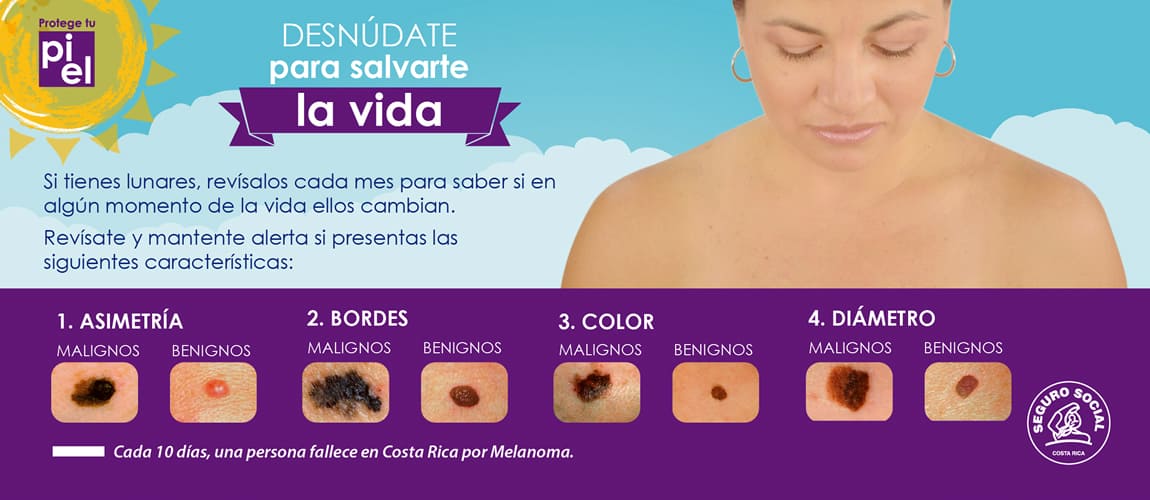 Related: 6 people die every month in Costa Rica from skin cancer