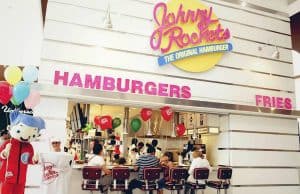 California-based burger chain Johnny Rockets on Thursday inaugurated its third restaurant in the country, which represents a $400,000 investment and 15 jobs, bringing to 90 the total number of jobs the local franchisee currently has here.
The new restaurant is located at the food court of Plaza Universal, in downtown San José, and is part of an expansion plan that includes the opening of three more restaurants over the next 18 months.
The next opening will take place later this year at City Mall in the province of Alajuela, and two more openings are scheduled at the commercial complexes Escazú Village and Terrazas de Lindora, both west of the capital.
Desarrollos Gastronómicos Internacionales, the local franchisee, reported that the restaurant in Alajuela will require an investment of $1 million, and each of the other two will require $800,000.
The company already has invested about $2 million in three existing locations.
The company also plans to expand its regional presence, opening this year its third restaurant in Honduras and first in El Salvador, according to the weekly business newspaper El Financiero.
These openings represent a change in Costa Rica's franchise market that this year already saw the closures of Wendy's on Jan. 9 and Bagelmen's on Jan. 24. Those closures entailed the loss of 220 jobs, according to a report from the National Franchise Center, part of the Costa Rican Chamber of Commerce.