For three decades, Country Day School has occupied a quiet corner of San Antonio de Escazú. But this past Monday, the English-language private school broke ground on a new building project – and if construction goes according to plan, classes will begin on a completely new campus in August 2016.
"It is extremely exciting," said Greg L. MacGilpin, Jr., director of Country Day, during a conversation with The Tico Times. "It's been in the works for six years. When I came here five years ago, I knew the concept was there. Then all of a sudden it started moving fast."
Costa Rica is home to many bilingual private schools, such as Lincoln, Humboldt, and Liceo Franco Costarricense. Described as "an American school serving an international community," Country Day is known for small classes, English instruction, and comparatively high tuition costs.
Country Day has long been associated with Escazú, the upscale Central Valley suburb that thousands of expats call home. But as MacGilpin notes, the school was founded in 1963 and has only occupied its three-hectare lot in Escazú since 1984. Indeed, this is the fourth time Country Day has shifted locations.
The new campus will be built in Hacienda Espinal, a multi-zoned development in San Rafael de Alajuela. Country Day will nearly double its size to five hectares, and the state-of-the-art structures are designed to accommodate up to 1,000 students. (The current enrollment is about 850). Country Day's owners hired the Texas firm Stantec to design the new facility, and the school is currently contracting 30 architects and consultants. The project is intended to be LEED certified.
"We have a lot of indoor-outdoor spaces," said MacGilpin of the new campus' design. "We have a lot of classrooms that open into the walkways. There's a lot of interaction with the exterior spaces."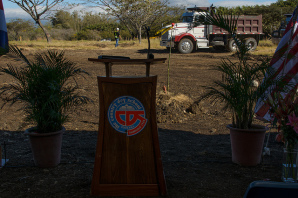 About 100 people came to the groundbreaking on Monday, and organizers planted a time capsule designed by the students, which will be earthed again in 2040.
The Country Day community faces a few challenges in the next year and a half, including rerouting buses, migrating equipment and furniture, and figuring out what to do with the current facility. The owners of Country Day may sell the current school to developers, yet precise plans are still undecided.
But one full day after the groundbreaking, MacGilpin was upbeat.
"We're still on schedule," he said with a laugh.