Southwest Airlines and the Costa Rican Tourism Board (ICT) confirmed that the discount carrier will start daily service to Juan Santamaría International Airport outside San José from Baltimore, effective March 7, according to officials at a press conference Wednesday morning.
Southwest Executive Vice President Robert Jordan said that customers can expect fares as low as $130 one way from Baltimore-Washington International Airport, and that the company's discount reputation would hold true abroad with fares on average 30 to 40 percent lower than their competitors.
Baltimore daily service will be on Boeing 737-700 jets with a capacity of 143 passengers, according to a statement from ICT. Jordan said that customers could connect to 60 destinations on 200 daily flights out of BWI.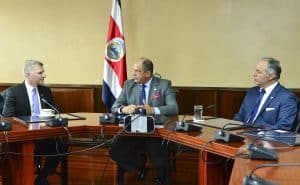 The discount carrier also plans to start offering direct service from Houston Hobby Airport sometime in October.
"We have millions of current customers in the United States, and we can see where they want to travel, and we can see – based on their requests – that Costa Rica was at the top of their list," said Andrew Waterson, Southwest vice president of network planning and performance.
"Our international expansion in the first phase is geared toward tourist destinations, and San José represents a different kind of tourist destination – not just a beach, but also business and visiting relatives travel. So, Costa Rica looked like the best fit for our market," Waterson added.
Recommended: 21 Tips: The do's and don'ts of renting an apartment in San José
Tourism Minister Wilhem von Breymann said that the new routes would help bolster Costa Rica's relationship with the United States, the largest single source of visitors to Costa Rica. According to the ICT, 90 percent of U.S. tourists arrive in Costa Rica by air and spend an average of more than $2,200 per person, per visit.
Tourism industry representatives have been increasingly concerned about the rising costs for travelers in Costa Rica, but Waterson said the country continues to provide greater value than many other destinations.
"There are many countries, many islands that have a great beach, but you can't leave the hotel. Costa Rica offers a diversity of visiting nice beaches and hotels, but also of seeing more of the country in a safe manner, and that's priceless," Waterson said.
President Luis Guillermo Solís said Southwest's announcement and his intention of opening a direct flight to Costa Rica from China were part of a larger policy to make Costa Rica more connected to the wider world. The president added that the announcement was once again proof that Costa Rica is an attractive, reliable market for companies to invest.
Southwest already offers international service to Aruba, Jamaica, the Dominican Republic and Mexico. Service to Belize City is expected later in 2015.
Fans of the carrier's distinctive cattle-call boarding policy can look forward to seeing the same queues here in Costa Rica, Waterson said.
"We can't wait to show you that Southwest hospitality," Jordan said.