PORT-AU-PRINCE, Haiti – The U.S. embassy in Haiti urged the Caribbean country's politicians Sunday to find a solution to the political crisis that will soon see its parliament's mandate end, leaving a perilous political vacuum.
In a cruel coincidence, the Monday night deadline falls just as the impoverished nation marks the fifth anniversary of the catastrophic earthquake that killed 300,000 people.
Polls to elect new lawmakers have been postponed several times, and no new date has been set.
Protesters, who have taken to the streets in near-daily demonstrations, accuse President Michel Martelly of tacitly allowing the parliament to expire in order to rule by decree, while he accuses the opposition of blocking an electoral law that would allow a vote.
"The U.S. government notes with grave concern that despite the President's wide-ranging concessions, parliament has not voted an electoral law to allow for 2015 elections," the embassy said in a statement.
"In the short time remaining before the constitutionally mandated end of the current parliament on January 12, we urge all parties to agree on a framework for parliamentary mandates, a new Provisional Electoral Council, passage of amendments to the electoral law, and the formation of a government of consensus."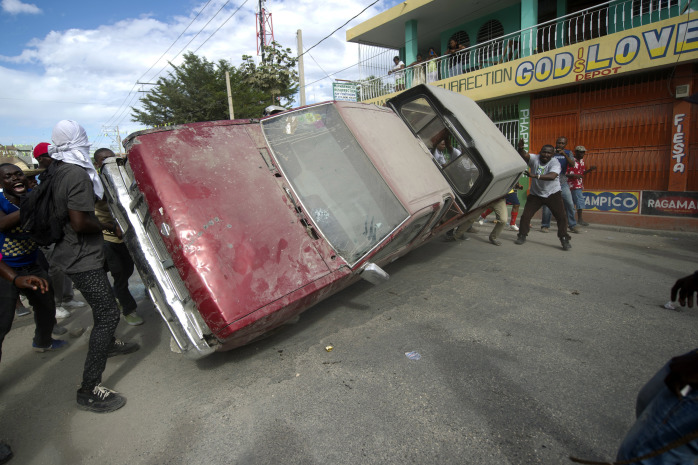 Martelly was scheduled Sunday to meet with political leaders in a final effort to reach an agreement.
A new prime minister, Evans Paul, named by Martelly on Dec. 26, has been unable to take office as a result of the political friction between the president and lawmakers.
A group of senators has proposed a new prime minister be chosen.
The U.S. Embassy said if no solution was found before the deadline, the U.S. government would "continue to work with President Martelly and whatever legitimate Haitian government institutions remain to safeguard the significant gains we have achieved together since the January 12, 2010 earthquake."
Haiti has struggled to get back on its feet since the 2010 earthquake, and its progress has been hampered by a cholera epidemic likely brought to the country by U.N. peacekeepers.