A few years ago, U.S. expat Michael Styles came up with an idea: He wanted to bring solar panels to San Ramón, a bucolic town in the hills of Alajuela province. At the time, Styles ran an art gallery in San Ramón and had a strong interest in community development. Styles approached his friend Cesar Carrillo about how realistic the project might be.
"He asked me whether it was crazy," recalled Carrillo with a laugh.
Styles has since returned to the United States, leaving behind the organization he founded, the Community Action Alliance (CAA). The CAA's mission is to improve living conditions in San Ramón and cultivate relationships between the town's Costa Rican residents and its sizeable expat population. The volunteer group has done inestimable good in San Ramón, but on Nov. 16, members will celebrate their finest accomplishment yet: 25 solar panels on the roof of Jorge Washington Elementary School, generating 5.5 kilowatts of electricity. After three years of slow and difficult work, CAA and its allies will fete the occasion with music, food, and an inauguration ceremony.
There is much to commemorate: Not only does Jorge Washington turn 75 years old this month, but it is allegedly the first urban public school in Costa Rica to harness solar power effectively.
"We wanted to be the first cantonin Costa Rica to be carbon-neutral certified," Carrillo told The Tico Times. "We wanted to show the panels somewhere visible."
While the panels themselves aren't easy to spot, Jorge Washington is the perfect venue to make a good impression. The school is large, stately, and located in the middle of downtown San Ramón. On any given afternoon, the school is frenetic with screaming, racing children. The facility has two internal basketball courts that also serve as playgrounds, and its auditorium is enormous. If Costa Rica needed a model public school, Jorge Washington would be it.
The idea to use solar energy in San Ramón developed organically. Styles and Carrillo had pursued "sister city" status with Austin, Texas, and when they committed to the solar concept, they decided to buy their panels from an Austin-based company, PSIDA. They wanted to place the panels in a public building that would significantly benefit from green energy, so they proposed the project to the director of Jorge Washington, Aida Mendez Jimenez.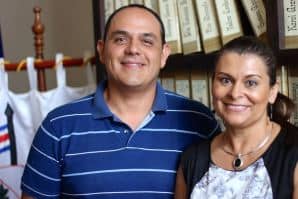 "Our electricity bills have always been very high," said Mendez. "Our school had been participating in a peace and environmental project with UNESCO, and we have long been interested in the environment."
In order to raise money for the $12,000 project, CAA conscripted an army of collaborators: A public book sale in May and a barbeque hosted by the school raised more than half the necessary funding, but the school had to continue its fundraising efforts to afford the panels. Thankfully, the school received free installation by SEVSA, a green energy company based in Costa Rica. The only significant hiccup was coordinating with the Costa Rican Electricity Institute (ICE): Organizers say that activating the solar panels, a process that usually takes only a few months, instead took nearly a year.
"But this technology is new," explained Carrillo. San Ramón is not nearly as solar-savvy as other communities in Costa Rica, and it took time to make arrangements with ICE. When ICE finally inspected and approved the panels, it took only a moment to switch them on.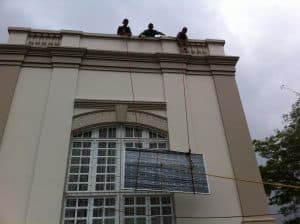 Today, the panels lie on top of Jorge Washington's high roof, and they are invisible to passersby below. Carrillo and Mendez expect the panels to halve the school's electric bill during busy weeks, and the school will continue to produce electricity – earning credits from ICE – during weekends and between semesters.
To mark the school's 75th birthday, the two-week celebration culminates in a "Health-Nutrition-Sports Day" on Nov. 30, which will include exercise classes, a student basketball tournament, and a multicultural breakfast buffet.
As the ambitious project draws to a close, Carrillo is especially grateful to the hundreds of volunteers who have helped make Styles' dream into a reality. Carrillo and Mendez have appreciated how collaborative the Costa Rican and expat populations have been in San Ramón.
"Many expats in Costa Rica live in condominiums," said Mendez. "They don't immerse themselves. Here, people have open doors. People are welcome in each other's homes. We are not closed off. We like to think outside of ourselves."
For more information about the Community Action Alliance, the solar panel project, and Jorge Washington's anniversary plans, visit the CAA website.