Last week, some 350 people attended an economic forum at Costa Rica's Hotel Barceló San José Palacio hosted by the business magazine Summa. The forum, titled "Costa Rica: Where Are We Going?" featured panels of experts and insiders who examined issues such as the country's economic growth, its fiscal deficit, the business and investment environment here, and possible paths forward to improving development and setting the economy back on track.
Panelists included Ronald Jiménez, president of the Union of Private-Sector Chambers and Associations, Francisco Llobet, president of the Costa Rican Chamber of Trade, Jorge Sequeira, director of the Costa Rican Investment Board (CINDE), Alberto Trejos, a former trade minister under ex-President Abel Pacheco (2002-2006), and several other prominent members of Costa Rica's business, industrial and economic sectors.
Audience members included notables such as former President Óscar Arias (1986-1990, 2006-2010) and Citizen Action Party lawmaker Ottón Solís, among others.
In addition to the economy, some panelists also talked a lot about politics, and judging by their commentary, the country's current financial woes have less to do with policy set by past administrations and everything to do with one particular political party. Those panelists punctuated the dangers of Costa Rica's leftist Broad Front Party.
One panel posed the question: "Is there a risk of a crisis like Costa Rica faced in the 1980s?" After acknowledging that an urgent solution to the fiscal deficit is needed, the experts spent much of the discussion denying that Costa Rica faces an "economic crisis." Rather, they argued, the country faces a "political crisis."
U.S. industrialist and businessman Richard Beck, who has been a fixture in Costa Rican commerce for more than half a century, said: "I don't see this as a crisis."
"I have another problem that I think is going to affect the whole issue of the economy and the finances of this country and future Costa Ricans from a political point of view," Beck said. "The current problem is the extremist politicians who exist in Costa Rica, many of them in the Legislative Assembly. [They] support extremist unions that have a very clear and very strong goal of getting what they want. They represent a factor of incredible instability."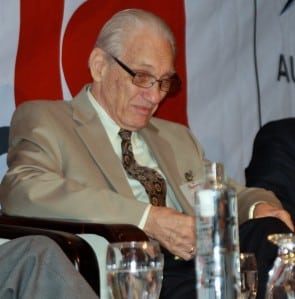 Beck, 81, first came to Costa Rica prompted by an invitation from his cousin, Karen Olsen Beck, the former First Lady and wife of ex-President José Figuerres Ferrer. Beck married Elena Terán Ferrer, and made the country his permanent home.
For some, he is a household name in the world of commerce and industry, having founded or directed Atlas Eléctrica S.A., Banco Agro Industrial y de Exportaciones S.A. (Banex), Capitales Empresariales Centroamericanos S.A. (CEC) and CINDE. He co-founded the Centro de Formación en Tecnologías de Información, and has worked with technology companies including Artinsoft, Predisoft, Lidersoft and World Magic.
"We have to recognize that in the Legislative Assembly there are lawmakers who definitely have an agenda backed by a significantly new political party, and that political party has a very clear goal," Beck said. "We can have dialogue. But how are we going to have dialogue with people who have said, for example, that our primary enemy is solidarity – one of the most exemplary movements that we've had in this country? How are we going to come to an understanding with leaders and politicians who have said that we must take to the streets to solve our problems?"
Beck called the current political situation "complicated," adding that, "it's going to get more complicated if we don't resolve the situations about which we're speaking now." He also warned that new political forces could "turn our democracy on its head."
He went on to gripe about being labeled a "neoliberal."
"Now we're neoliberal – any businessperson, any industrialist, any agricultural producer or salesperson is the one who is concentrating wealth in his hands," Beck said. "They want a new, 21st-century socialism; the intentions are clear. The struggle is out in the open, and I think we have to recognize that. We have to remember what we have seen in Latin America and what's actually gaining momentum is this matter."
But the leftist labeling of Beck and others as neoliberals isn't anything new. In her 1994 book "Hostile Acts: U.S. Policy in Costa Rica in the 1980s," journalist Martha Honey included Beck in a list of "influential local businessmen, leaders of the various chambers of industry, commerce and export" who were "ideologically committed to and personally benefitted by [USAID's] private-sector programs."
Honey included Beck in a list of people belonging to the inner circle of the once powerful former AID director Daniel Chaij. Others in "Chaij's inner circle," Honey wrote, included Ernesto Rohrmoser, Luis Liberman, Samuel Yankelewitz, Alberto Dent, Jr.
According to Honey:
AID also helped the government put together a relatively small and stable 'team' of Costa Rican ministers and economic technocrats – Eduardo Lizano, Carlos Manuel Castillo, Fernando Naranjo, Federico Vargas, Jorge Manuel Dengo, and Armando Arauz, among others – who oversaw implementation of AID's policies. These AID collaborators in the government were neo-liberals who viewed Costa Rica's existing economic model – based on consumer goods industries, production for the local and regional market, a large state sector, and a few traditional agricultural exports – as incapable of pulling the country out of its economic crisis. The AID network paralleled and in some cases overlapped with the CIA-run network of Costa Rican collaborators assembled to support U.S. political and military objectives during the 1980s.
See also: Costa Rica's leftist surge isn't new
At last week's forum, Gerardo Corrales, general manager of BAC San José, agreed with Beck's assessment. "There are sectors that effectively want the country to enter into a crisis to achieve their objectives," he said. "I sincerely believe that we've been so busy micromanaging our companies that we've left the playing field of fundamental decision-making open to the people in the cheap seats."
Corrales, an economist who graduated from the University of Costa Rica and the INCAE Business School, said it is difficult to convince business owners to fund pro-business, politically motivated publicity campaigns.
"It's very difficult to pay a quota of $5,000 annually, [or] $10,000 annually. Nobody wants to pay a penny to start a publicity campaign to influence public opinion [and emphasize] that the private sector isn't bad, that the private sector produces, that the private sector generates employment, that it's not a bad thing when they call us capitalists," he said. "I would respond equally: 'And you're a communist.' What's the fear?"
He added: "We have to confront the situations of this small group that today wants to sabotage what this country has achieved in the last two decades."
Former Central Bank President Eduardo Lizano, mentioned at length in Honey's book, said the current problem the country is facing "is not an economic one," but rather "the problem we have is a political one."
Beck and other panelists also had a problem with President Luis Guillermo Solís, accusing him of weakness in handling the ongoing dispute with dockworkers over a $1 billion Moín Port expansion by the Dutch company APM Terminals, a leading global builder and operator of ports. Beck called Solís' response to the dockworkers' strike "ambiguous," and said the president should "demonstrate once and for all that there is a leader in the Casa Presidencial."
Enrique Egloff, president of the Costa Rican Chamber of Industries, noted that the Broad Front Party issued a statement in support of the formerly striking dockworkers and their union, SINTRAJAP.
"I ask myself if that support includes causing chaos and anarchy, and to do what clearly is called subversion," he said. "It's called a mutiny, it's called disobedience, it's called disrespect for legality, and it's called affecting the legal security of our country. Forgive me for being so frank, but it's past time that we spoke about how things really are. And of course, I agree with those present here that it's perhaps our greatest concern, our greatest threat."