When the artist Fausto Pacheco was born in Heredia in 1899, Costa Rica was a very different place. San José was only the size of a large town, and the avenues were lined with streetcars. The nation had a standing army, and racial segregation was still on the books. La Sabana had not yet been converted into an airport, and the transcontinental railway wasn't yet complete. It could take an entire day – or more – for a Central Valley resident to travel to the nearest beach. The National Theater was only two years old.
This is why the Pacheco retrospective at the Calderón Historical Museum is so profound: the artist spent most of his life documenting those halcyon days, first as a photographer for the newspaper Diario de Costa Rica, and later as the nation's most revered landscape painter. The exhibit displays many of Pacheco's landscapes, which represent the nation as it once was: a place of farms and forest, mountains and dirt roads, haphazardly dotted with stucco houses and stone walls.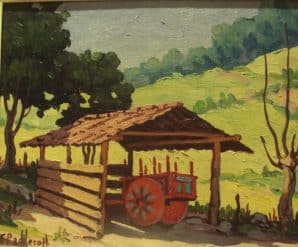 From a 21st century perspective, Pacheco may seem like the Norman Rockwell of Costa Rica, and you could view his paintings as hopelessly sentimental. All Pacheco's portraits show old-fashioned buildings, brightly sunlit and surrounded by foliage. (The popular painting instructor Bob Ross would have called them "happy little trees.") Hindsight makes Pacheco look wistful and conservative, yearning for an idealized bygone age. Pacheco has the same soft palette as Thomas Kinkade, the same absence of human subjects, and the same corny patriotic imagery, like painted oxcarts, imposing mountains, and swaying palms.
In an angrier country, such images could be used as evidence of past purity that has since been lost. See how great things used to be, before all the Taco Bell restaurants and Nicaraguan refugees? Remember how simple life was, when everyone was Catholic and spoke only Spanish? When cultures have crises of identity, they routinely pine for those better times, whether they existed or not.
However, you could also argue that Pacheco's work simply depicts the past, rather than making a statement; Pacheco was a populist documentarian, and he pictured the homes where "average" campesinos lived. While his landscapes are beautiful, they are also emotionally neutral – the man simply painted what he saw, nothing more or less. With such literal titles as "La Troja" ("The Barn") or "Casa Campesina con Tranquera" ("Country House with Fence"), he seems as personally attached to his subjects as a dentist to a tooth.
Because the artist died in 1966, we can't ask Pacheco his intentions, and although there are plenty of art historians ready to discuss the meaning of his work, the joy of the Pacheco exhibit is how open-ended it is. The Calderón Museum is a stately old mansion in Barrio Escalante, and its halls can only be described as hallowed. This handsomely arranged exhibit looks like it's been around for years. There is little information on the walls, nor obvious pamphlets or statements. The art speaks for itself.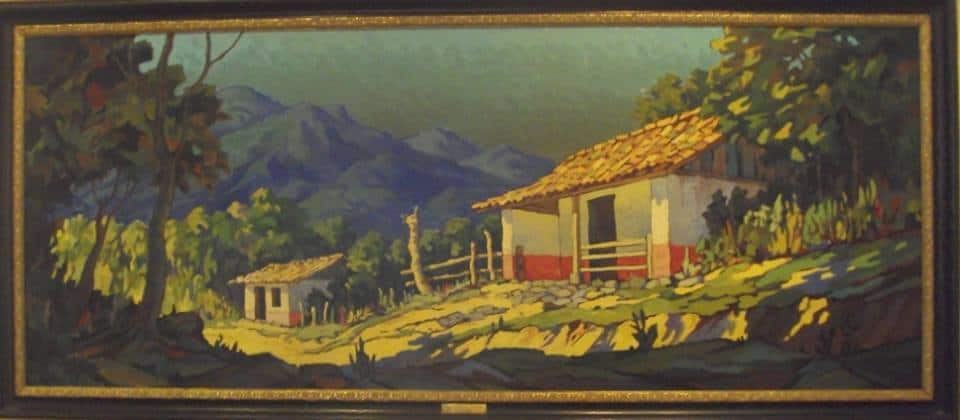 I like to think of Pacheco less like Rockwell and more like Winslow Homer, the self-taught New England landscaper. Whether Pacheco knew it or not, he was preserving visions of past decades, before mass electrical grids and paved highways. You not only see what Costa Rica looked like in the mid-20th century, but you also sense the pace of life as only a master painter can capture it. Pacheco's style is realistic, but it is also romantic and celebratory. He shied away from rainstorms and ruins, overworked laborers and giant bugs. He showed the country – literally – in its best light, years before anyone actually said "pura vida" in conversation.
However you respond to Pacheco's work, the exhibit is worth a visit. Other artists are also on display, and it's interesting to see how Pacheco likely inspired them. In its brief online biography of Fausto Pacheco, the Education Ministry describes his landscapes as exploring "national themes." One of those themes pervades every single painting: peace.
"Fausto Pacheco y Otras Apreciaciones Estéticas del Paisaje Costarricense" continues through Sept. 28 at the Dr. Rafael Calderón Guardia Historical Museum, Barrio Escalante. Open daily. Free. Info: Museum Facebook page.