At the end of a long day, Norman de Pass and Sergio Jiménez leave their law office, stroll down the main street of Avenida Escazú and arrive at Product C. They order fresh seafood, sip craft beer and sit anywhere they like. If they seem to be acting like they own the place, it's because they do, along with Canadian chef Demian Geneau.
"Demian had this idea about sustainable fish," said De Pass. And after work, de Pass and Jiménez always found themselves with a craving for fresh seafood, and oysters in particular. So they created Product C, essentially, to meet their own demand.
The restaurant is now a fixture at Avenida Escazú, as is its satellite location in Malpaís, on the Nicoya Peninsula. The trio is now cultivating a third restaurant in Santa Ana, along with even bigger plans: They want to open Product C restaurants across Costa Rica and turn the restaurant into an international franchise.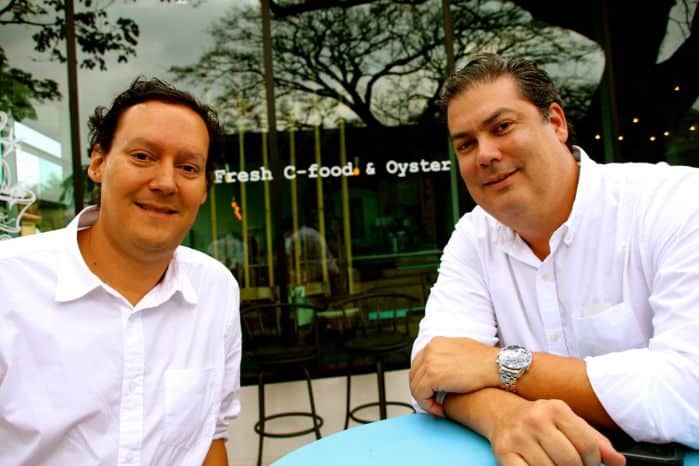 De Pass and Jiménez are attorneys, and they specialize in real estate and copyright law. (On its logo, the "C" in Product C is styled as a copyright symbol). They have known each other since they were teenagers, and they have worked as law partners for the past 18 years.
Although they had little experience in the food industry, they were eager to learn about sustainable fishing practices. When they heard about Geneau and his small eatery in Malpaís in 2009, they introduced themselves and asked about a partnership.
"We settled it with a handshake," De Pass said.
"After a bottle of whiskey," Jiménez added, chuckling.
Product C has taken some unexpected turns these past few years. The original idea was to become a wholesaler, and Product C continues to function as a seafood distributor for area restaurants. But when they opened a small kiosk in their wholesale fish market in Santa Ana, customers waited in long lines for ceviche and other prepared lunches. The demand for a sit-down seafood place was clear, so they opened the restaurant in Avenida Escazú, which has thrived for four years.
Another surprise was craft beer: Neither De Pass nor Jiménez knew much about cerveza artesenal, but when microbreweries started popping up across Costa Rica, they decided to embrace it. Product C co-sponsored a Craft Beer Festival outside its restaurant, and the event was so successful (1,200 attendants) that they have helped organize two more annual festivals, each larger than the last. Their taps already showcase nine artisanal brews, and they plan to add three more by the end of the month.
One of the triumphs of Product C is its reliance on responsible anglers. Trawling, illegal fishing, and dolphin deaths have become hot-button issues in Costa Rica and around the world, and the Product C owners are so proud of their policy that the Escazú restaurant has an enormous diagram painted on their front wall, illustrating how their platters reach the table.
Product C partners only with Costa Rican fishermen, their fish are always fresh (never frozen), and they communicate regularly with Fundación MarViva, which promotes marine conservation in Costa Rica and Panama. Their relationship with MarViva is so strong that they have cohosted seminars on eco-friendly fishing practices.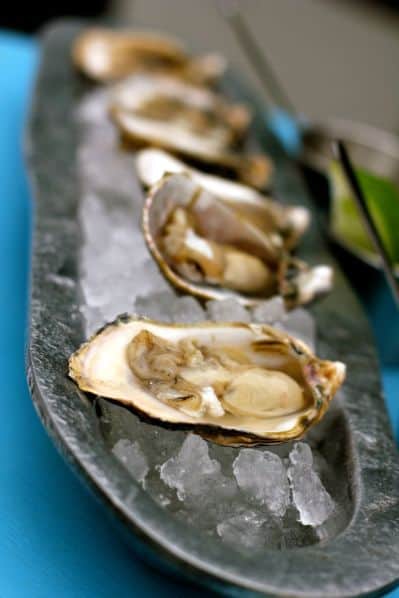 "It's a little more expensive than what you usually find at the market," concedes De Pass. "But since day one, we've always been very conscious about [the environment.]"
The new restaurant, located in the Lindora district of Santa Ana, southwest of San José, has become a labor of love: The restaurant is encased in a slick glass cube, but the interior is largely composed of recycled wood; there is a pleasing aesthetic contrast between the steel-and-plate-glass frame and the unfinished lumber that makes up the interior. The three-quarter patio around the restaurant is spacious and open, and on temperate evenings guests dine beneath the branches of a Guanacaste tree.
While the restaurant has set menus, guests at the Santa Ana location are encouraged to be creative. They can select filets from the display case and request a specific preparation, from Cajun spices to an Italian cream sauce. They can choose live oysters and lobster from a tank. They can rest assured that everything but the salmon (which is not native to Costa Rica) was caught locally.
"We don't do sushi, because everybody does that," said De Pass. "But we do sashimi, because our product is perfect for it."
De Pass and Jiménez said they have a good relationship with similar restaurants around the Central Valley, and they hope that the Tico palate will continue to evolve. "People here aren't yet taking Costa Rican cuisine to the next level," De Pass said. "The scene is moving, but not necessarily with our roots."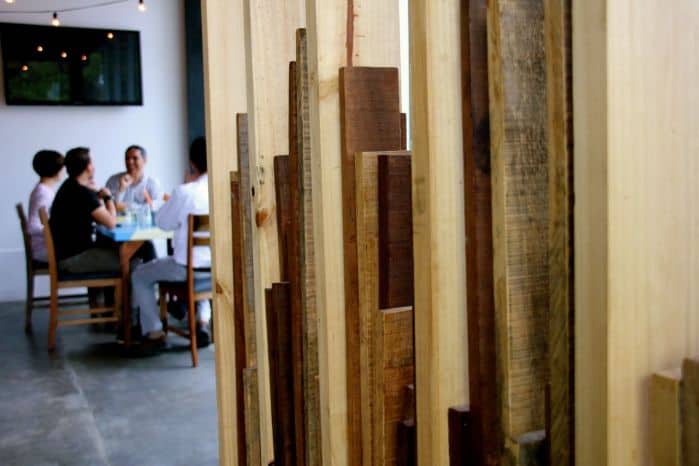 Although it's too soon to predict Product C's future, De Pass and Jiménez have ideas. "We hope to open five more," Jiménez said, "and then franchise it." They would continue to own and operate the eight potential locations in Costa Rica, so franchises would be reserved for overseas management. De Pass was born in the United States and Jiménez has Canadian family, and they travel frequently to North America. The idea of a Product C on the streets of Los Angeles or Toronto is easy for them to imagine.
Recently, a restaurateur from Panama visited to see what Product C was all about.
"He was impressed," Jiménez said. "He said, 'In Panama, there is nothing like this.'"