WASHINGTON, D.C. – Nearly 20 years later, journalist, diplomat and now published author Héctor Silva Ávalos still cannot get that afternoon in late 1995 out of his head.
Then an arts and culture reporter at La Prensa Gráfica, one of El Salvador's leading newspapers, Silva was driving back to the capital when he got stuck in a traffic jam. He asked a cop on the scene what the holdup was, and learned that the police had attempted to rescue a kidnapping victim while delivering ransom money to the criminals – and ended up killing the man by mistake.
"But when I got back to the office, I saw that the official narrative was different," he recalled. "They said the kidnappers had received the money and killed the victim anyway. In the end, my article showed both versions of the same incident. After that, I began reporting on drug trafficking and a smuggling ring known as Los Perrones, and that's when I learned these weren't isolated cases I had been seeing, but rather a culture, a system. These guys were partners. Infiltration went to the highest levels of government."
Silva, 42, spoke Monday at the Inter-American Dialogue, a Washington think tank, about his new book, "Infiltrados: Crónica de la corrupción en la PNC" ("Infiltrated: Chronicle of Corruption in the National Civilian Police").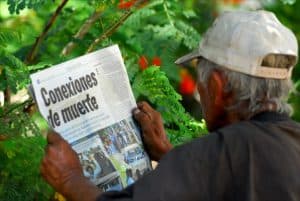 The 292-page volume, whose publication was financed by Washington-based Open Society Foundations, offers a detailed exposé of PNC wrongdoing from 1992 – when the Chapultepec peace accords ended El Salvador's 12-year civil war, in which 75,000 people died – right up until last year.
"Corruption is, from my point of view, the very worst of cancers we're facing. It's been eating at our institutions for two decades, and our entire political system is ill with corruption," said Silva, who from November 2009 to July 2012 worked as a political counselor and then deputy chief of mission at El Salvador's embassy in Washington.
Silva's presentation was co-sponsored by the Center for Latin American and Latino Studies at American University, where he's now a research fellow. Also speaking at the May 19 event was AU professor Eric Hershberg, Michael Shifter, president of Inter-American Dialogue, Steven Dudley, director of InSight Crime, and U.S. Rep. James McGovern of Massachusetts.
About 60 diplomats, business executives, scholars and others attended the event. Interest in El Salvador has been fueled by the June 1 inauguration of President-elect Salvador Sánchez Cerén – a longtime rebel with the Farabundo Martí National Liberation Front (FMLN) who fought government troops during the civil war and has been the country's vice-president since 2009.
"I used to think, naïvely, that once the war ended, everything would just click. The situation turned out to be a lot more complicated than that," said McGovern, a Democrat who has traveled frequently to Central America. "Héctor's book makes clear that it's possible to go after criminality, and that committed individuals inside and outside of government can make a real difference. I hope the new government will read Héctor's book and break the culture of impunity that strangles democracy."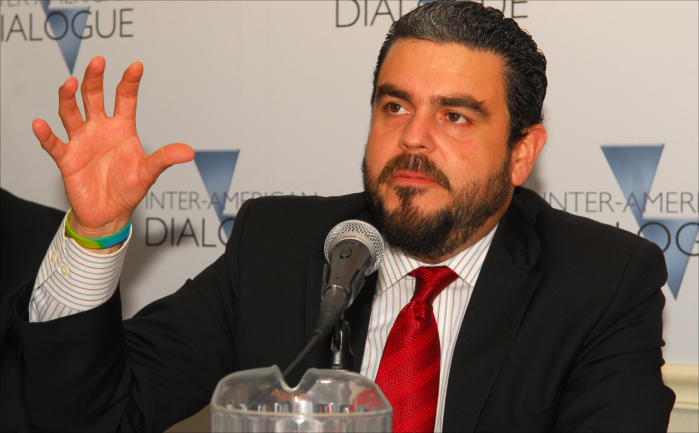 Dudley said the irony is that El Salvador's wave of violent crime coincides with "incredible gains" in human rights, democracy and justice. Evidence of this is the election of Sánchez Cerén, who represents "not just FMLN-lite, but a really hardcore faction" within the one-time Marxist-Leninist movement.
"There's increased emphasis on the military being the front lines in this struggle [against violent crime and drug trafficking]. Let's pull back from militarization as a fallback option, and let's focus on the police."
Sadly, Dudley observed, El Salvador has no alternative but to reform what he called its corrupt police force – since cops are the most regular point of contact between the government and ordinary citizens, and are the first responders in an emergency.
"Criminal drug trafficking organizations cannot work without the aid of the police," he said. "They can offer you protection and safe passage during operations. They can shield you from investigations, destroy evidence related to investigations, provide weapons, provide assassins off the books, arrest rivals, steal your rivals' merchandise for you, offer you safe houses and vehicles, and spring jailed leaders from incarceration."
Silva noted that El Salvador – home to about 6.4 million people – suffers from the planet's second-highest homicide rate. At 69.2 killings per 100,000 inhabitants in 2012, it was exceeded in bloodshed worldwide only by neighboring Honduras (85.5 per 100,000) – and was far more violent than Guatemala (38.5), Mexico (22.7), Panama (18.0) or Costa Rica (11.3) that year.
Homicides in El Salvador did drop temporarily in 2012 and early 2013 – thanks to a short-lived truce between the country's two leading gangs: Mara Salvatrucha (MS-13) and the rival Barrio 18. But the murders have returned with a vengeance, and Silva said the new president will have no choice but to "clean up" crooked institutions.
"We are back to 10 or 11 killings a day. We are now fully aware that our institutions don't work and that we need to change them," said Silva, adding that there's a glaring "disconnect" between what Washington thinks is happening in Central America, and what's really happening there.
"For two decades, the official narrative has been, 'we don't really have a problem. Honduras has a problem. Guatemala has a problem,'" he said. "Governments used the gangs as a way to explain everything from killings to drug trafficking. Even U.S. officials say the gangs are drug dealers. But no, they're not. The gangs don't have the kind of money necessary to bribe the director-general of the National Police. And it's not just the police that's corrupt; it's the attorney general's office and the judiciary too."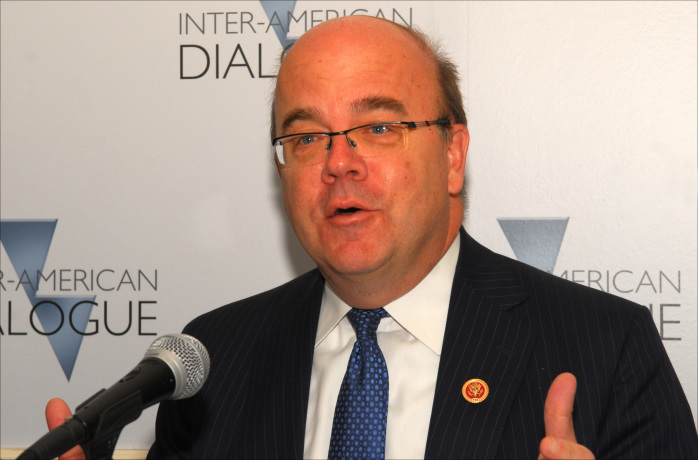 McGovern said more people are getting killed on a daily basis now than during El Salvador's civil war. He pointed to "the failure by the Salvadoran government to actually implement the peace agreement the way it was supposed to be implemented" back in 1992.
"Unfortunately, the United States is not as engaged in Latin America as we need to be. The impulse is always to look the other way," said the congressman, who first began focusing on El Salvador in 1983 and stepped up opposition of U.S. aid to that country following the 1989 murder of six Jesuit priests by right-wing death squads. "If we stir the pot up, who knows what will happen? It's dangerous. People get killed for questioning the integrity of the national police, but we ought to be supporting courageous journalists who expose the truth about corruption."