Costa Rica – thank you for such a great welcome! pic.twitter.com/UeHZE9mBll

— Paul McCartney (@PaulMcCartney) May 3, 2014
I think it has taken many of us these several days to digest the experience. After all, whether you've seen him in concert before or not, and regardless of your age and sense of what is cool or hip, if you grew up here in the 1960s and '70s, this was no ordinary event. This was Paul McCartney in Costa Rica.
Before the performance began, before a lyric was uttered, Sir Paul came out and stared down tens of thousands of people, and in remarkably clear Spanish, said he was happy to be here, "FINALMENTE!" The man sitting next to us let out an agonizing scream of joy. I was personally overcome for the next half hour. About time, Paul. You have no idea.
Beatlemania was different on this side of the world. We weren't protesting wars – we had already abolished them. But we were struggling to get out of the backwoods, tiny, banana republic world we inhabited. Unlike most of our neighbors, we actually believed in peace and love, and music was a big part of our lives. We had cumbia and merengue and salsa, and we had an incredible symphony of which I was a part. But when "Please Please Me" hit the radio waves, we were stunned.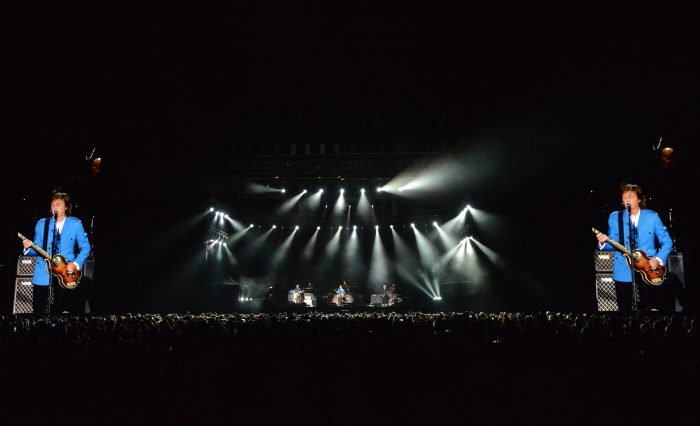 It wasn't just the fact that these guys were very good – that goes without saying. For reasons I doubt anyone can really explain, they captured this country. I traveled throughout the United States and Europe during and after this period, and was amazed that the rest of the world didn't seem to have been affected in the way we were here.
But time went on, and for most of the world, The Beatles and McCartney's solo music were relegated to covers you heard in elevators and in dentist chairs. Not here. Everyone I know did their best to catch the "Hora de los Beatles" on Radio Juvenil every Sunday morning. And sing along. And maybe weep a little. But most importantly, go out into the world and believe.
I played in a cover band through many of those years – birthdays, private parties and the occasional concert. We played everything from Grand Funk Railroad to the Stones, but the reaction when we came out with "Revolution," "She Was Just Seventeen," or "Back in the USSR" was astounding, almost unimaginable now.
Maybe it was the sheer beauty of it, the niceness of it, the iconic message it portrayed. Life was good, life was happy, we just needed a little more love and fun, done very well. I think those of us who came out of that world mostly still believe in all of that. Ardently so. I heard that people were amazed that ex-President Óscar Arias chose to go to the concert rather than attend President Laura Chinchilla's farewell address. Of course he did!
I can hear my old surfer friends, who mostly grew up in the U.S. and obviously went through their own Beatles phase, saying "Dude, this is dumb, this is old, this is not the music we listen to now. It's not cool anymore, and frankly we got sick of The Beatles and McCartney 25 years ago." What a shame. I haven't – especially not after Thursday night.
We felt we were a special country, and Paul and his hermanos were, to us, part of it. Maybe we're amazed at how you make us feel, Paul.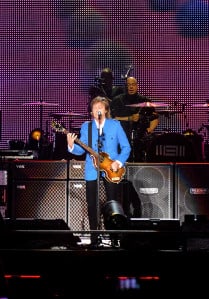 So, I would not be amazed if May 1, 2014 lives on in the memory of many of us forever. He heard us. He saw the thousands of cards with the word "Na" waving during "Hey Jude." Everyone was more than happy. One man in front of us kept screaming "¡Que Dios te bendiga, Paul!" My word!
Not your ordinary concert at all. Maybe you helped make us the happiest country in the world.
It may not feel like this at all to you, if you didn't grow up here, if you think of them as your parents' or grandparents' music, or if you simply have no heart. But in Costa Rica, this concert was not just special. It was miraculous.
Thank you, Sir Paul. Thanks for knowing about us and showing us that as long as you can go out there and rock for over three hours to a full stadium, there is still hope that all will not be forgotten. Thanks for reminding us.
We're not the only ones.