MEXICO CITY – Mexico bid farewell Monday to its beloved adopted son, Colombian novelist Gabriel García Márquez, in a national tribute filled with the late Nobel winner's favorite roses and music.
A coffee-colored urn containing his ashes was placed on a podium, surrounded by yellow roses, in Mexico City's domed Fine Arts Palace as a string quartet played classical music.
Dozens of guests applauded when his widow, Mercedes Barcha, and other relatives dressed in black arrived at the ornate cultural center, where Mexico pays tribute to its late artistic icons.
Hundreds of people lined up outside the palace to pay their last respects to the author of "One Hundred Years of Solitude."
Known affectionately as "Gabo," García Márquez died Thursday in the Mexico City house where he lived for decades with his wife and two sons. He was 87.
Visiting Colombian President Juan Manuel Santos was to deliver remarks later with Mexican leader Enrique Peña Nieto.
"I want to thank him for the pleasure he gave me in reading books," said Joseline López, a 21-year-old Venezuelan medical student who queued outside the palace.
"'One Hundred Years of Solitude' will survive 100 more years in our hearts," she said, clutching three yellow roses.
García Márquez first moved to Mexico in 1961 and it was there that the veteran journalist wrote his seminal novel, a family and historical saga that was published in 1967.
He was a leading exponent of "magical realism," a style of story-telling that blends fantasy and realistic elements.
The cause of his death has not been disclosed but he died a week after a bout of pneumonia.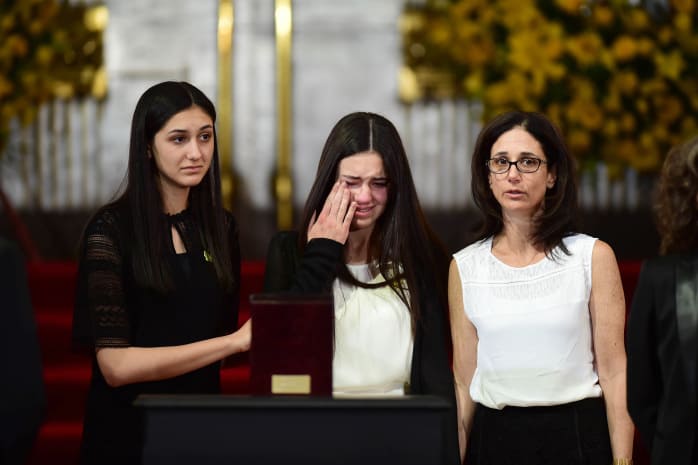 He 'loved' Mexico 
The palace was bedecked with his favorite flower, the yellow rose that he so often wore on his lapel for good luck.
Many mourners wore the rose as violins played Haydn and Handel. A large portrait of García Márquez hung on a wall.
"He loved this country. He was very grateful and felt as Mexican as any other person," Jaime Abello, director of the Ibero-American New Journalism Foundation founded by García Márquez, told MVS Radio.
His biographer, British writer Gerald Martin, said he understood the secular nature of the ceremony because García Márquez was not a religious man.
"But he was a man who respected other people's beliefs, like his mother. Almost his entire family was very Catholic," Martin told Colombia's Caracol radio.
"He joked that he didn't believe in God but feared him a lot," said the author of "Gabriel García Márquez: A Life."
His native Colombia will hold its own ceremony at Bogotá's cathedral on Tuesday for the man Santos hailed as "the greatest Colombian of all time."
Then on Wednesday, to mark World Book Day, Colombians will have readings of García Márquez's novel "No One Writes to the Colonel" in more than 1,000 libraries, parks and universities.
The family has not said where the author's final resting place will be, but Colombia hopes that the family will divide García Márquez's ashes between his homeland and Mexico.
His wife Barcha "says that it is a very difficult decision that will be taken in due time," said Rafael Tovar, president of Mexico's National Culture and Arts Council.