A sea of happy people draped in flags of all sizes waited for the candidate, chanting the mantra that became a campaign slogan: "Con Costa Rica no se juega." You don't mess with Costa Rica.
Hundreds of souls, hearts and minds waited on a Sunday afternoon in the center of San José for the words of a man who in less than a year was catapulted from being a nearly anonymous academic to the person who likely will govern the country for the next four years.
The people's eyes were sparkling, their arms were raised and madly waving flags, their hands applauded, and some feet even left the ground. They shouted and cheered when Luis Guillermo Solís took the stage dressed in jeans, a simple hat, and a PAC youth T-shirt.
He greeted them and the crowd responded with emotion, as if a rock star had appeared in front of them. They were hungry for more of what the professor had already delivered: hope.
This campaign, so unique and so full of surprises, has convinced me that politics is essentially the art of inspiring hope; anything else is extra, added value.
Hope is an inherent characteristic of all human beings; no one escapes it. In fact, the vast majority embraces it daily, even in the most adverse circumstances. In this short, simple word lies the secret of Solís' success.
Recommended: Johnny Araya is down and out, but not his party, says analyst
Much has been said and will continue to be analyzed about the strategies of this campaign, but the truth is that Solís, in a matter of months and without disproportionate spending, has managed to restore for many Costa Ricans that illusion once thought lost for good.
Gazing at the people around me last Sunday afternoon in the Plaza de las Garantías Sociales during the close of Solís' campaign, it became clear what was behind the applause, the shouts and the smiles.
That chorus of voices represented innocent hope for a better job, a better home, better streets, better services, better education and better health; in other words, a better life.
Every day I ask myself, "How did this happen? Why did Solís manage to captivate in a matter of weeks both the people who know him and those who didn't, and convince them to vote for him?"
I don't have definitive answers, but I'm increasingly inclined to believe that the formula didn't come from international universities' complex theories about political propaganda, or from the smart minds at PR firms, but rather from a vision of the Costa Rican politician of the past, who didn't have bodyguards or modern bulletproof SUVs, and who certainly wasn't a millionaire.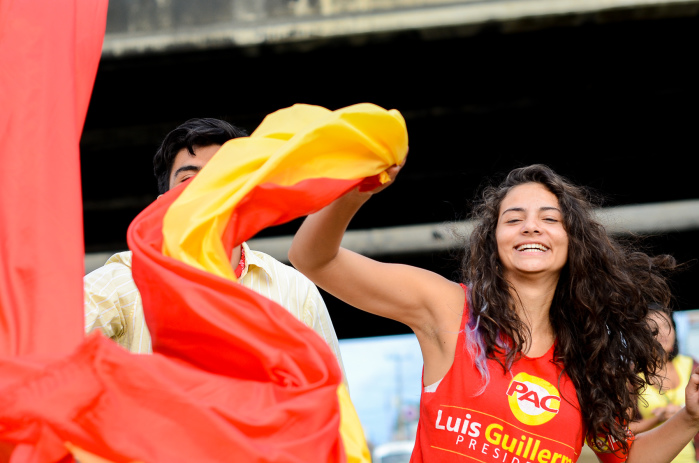 Solís is the middle class, and that alone places him closer to voters than all of his previous opponents. It wasn't coincidence that last February he was most successful with the country's urban population, where the middle class continues to struggle to maintain a majority.
That condition of being the "average" Costa Rican also allows him to have an entertaining and enjoyable form of conducting politics, with good humor and without posturing intellectual superiority. He corrected the cold and academic language of his earlier speeches and managed to project a more human image of a professor and a worker, a father, a conciliatory leader, and even a pet lover. He never came across as plastic like his ruling-party opponent, Johnny Araya.
https://www.facebook.com/photo.php?fbid=776527585710096&set=a.536447069718150.135933.199246583438202&type=1&theater
Solís took advantage of his experience as a teacher and quickly connected with young Costa Ricans, the demographic that took the reins of his campaign in January and converted it into a phenomenon on social media networks. He played pickup soccer games in the barrios, he traveled the country with them, and he surrounded himself in music and masquerades. It is their T-shirt he decided to wear on his campaign's closing day. The word "youth" emblazoned on the front of "El Presi's" shirt last Sunday was anything but happenstance.
In the end, Solís achieved something I thought was impossible in today's Costa Rica: He convinced a large part of the population that he is an authentic politician, and more incredibly, a trustworthy politician.
As a group, the Citizen Action Party and some of its most relevant actors, such as Ottón Solís, continue generating doubts and uncertainty among many voters, including me. Nevertheless, Luis Guillermo has so far been able to lead, and he continues to emerge with flying colors – or at least with his reputation intact.
Four years is a short time, but it's also a long time. It is a short time to truly implement profound changes, show results and fulfill the people's expectations, especially those who are most hopeful. It's a long time to have to lead every day during internal and external controversies, and surrounded by the egos and contradictions that abound in PAC. And then there are the obstacles we can expect from the National Liberation Party and others along the way.
While Solís was thanking everyone in his final public campaign speech, including the founders of PAC, those who joined the party's ranks later, and above all, the people who placed their trust in him, I thought about all of this and I wanted with all my heart to believe him.
I want to possess that optimism and that sweet hope that surrounded me that day in the plaza. I want to believe that a better future is around the corner, because at the end of the day, what can be salvaged from apathy and disillusionment? This time around, I'm joining the ranks of the hopeful.
Nancy De Lemos is a journalist and former director in Costa Rica for the news agency EFE. A graduate of the University of Costa Rica, she now works in communication for global environmental NGOs.
Recommended: The light at the end of the election