Costa Rica ranks third in Latin America in country brand evaluation
Costa Rica as a brand obtained the third highest score among 21 countries in Latin America, according to a study released by U.S. company Future Brand.
Brazil and Argentina top the Country Brand Index Latin America, which is based on interviews with 2,000 frequent travelers from outside the region. It also took into account analysts' opinions, information provided by brand managers and results from online surveys.
Researchers evaluated brand levels of familiarity, preference and the number of recommendations by travelers, among other factors.
Costa Rica occupies top positions in three of the categories evaluated: Natural Beauty, Environmental Friendliness and Hotels and Resorts.
"These results indicate the country's focus is strongly supported by an anchored position in sustainable exploitation of natural beauty through tourism, one of its main income sources," the study noted.
The index also highlights the country's ability to attract investment from companies that manufacture high value-added products and that also are environmental friendly.
"Costa Rica is one of the countries to watch in the near future, both because of its consistency about 'green' and 'sustainable' [tourism], and also because of its momentum to be recognized as a country with a value proposal that optimally integrates tourism with exports promotion and attracting investment," the analysis noted.
The country also ranked well in other categories such as having a stable legal framework, freedom of expression, political freedom and tolerance, which according to the study reflects the Costa Rican democratic tradition.
[Costa Rica] not only offers a pleasant climate, but it also allows local and foreign people access to an increasingly inclusive and well-developed health system," the report said.
Future Brand also developed the campaign for the country's brand, "Essential Costa Rica," which was presented last September. The country's new brand generated widespread criticism in Costa Rica for its overt simplicity and poor aesthetics. The company also has worked for Australia, Argentina, Peru, Singapore, Chile, Mexico, Saint Lucia, Dubai and Qatar.
The Country Brand Index full list:
1 Brasil
2 Argentina
3 Costa Rica
4 Chile
5 Perú
6 México
7 Uruguay
8 Panamá
9 Colombia
10 Puerto Rico
11 Rep. Dominicana
12 Cuba
13 Venezuela
14 Ecuador
15 Nicaragua
16 Paraguay
17 Honduras
18 Bolivia
19 El Salvador
20 Guatemala
21 Haití
Essential Costa Rica spot:
You may be interested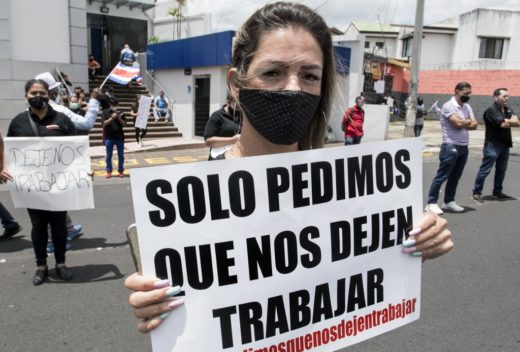 Business
3339 views
Some 34 million jobs lost in Latin America due to pandemic
Carlos MANDUJANO / AFP
-
September 30, 2020
The two aspirers for the presidency of Costa Rica, the evangelical preacher Fabricio Alvarado and the former minister Carlos Alvarado, reach the closing of the electoral campaign for April 1st with a technical draw, according to a poll disclosed this Friday.