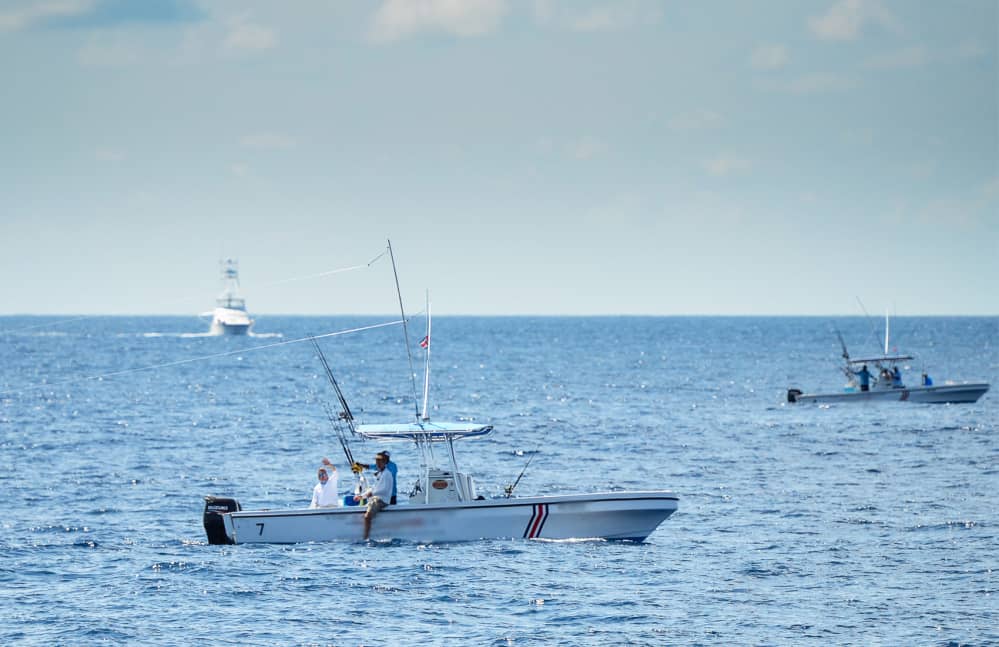 Welcome to fishing heaven: a worldclass marina, big, abundant fish and easy access to Juan Santamaria International Airport, northwest of San José, make Costa Rica's Central Pacific region one of the premier fishing destinations in Central America.
Sailfish, marlin, tuna, dorado, snook and other large, hard-fighting species abound here, and, most importantly, you'll find world-class fishing boats and marinas that you'd be hard-pressed to find anywhere south of Mexico.
An offshore, full-day (seven to eight hours) of fishing is usually done 12 to 20 miles from the coast, in large, well-equipped sportfishing boats that can handle between three and a dozen fishermen.
Inshore trips, which can run a full day or a half-day (four to five hours), are often less expensive and still allow for exciting fishing around rocks, reefs and river mouths for roosterfish, snapper, jacks and snook.
The central Pacific coast is home to the largest, most modern marina in the country, Los Sueños, in Playa Herradura, just north of Jacó, as well as a wide array of options for sportfishermen looking for adventures off the beaten track.
Danny Alfaro of Costa Rica Dreams Sport Fishing, which operates out of the marina, books more than 20 boats offering both full and half-day tours.
Tours include lunch, beverages, bait and tackle, and guides speak English and Spanish, and most boats take between three and five people – which helps lower the cost per person.Alfaro also offers a 64-foot sportfisher called the Carcharodon, which can handle larger groups of up to 10.
The prices may seem exorbitantly high to someone unaccustomed to the world of sportfishing, explains retired Tico Times fishing columnist Jerry Ruhlow, but it's the norm.
"The boats are expensive, but you have to remember, they're the same price whether there's one person on them or four. So make sure you go with a group – that will help cut down on the price," Ruhlow says.
The longtime Costa Rica resident recommends asking lots of question before booking a boat.
"As with anywhere, you want to find the people with the most experience, not the new kid on the block," he said. "You don't want to get out on the water with someone who has only a half-spool of line on the reel."
Dave Ward, otherwise known as "Wavy Dave," books trips farther south, in Quepos, and guarantees his captains will have topnotch equipment, impeccable boats and fish-finding skills.
"It's expensive, yes, but not bad when you compare it to other places in the world," he says.
The price for a half-day of fishing on a boat, which can run as low as $300 to $350, when divided between two or three people, puts fishing in the same price range as a halfday dolphin watching tour,Ward says.
He adds that the Central Pacific region has gained a reputation for having some of the best fishing around – and with good reason.
"We're located between four major rivers, two to the north and two to the south, so there's a constant flow of nutrients and bait entering here," he explains.
Ward claims rumors of the largest snook ever caught on hook and line have been floating around the area, as has another rumor of the largest Pacific blue sailfish –but the latter fish was released, so it was never made official.
"I have a picture to prove it, though," he says.
Jacó, north of Quepos and just south of the Los Sueños Marina, makes a good sportfishing base in the region, offering a wide range of activities for fishermen planning to try their luck in either port.
Brett Swindell of Cuervo Sportfishing, a fanatic angler who's fished Costa Rica for more than a decade, was out of breath last week after fighting and then breaking off what he believed was an enormous roosterfish from the beach at Playa Hermosa, just south of Jacó.
"We can set you up with any kind of fishing, from the beach, from a kayak or panga (small motorboat) inshore or sportfishers offshore," he says.
Swindell books more than a dozen boats out of Quepos and Los Sueños, allowing anglers a full range of fishing opportunities.
His shore and kayak fishing trips are unique, and more affordable for serious fishermen looking for off-the-beaten-track alternatives or beginners looking to save a bit but still wet a line.
Try Your Luck
Note: Many hotels offer fishing tours. Boats can also be chartered by talking to captains at the marina.