Ticos Tell How They Plan to Vote, and Why
Oscar Arias has a commanding lead, according to the polls – but, as usual, a brief stroll through the streets of San José reveals a reality that's less neat and tidy than these numbers suggest. Of the Costa Ricans interviewed by The Tico Times Jan. 13, more said they'd vote for Arias, of the National Liberation Party (PLN), than any other presidential candidate, but those who are undecided, or say they don't plan to vote, outnumbered the Liberation faithful.
And as for another major question on candidates' minds – whether the next President will have a majority in what has been, for the past four years, a divided Legislative Assembly – there's even less certainty.
While the corruption cases revealed in 2004, which implicated three ex-Presidents (two from the Social Christian Unity Party and one from Liberation) and other public officials, and criticisms of the administration of President Abel Pacheco have influenced many Costa Ricans, these factors drive some to seek new faces and new ideas, while others say they want the solace of experienced leadership.
Excerpts from our interviews:
Ice-cream vendor Emilio Parajele, 67, said he'll vote for Arias: "I was from Unity, but haven't voted for 20 years… I didn't like the candidates Unity put forth, none of them. I don't remember the last presidential candidate I voted for. But I thought: if someday Arias runs again, I'd vote for him. He had a great administration (1986-1990), and you have to look at that. For legislators, I don't know. At my advanced age, the administrations pass so fast, and the legislators don't do anything for the country."
Housewife Carla Suarez, 28, said she will not vote: "None of the parties convinces me. I don't believe in any politicians. I've never voted. A politician always says the same thing and never meets any of his goals, so it makes no sense to vote for someone who won't follow through. It'd be better if they didn't speak and got things done."
Security guard Bernardino Madrigal, 55, said he plans to vote for José Manuel Echandi of the National Union Party (PUN): "I liked how he worked as Ombudsman (2001-2005), his way of being. He doesn't see himself as powerful, like others, who only fight and fight amongst themselves. The (legislative candidates) he has are also people who've never been in politics, so I'll probably vote for the same (PUN) legislators as well."
Language therapist Blanca Machado, 38, said she is undecided: "What the candidates are offering is the same as they offered in the past, in the past election. Even Oscar Arias is the same… There needs to be more of a push for special education. Public institutions don't offer much help now (for people with disabilities). That's what I think is missing in the candidates now."
Tour bus driver Mario Soto, 38, plans to vote for Arias: "When Arias got the Nobel Peace Prize (in 1987), Costa Rica became more widely known, and more tourists came – it has given work to many people, from bakers to us (tour bus drivers). I voted for Unity twice, but now it's very bad – look at the highways. It's a travesty. Tourists say they come to take pictures of birds, and they take away more pictures of holes in the road."
English teacher Marco Pereira, 39, said he is undecided: "I don't know yet, but I think maybe I like Otto Guevara (of the Liberation Movement Party) a little. He hasn't robbed anything yet, and it's an emerging party. In the traditional parties you can't trust anyone. For legislators, I want to spread my vote around, so that there are always different opinions when they're going to make a law. The President isn't in charge of anything in this country – it's the legislators who run things."
Chef Cristian Quesada, 20, said he'll vote for Ottón Solís of the Citizen Action Party (PAC): "Ottón is something different. He's not the same as Oscar Arias, who just wants to impoverish the country, nor as Unity, which is the same thing." Solís opposes the Central American Free-Trade Agreement with the United States (CAFTA), which "isn't good for anything. I'll vote for some PAC legislators."
Taxi driver Alvaro Durán, 50, said he'll vote for Echandi: "I like the candidate. He's always been an honest person… and did good work as Ombudsman. (His chances of winning) are tough, but hey. I'll vote for legislators all from PUN, so it's one government, with everyone supporting him."
Housewife Juana María Núñez, 80, said she is undecided: "I may vote – I'm still not sure. If I do, it'd be for Unity. I can't explain why. It's always been my party. "
Red Cross volunteer Carlos Hernández, 39, said he won't vote: "I'm sure I won't vote. I don't have any political party, and I don't get involved in this. (I look for a candidate) who can improve the economic situation of the country, especially for the poorest sector."
Juan Bernardo Córdoba, 36, works at pension fund company and plans to vote for Arias: "I've always voted green and white… and it seems the best option now. The other parties don't have (good) candidates, and a person who was already President has more experience. That gives you confidence. I don't know who (the legislative candidates) are, but I'll vote the same, always green and white."
Angélica Castillo, 34, works at a marketing firm and plans to vote for the candidate who has had the least publicity: "This country doesn't help anyone get ahead. Every day it's worse – there's less work, the cost of living rises by any amount.We single mothers have to fight for our kids, and we don't get help from anyone. The candidates now promise all these things… I'll vote for the candidate whose had the least publicity possible. I don't know who it is yet."
You may be interested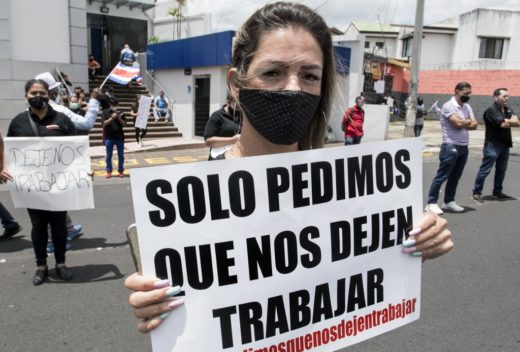 Business
3339 views
Some 34 million jobs lost in Latin America due to pandemic
Carlos MANDUJANO / AFP
-
September 30, 2020
The two aspirers for the presidency of Costa Rica, the evangelical preacher Fabricio Alvarado and the former minister Carlos Alvarado, reach the closing of the electoral campaign for April 1st with a technical draw, according to a poll disclosed this Friday.