Dengue Cases on the Rise
AS the rainy season intensifies, the number ofcases of dengue registered throughout the countrycontinues to soar at an alarming rate, increasing morethan 100% compared to last year, according to publichealth authorities.With more than 8,400 cases reported so far thisyear, government officials are issuing warnings andhave launched campaigns to prevent the spread of thissometimes-fatal mosquito-borne disease.Teresita Solano, chief of the epidemiological vigilanceunit of the Public Health Ministry, said denguethreatens the entire country, though the only casesreported in the Central Valley this year have been inAlajuela, northwest of San José.DENGUE, a viral disease transmitted by infectedfemale Aedes aegypti mosquitoes, which tend tofeed during the day, usually manifests itself througha fast-rising fever of more than 38 degrees Celsiusfor 5-7 days accompanied by severe headaches,retroocular pain, rashes and digestive symptomssuch as diarrhea, vomiting and a bitter taste in themouth, according to a dengue manual published bythe Health Ministry.Hemorrhagic dengue fever, a more severe form ofdengue of which only eight cases have been reported this year, according to Solano, can be fatalif it is not treated in time.This form of dengue, which includesthe symptoms of classic dengue, may alsoproduce liver enlargement and circulatoryfailure. In more severe cases, following atemperature drop, patients may enter astate of shock and die within 12-24 hours,according to the World Health OrganizationWeb site."HEMORRHAGIC dengue is usuallycontracted after having had dengue once.However, there have been hemorrhagicdengue outbreaks that strike on a first infectionbasis; it really has to do with eachperson's immune system," said Solano,adding that the last two deaths from hemorrhagicdengue in Costa Rica were in 1999.Dengue, which health officials say hasbeen present in Costa Rica as an epidemicsince 1993, has no known cure.The Health Ministry manual recommendsdengue patients drink lots of liquids,get lots of rest, and take acetaminophen(the main component ofTylenol) to counteract the pain. Moresevere cases may require hospitalization.IN a message "of special concern toU.S. citizens," the U.S. Embassy in SanJosé issued a statement this week warningtourists and residents about the denguethreat.The most affected areas in the country,according to the embassy, are the centralPacific coast, including the southern tip ofthe Nicoya Peninsula, and the Caribbeanlowlands. These areas include popularbeach destinations such as Cahuita andPuerto Viejo, on the southern Caribbeancoast, and Quepos, Jacó, Punta Leona,Puntarenas, Tambor and Montezuma onthe Pacific coast.Costa Rica's Social Security System(Caja) runs an ongoing dengue-preventionprogram, with spots during trailers atmovie theaters and public-awareness campaignsin communities such as the Pacificport of Quepos, where some 20,000 flyerswill be distributed to students when theyreturn to school next week after their midyearbreak, said Caja spokeswoman XiniaFernández.The Caja plans to launch a multimediacampaign in September based on denguepatients' testimonials in the provinces ofPuntarenas, Limón and Alajuela."THE campaign's objective is to insiston the elimination of mosquito breedingspots and to show, on the news, radio andtelevision, that it is everybody's responsibilityto clean up these breeding spots,"said Caja marketing representative PatriciaLeón. Standing water, including rainwatercollected in vases, used tires or puddles, isthe dengue mosquito's preferred breedingground.According to Solano, the eggs of thedengue mosquito – a species impossibleto tell apart from other types of mosquitoeswith the naked eye – can resist drynessfor more than a year, but hatch duringthe rainy season wherever water iscollected.IN related news, authorities arrested aHealth Ministry employee and a policemanin Siquirres, a town on the Caribbeanslope, for allegedly trying to sell governmentowned chemicals and machines tocombat dengue to two undercover copsfrom the Judicial Investigation Police(OIJ) last week, according to OIJ agentWilliam Jiménez.The suspects, identified by the lastnames of Manzanares and Gutiérrez,allegedly tried to sell to a private fumigationcompany two thermal foggingmachines designed to dispense insecticideand 96 units of an insecticide calledSolfac. The items are worth ¢3.8 million(approximately $8,000), according to thedaily Al Día.Steps to Avoid DengueUSE a mosquito repellent containingDEET (also known by its chemicalname N, N-diethyl-meta-toluamide).Generally, concentrations of up to 50%DEET give long-lasting protection.Empty potential breeding pools,meaning any standing water, in oraround your house daily. Check anddrain gutters, planters, yard furniture oroutdoor toys. Change pet bowl or flowervase water daily. Flush unused toiletsdaily.Look around your neighborhood forstanding water in gutters, barrels, orempty lots, and clear it out.When visiting coastal areas, usemosquito nets at night or rooms with airconditioning and keep windows shut.Source: U.S. Embassy in San José.
You may be interested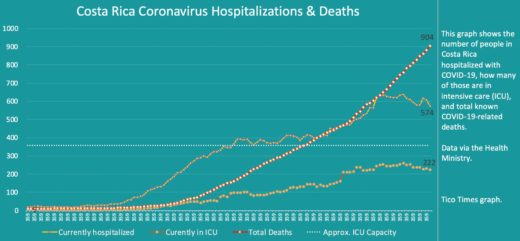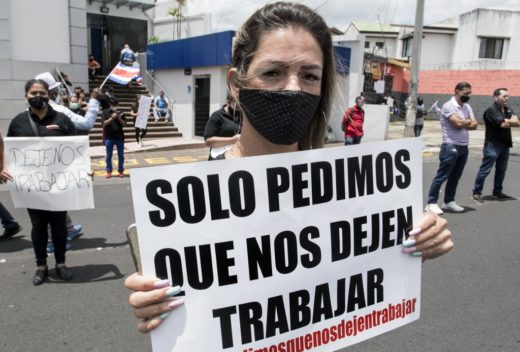 Business
3341 views
Some 34 million jobs lost in Latin America due to pandemic
Carlos MANDUJANO / AFP
-
September 30, 2020
The two aspirers for the presidency of Costa Rica, the evangelical preacher Fabricio Alvarado and the former minister Carlos Alvarado, reach the closing of the electoral campaign for April 1st with a technical draw, according to a poll disclosed this Friday.