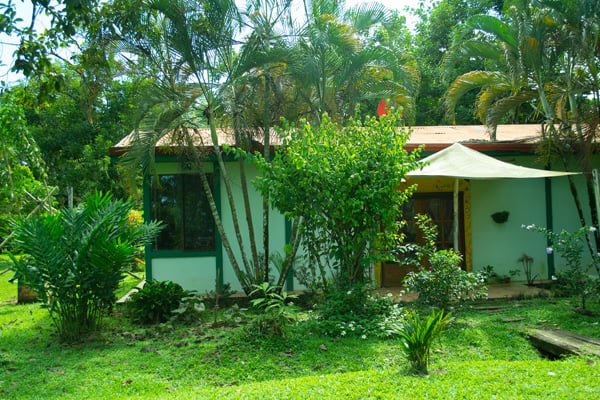 Bedrooms – 2   Bathrooms – 2
Inside home is 1100 sq ft – Patio is 360 sq ft 
1.25 Acres 
Wonderful, unique river front home on the Sierpe River, gateway to the Osa Peninsula. Boat access via the Sierpe River to the ocean and Cano Island for diving, snorkeling and world class fishing.
House and Property
2 bedroom/2 bath, large great room and kitchen.
Very large back patio.
Also there is a perfect area on the property to build a swimming pool, outdoor living area and casita.
The entire property (1+ acres) has fruit trees/plants (mango, plantain, banana, water apples, mamones, papaya, pineapple and avocado, palm trees and lovely shade trees.
Toucans, scarlet macaws and green parrots regularly visit the property to enjoy the many papaya trees.
Furnishings
Furnished with kitchen appliances, sectional couch, comfortable chairs, washer, 42 inch TV, queen and double bed.  A/C units for great room, master bedroom & there is also a portable unit
Access
Access is easiest by boat although there is also road access to the property (10+ minutes from town).
Peaceful 
Truly a garden paradise.
Very quiet, away from the village and noise but only 5-8 minutes by boat to town or 30-40 minutes to ocean (depending on which boca you navigate to) and world class fishing.
Features – Amenities 
Furnished (as indicated above) – Laundry Room
Patio – Mountain View
River Front With Navigation Access To The Ocean
Boat Or Vehicle Access To Property
Boat Dock
Pet Friendly
18 Foot Panga Boat
Activities
On the river you can catch snook and pargo (snapper) & tarpon.
Kayak, canoe, paddleboard, bird watch, see monkeys (squirrel, howler, white face capuchin) and explore the magical mangroves.
World Class Deep Sea Fishing 30-40 minutes away, plenty of whale watching
Great Diving And Snorkeling At Cano Island
This is a magical property!
$189,000 
 For More Information
Contact Dave Schmidt via email at: david@ticotimes.net