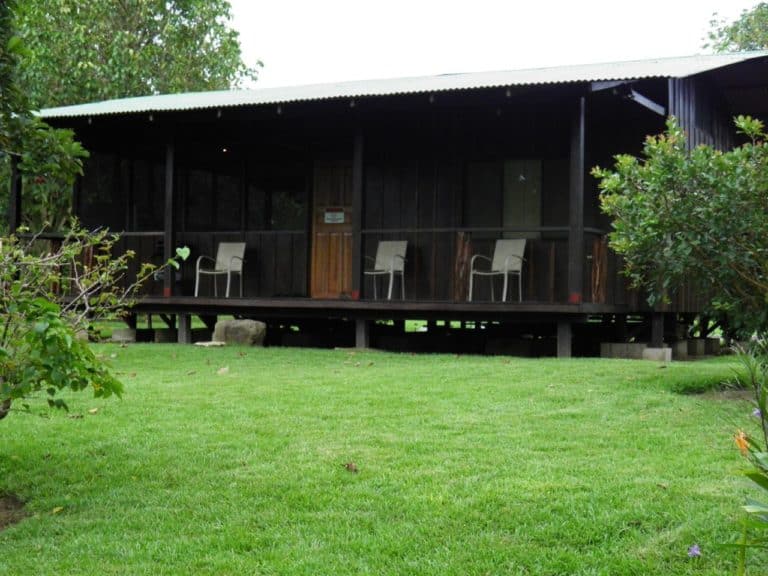 This beautiful property is 1.75 acres of luxurious lawn and fruit trees. Across a river, the Estero Azul, from the small fishing village of Sierpe on the northern end of the Osa Peninsula, activities include…
• World Class fishing (40 minutes down river to the Pacific)
• Entrance to Corcovado National Park, Remote Beaches
• Exotic wildlife
• Mountain biking/hiking
• Scuba, Snorkeling
• Whale watching
And many, many more adventures… This sturdy, hand-built and beautiful home is constructed from rare tropical hardwood including purple heart, chiricano, and cristobal, etc. The wood is super dense and is insect and weather proof.
The home measures 665 square feet, and with the large covered porch, the total footprint is 1000 sq ft. The home interior consists of a large open-air great room, one bath, and a large air-conditioned bedroom. At noon each day a cool, brisk breeze crosses the property from the west keeping the home naturally cool in the afternoons.
Also, the home is elevated to keep air circulation moving around the structure during the wet, rainy season. The concrete foundation sits on overbuilt 42 steel pillars set into one meter depth concrete forms. City water feeds a large tower on the north side of the home. Water pressure is fantastic. Excellent WiFi connection speed allows for streaming TV, movies, documentaries, news, sports, work, banking, etc. \
There are CCTV security cameras and a security system, also a covered garage area and storage shed. There are many, many fruit trees including avocados, and it is a bird watcher's paradise.  The property is titled in the national registery. Annual property tax is running around $130. Google Earth at 8.865339, -83.468784.
The Osa Peninsula in Costa Rica holds over fifty percent of the plant and animal species within the country, which together represent an estimated four percent of all species worldwide.
For example, The United States has only half the number of species that live in Costa Rica and with over 200 times more land. New species will be found in Osa, and there is an intensity of life that is hard to explain unless you spend time there. Popular wildlife tours on pontoon boats pass by the property daily. Normal sightings include crocodiles, caymans, scarlet macaws, monkeys and anteaters.
There are amazing wildlife encounters in Corcovado National Park. Tourists and fishermen travel by boat 45 minutes down river and out onto the Pacific where the fishing is incredible. I have a large file with dozens upon dozens of waypoints that I will pass on. The very popular tourist-surf towns of Uvita and Ojochal are a 45 minute drive up the beach road.
There is a strong indigenous influence in the area. The Boruca Indian's village is up the Panamerican Highway towards Buenos Aires. Other indian villages are scattered around the area of the mountains and to the mountain range east of Buenos Aires.
Less than 6 miles from the property there is a UNESCO World Heritage Site and museum exhibiting the mysterious, enormous precolonial stone spheres in their original placement.
Price: $109,000
Recent Photos
[tribulant_slideshow gallery_id=101
For More Information
Contact Dave Schmidt via email at: david@ticotimes.net