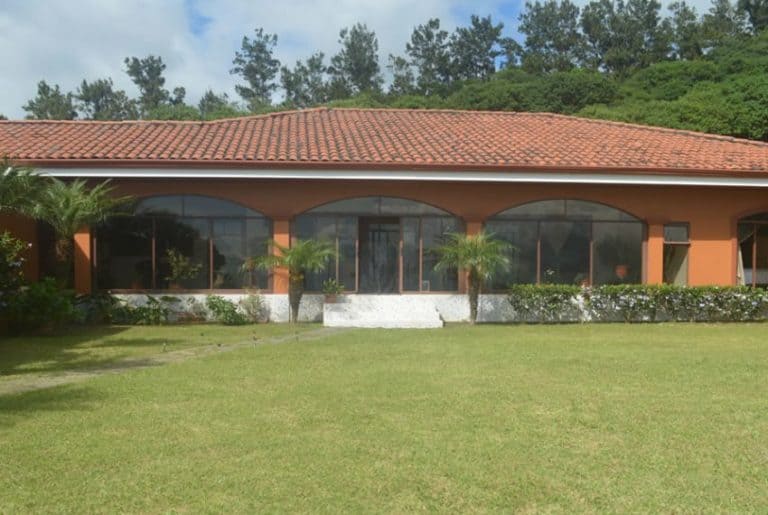 4 Bedrooms 2.5 bathrooms
238 Sqare Meters (2562 Square Feet)
On 5 acres
Beautiful Monteverde home for sale with a gorgeous ocean view. If you are moving or retiring and looking for peace and tranquility this is a perfect home for you. It 's a one of a kind luxury mountain-top 5 acre estate. The home is located in MonteverdeCost Rica. It has breath-taking views of the Pacific Ocean that continues as far as the eye can see. From the home and throughout the entire propertyexquisite views can be enjoyed of the Pacific surrounded by the lushpicturesque hillsides.
The house is a 4 bedroom 2.5 bath single family home2562 square feet and includes a large living room with a fireplace.  It has a 2 car garage with electric opening which is the perfect welcome home on a rainy afternoonwith a storage room that is joined to the main home for extra storage. Master bedroom has an open concept bathroom with Jacuzzi facing to the Pacific. Large windows allow light to fill this open layout house and perfectly frame the incredible views outside.  Enjoy enchanting and masterpiece sunsets from your spacious enclosed patioregardless of the day.
Outdoor Property:
Outside the property is filled with abundant amount of colorful plants eucalyptus tree which is a rare find hereand fruit trees including mango avocado oranges different types of lemons mandarins banana and plantain trees guava water apples coffee trees and more. There are a variety of different birds parrots toucans hummingbirds butterflies etc. And animals like rabbits sloths armadillos monkey's etc.) and lots more!
Public water electricity cable and telephone with high speed Internet are in service and are all run underground.  The entire property is 5 acres (20000 m2) and is completely fenced and enclosed if you have pets and for privacy. The taxes a year for the entire property of 5 acres and house is only $100.  You must see the property to appreciate all it has to offer!
Other Home Features
Gorgeous view of the Pacific Ocean
Fireplace in living room
Jacuzzi (master bedroom)
Cable TV and Internet
Dishwasher
Enclosed glass patio to enjoy beautiful view (517 sq. Ft.)
Alarm System
Lots of attic space
2 Car Garage
Year Built 2000
Other Property Features
Private gated entrance
We had the electricity, phone and Internet lines all run underground leaving no lines running around the entire property
Lots of different fruit trees and plants (mango avocado oranges lemon mandarins banana & plantain coffee guava& more)
2 car garage with an attached big storage room
Property Location:
The property is located in the small community of Cebadilla which is just 3 miles from the main town of Santa Elena, Monteverde. The small community of Cebadilla is home to generations of old families who share a love of working the land and surrounding neighbors are at comfortable distances including Europeans
Nearest School District: Alto Cebadilla – 0.6 miles away.
Nearest Airport: Liberia Airport – 70 miles away.
Nearest Hospital: Santa Elena Clinic – 3 miles away.
Nearest Attractions: Zip Lines (canopy)Hourseback Riding Bungee Canyoning Tour, TopTree Climbing, Cloud Forest Reserves  etc   – 1 to 6 miles away.
Asking Price: $395000 – Reduced to $365000
Recent Photos
[tribulant_slideshow gallery_id=153]
 For More Information
Contact Dave Schmidt via email at: david@ticotimes.net