The Casa Presidencial recently announced a ruling by INCOPESCA of a reduction in the amount of incidental catch allowed by commercial fishermen on sailfish from 15% to 10% of their total catch on each trip to the ocean. These fish can be sold on the National market but cannot be exported. I don´t think if the President was fully informed of the shady history of sailfish in this country, he would readily attach his name to this as a positive move for sailfish.
The rational of this ruling has always been if the longliner retrieves his lines and encounters dead sailfish, they should be able to bring them to market. If the sailfish is alive, they are required to release the fish. The problem is if a fishermen is looking at around $50 alive on his line, the chances with no-one one looking of releasing back to the ocean are very slim.
Historically, sailfish catches have been unregulated and under-reported. The commercial fleet reports an annual catch of less than 5% percent of their total haul is sailfish. If that is the case, why reduce the limit to 10%, why not reduce it to 5% which is more than they are reporting now.
A seafood wholesaler who made a good living here buying and selling products from commercial fishermen for many years once made the following statement while sitting on a barstool in a coastal cantina. I paraphrase, "any agreement that allows any amount of incidental catch for sailfish is a stillborn child. Why? Because it is too easy to cheat and nearly everybody does".
How?
Killing Live Fish
One of the worst offenses by the commercial sector is killing sailfish that are required to be released alive. For a real eye-opener look at the 40 second video here.
Not Marking longlines with identification of owner
Even though there is a directive both in the form of a decree and agreement since 2016, longlines are not marked by fishermen to identify ownership of their equipment. They are often left unattended in the ocean making it impossible to identify violators of current laws.
The result is lines made of primitive materials like a floating twine type rope are left in the water extended periods of time and often become lost line death traps increasing the mortality in incidental catch species like turtles, sailfish and protected species of sharks and are also a hazard to navigation.
This would be very easy to control either at Incopesca inspection or by Port Captains issuing permissions to leave the dock but the rule is ignored both by fishermen and authorities.
Fishing for and using live bait in restricted areas
Fishing live bait by longliners inside illegal areas is a huge problem in Costa Rica especially in the Golfo Dulce. There can be as many as 10 or 15 boats at a time inside the restricted area. Bait is captured at night and often they sleep in the morning before heading back offshore leaving their lines offshore unattended even longer to do more damage to the marine environment
They often use single or double J-hooks, when Costa Rican law requires the use of a single circle hook, designed to do less damage to the fish for an easier release.  
Misidentifying bill fish, Sailfish and marlin, Fishing Law 8436
Article 76.—Sailfish (Istiophorus albidius), blue marlin (Makaira nigrioans), black marlin (Makaira indica), striped marlin (Tetrapturas audaz) and tarpon (Melaops atlanticus), are declared as species of tourist-sport interest.
Incopesca agreement does not match fishing law. "marlín blanco (Makaira nigricans" Marlin Blanco is an Atlantic only species and Makaira nigricans is scientific name for black marlin, a Pacific species. The common named used for black marlin is white marlin because of the color of the flesh.
It should be required in all documents regarding inspections, sales and exportations to be called by the correct name- Sailfish is also different, Since Blue marlin, black marlin, and striped marlin are all declared ¨" especies de interés turístico-deportivo," they should be regulated the same as sailfish with a limited incidental catch.
Inspections at port
Every time a longline vessel lands at port an Inspector from the government is supposed to count the fish and fill out a report. Often the inspectors do not actually get on the boat and they count the fish as they hit the dock. After they fill out the paperwork and leave, the rest of the sailfish hit the dock.
Billfish are difficult to identify at dock and during transport
Sailfish and marlin are brought to port with their head, tail, and fins removed causing two issues. 1. The 15% incidental catch (now released to 10% allowed, is actually much higher number of fish because much of the fish's weight is discarded in the ocean and not brought to port. After removing the head, tail, and gutting the fish one ha discarded 40% of the fish's weight.
By only bringing the trunks of these fish it makes them difficult to identify. All "billfish" should be brought in for inspection whole or at least with the dorsal fin attached which is a way to identify which species it is.
A special permit is required to transport sailfish within the country but for the most part this ruling is also ignored and no-one bothers, and traffic police are not trained in identifying trucks of fish to enforce the law.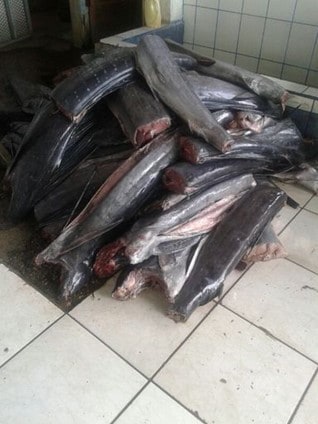 Misidentification of Fish Products
Has been a worldwide problem which has not escaped Costa Rica. Changing the name to make it more attractive is common. Thousands of kilos of a catfish farm raised in Viet Nam called Pangasius have been imported for the national market and were sold as corvineta , which sounds much like a popular local fish called corvina. Shark is often called bolillo which goes into a lot of the ceviche popular here.
This practice has not escaped fish exports. After the exportation of sailfish was stopped in 2009, marlin exports increased rapidly. Custom agents captured a couple of containers leaving the country with about 7000 kilos each of sailfish each marked as striped marlin.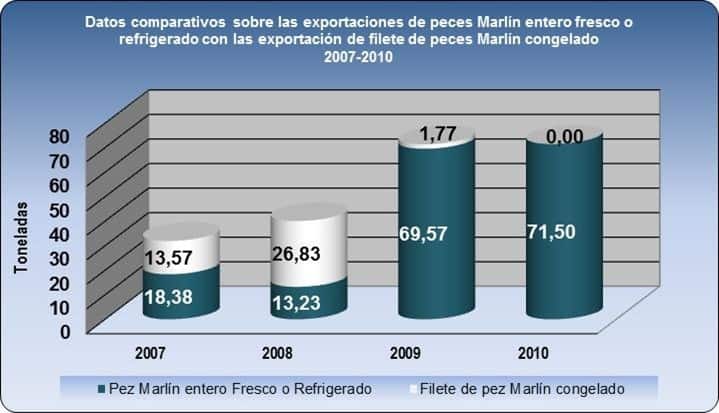 Marlin exports increased as well as the practice of shipping whole marlin after the ban of sailfish exports in 2009. The fishing method remained the same.
There has also been a drastic change in fish landings in the country, especially swordfish. Most of the swordfish are exported to the United States where it is considered a premium fish in fine restaurants. Production has increased from around 400 tons a year landed at Costa Rican docks before the ban on sailfish exportation to almost 1,400 tons a year annually. In 2012 the United States banned the importation of all billfish except swordfish.
There is no evidence of wrong doing on the part of inspectors at fish landings or by fish exporters with the change in numbers, but it is a coincidence that leaves one with a "Ripley´s moment," especially when comparing reported landing before and after ban on exportation.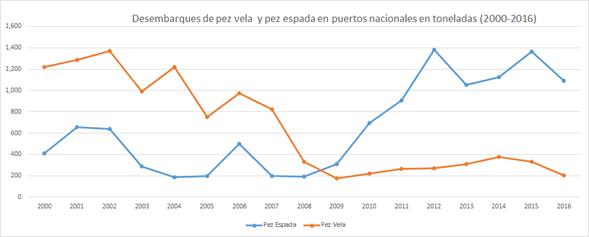 Fish Landings in tons. Red – sailfish, Blue – Swordfish
Data exists
Dra. Marina Marrari is a marine biologist and data expert who is currently Executive Director of the Federacion Costarricence de Pesca (Costa Rican Fishing Federation). She has done extensive studies and published papers on both the commercial and sport fishing sectors related to sailfish.
While catch and release rates for sport fishermen have decreased as much as 70% since 2010, commercial landings have reported an increase dead sailfish brought to port by as much as 126% for the same time period. Considering almost half of the body weight is discarded in the ocean and only "trunks" are brought to port, it is estimated somewhere between 16,000 sailfish or more are killed annually in Costa Rica
Dra Marrari presented her study to the INCOPESCA board of directors and then Vice Minister of Agriculture Monge in 2021. Monge then ordered the Board of Directors to have Dra. Marrari present her data to the scientific committee of INCOPESCA who makes recommendations to the board based on science. They hold a lot of weight with decisions affecting marine resources.
Over a year later, the new Minister of INCOPESCA has yet to schedule her presentation before the scientific committee despite several requests.
How about some fairness
There are 2218 boats registered as commercial fishermen and 623 boats registered as sport or tourist fishing as of August 2022. Even though the sport fishing sector is only a third of licenses issued, they contribute 75% of all money paid to INCOPESCA for license fees with very little representation.
Note to the President
Sir, please take the time to get fully educated about sailfish, by asking INCOPESCA to finally present Marrari´s results to the scientific committee and yourself or at least your staff. Of all the Central and North American countries, Costa Rica has the least protection of sailfish.
Costa Rica is being investigated as overfishing of swordfish and white marlin, which is quite possibly the misidentification of fish landings. Several NGO's lead by Crema and Randall Arauz have asked to prohibit fish exports to the U.S. for violations which would be a disaster for their industry and not worth bending the rules.
13% of all tourism´s motive to come to Costa Rica is sport fishing and the primary species they seek is sailfish. They buy condos, pay taxes, employ Ticos, and pump millions of dollars into the economy every year. The domino effect for hotels, transport companies, eco tours, restaurants etc, is an immense boom to coastal communities.
The truth is Mr. President, A live sailfish feeds many more Ticos than a dead one
About Todd Staley
Todd Staley has run sport fishing operations in Costa Rica for nearly 30 years and works in marine conservation. He currently is Communications Director at FECOP, the Costa Rican Fishing Federation, serves on the International Game Fish Association's Central America Council, and oversees the fishing operation at Crocodile Bay Resort. Contact him at wetline@hotmail.com