From a very young age, I loved animals, a fascination to an almost obsessive degree. I grew up surrounded by animals and I always knew that my calling was to help as many animals as possible in whatever way I can.
Toucan Rescue Ranch has aided me in carrying out my dream while learning so much along the way. I began my Sloth Rehabilitation Internship in March 2021, and many people have asked me why I love sloths so much, enough to move to a foreign country for six months to rehabilitate them. People immediately assume that an obsession with sloths is what drove me to leave everything I knew for a Costa Rican adventure. But, in reality, it was my passion for animal welfare, wildlife rehabilitation, and travel exploration that led me to take this leap.
Now, five months later, I have grown to develop that captivation with sloths, not only because they are cute (although anyone who visits TRR can see that that is true), but instead I admire them because of their strength. Sloths, both two-fingered and three-fingered, have demonstrated an unparalleled commitment to survival. These species will not allow the alteration of their natural environment by human intervention to stop their progression in the wild. Electrocution, car strikes, dog attacks, and climate change cannot even hold them back.
Learning the resilience of wildlife, such as sloths is why I devote my life to helping animals. They are living, breathing examples that nature will persist. Every day at Toucan Rescue Ranch, I am able to assist wildlife in their healing journey back to the trees and, in this way, counteract the more negative affiliation humanity has with the environment.
The country of Costa Rica strongly parallels my love for animals by working to protect their wildlife and natural environment. One way in which I admire their dedication to maintaining the well-being of wildlife, while still profiting from eco-tourism, is the implementation of the law against animal selfies.
Although the law is already in place to make it illegal to have any direct contact with wild animals, the Costa Rican government has begun an initiative to discourage snapping a selfie with a wild animal. Toucan Rescue Ranch has also worked to educate the public on this incentive and implement this during their educational walks offered in the sanctuary part of the center.
The #StopAnimalSelflies movement has taken to social media and worked to address the disturbance and stress that this type of human interaction can cause wildlife. Too many tourists travel to Costa Rica, or similar biodiverse countries, and visit centers like TRR for the wrong reasons: to obtain that perfect Instagram-worthy image with an exotic animal.  And because of this online trend, sloths have become the center of this social media sensation, being that they are so cute. However, this has significantly impacted their state of welfare.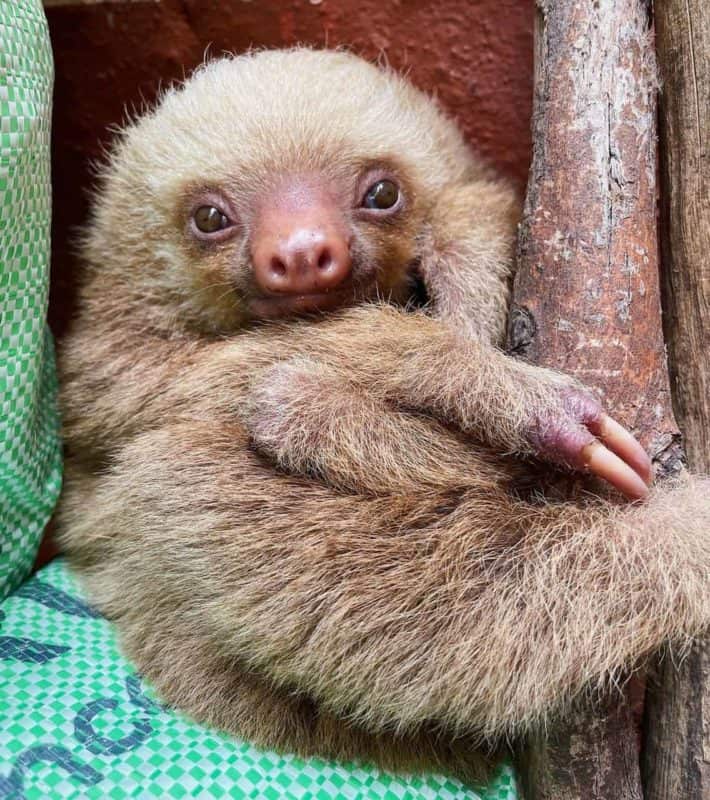 I am a strong advocate that every animal, whether it can fly or climb, should have an innate right to carry out its natural processes apart from human intervention; animal selfies, and such invasive human interaction with wildlife, directly contradicts this.
Costa Rica is working to counteract this harmful practice by providing alternative forms of distanced appreciation while focusing more on educational aspects. Eco-tourism is a significant part of the Costa Rican economy and a very enjoyable one at that, and the country is working toward using this pull to educate the public on environmental issues impacting wildlife and encouraging sustainable tourism.
Costa Rica has breathtaking wildlife and nature to explore. But, it is important to remember that while exploring to leave these animals wild. Sloths may exhibit perseverance in their rehabilitative process, but they deserve to not even end up in our wildlife clinic. I urge you to take the leap as I did, come to Costa Rica, and visit ethical wildlife centers; but, come with a mindsight ready to learn so you too can do your part to help Costa Rican wildlife in any way you can. As demonstrated by my time here at Toucan Rescue Ranch, one person can make a difference in so many animals' lives.
— Jillian is a 23-year-old Canadian who has devoted her life to animal welfare advocation and wildlife rehabilitation. She is equipped with a degree in Environmental Studies, with a concentration in English, alongside a variety of animal care experience. Consistent with her love for traveling, she is currently living in Costa Rica for 6 months working as a Sloth Rehabilitation Intern at Toucan Rescue Ranch where she assists with hands-on care of sloths and other species.
To help Toucan Rescue Ranch please consider donating.

This article was produced by the Toucan Rescue Ranch, which specializes in helping wild animals recover so that they can be reintroduced into the wild. For more information or to donate, visit the Toucan Rescue Ranch website.