The 1970s were a period of significant change in Costa Rica.
We described the busy decade in our 50th anniversary edition:
The '70s brought the Inter-American Human Rights Court; the University for Peace; the nation's first private university; the National Youth Symphony; the American Chamber of Commerce of Costa Rica (AmCham); the National Stock Market; the "pista" linking San José and the western suburb of Escazú; river rafting (introduced by Costa Rica Expeditions' Michael Kaye); the Río Azul Landfill; Lake Arenal; the country's first home- grown grapes (harvested by the Vidor family from Italy) and apples (grown by self-made U.S. farmer Edward Owen, aka "apple Eddie"); La Sabana Park; the Museum of Costa Rican Art; direct-dial phone service outside the country; the first jumbo jet, welcomed to Juan Santamaría International Airport by ecstatic mobs; English muffins (concocted by retired U.S. product designer Jim Watson) and bagels (created by longtime U.S. resident Angie Theologos); the Braulio Carrillo Highway to the Caribbean port of Limón; the first hotel for the Quaker mountain town of Monteverde; Costa Rica's first video club, for Betamax owners (started by longtime U.S. resident Jim Fendell); the pedestrian walkway on San José's Ave. Central (after a few false starts); and the Culture Plaza (which started out life as the Culture Hole and then the Culture Pool, when it filled with rainwater.
That rapid change is epitomized by the below photograph, which shows a pair of traditional Costa Rican farmers while a DC-10 widebody jet thunders overhead to a distant destination.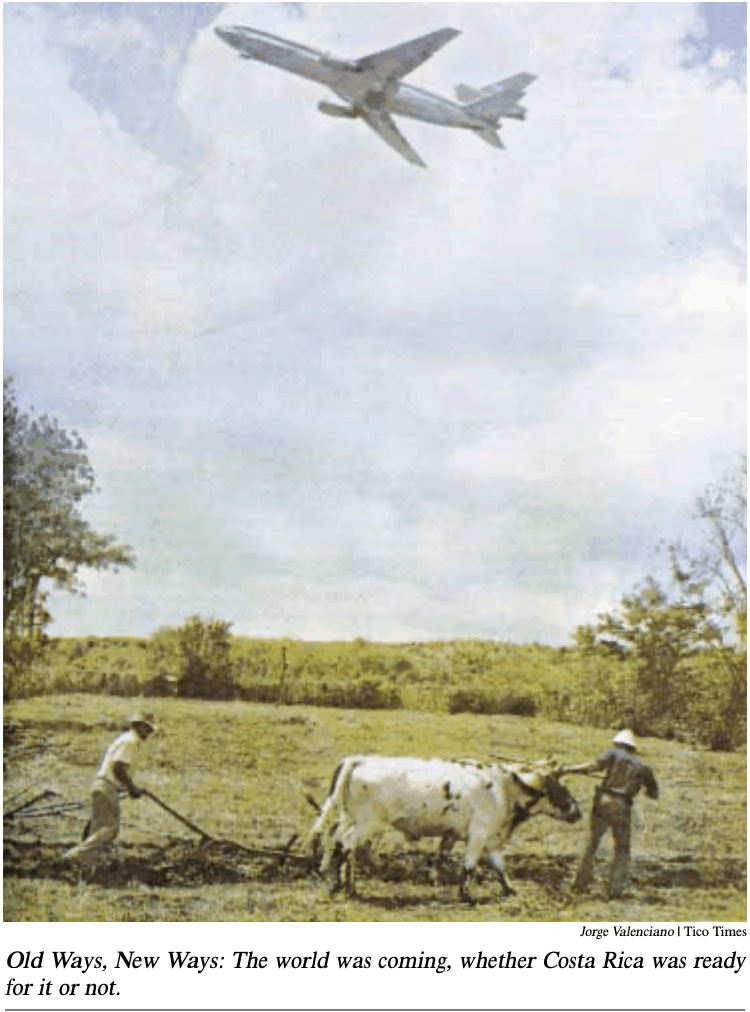 How Costa Rica has changed!