Hola. My name is Cleo and I came to Sibu Sanctuary in June of this year. I was approximately 2 months old and weighed only 330 grams. I was found in the Barco Quebrado area. My mother was electrocuted by uninsulated power lines and died immediately. I was thrown from her back and received some serious injuries in the process. My arm ended up needing to be amputated, and I still have some serious burns that my friends at Sibu are treating . I'm looking forward to getting well and being released back into the wild one day!
Visit us at sibusanctuary.org to see how you can help! Sibu Wildlife Sanctuary is located in Santa Marta, located a few kilometers northwest of Nosara on the Nicoya Peninsula.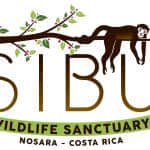 SIBU's mission is to rescue injured, orphaned, and displaced wild animals and provide them immediate medical care, rehabilitation, and eventual release into the wild. When the animals are determined to be strong, healthy and old enough to be re-integrated into the jungle they begin a step-down release program. Animals unlikely to survive in the wild receive a permanent enriching habitat for their life-term care.
Become a monthly donor here.