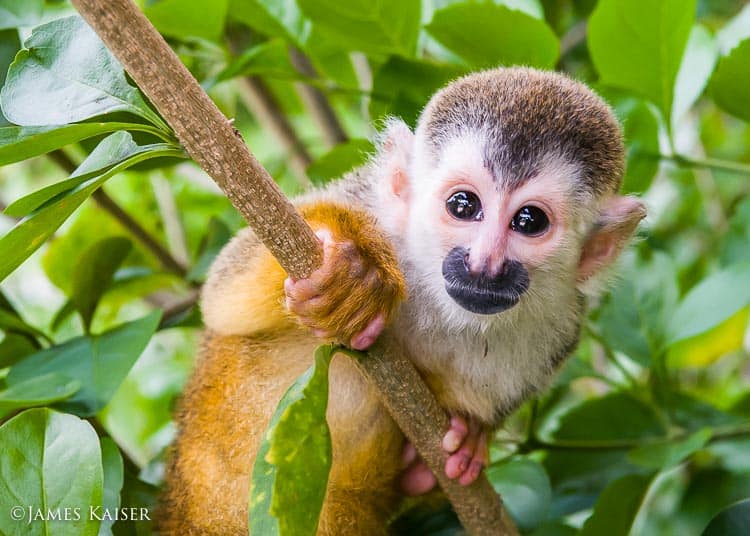 The tití monkey (Saimiri oerstedii) is a Central American primate species, which has two subspecies that are geographically isolated, one of these subspecies is endemic to Costa Rica.  
The tití monkey or the grey-crowned squirrel monkey (Saimiri oerstedii citrinellus) are the smallest primate in Costa Rica, a flagship species to the Central Pacific area.
The Costa Rican tití monkey population spans from the Río Grande de Térraba to the Río Tulín at 300 to 400 meters above sea level. Thus, this subspecies is only found in Costa Rica's Central Pacific coast in an around the towns of Quepos and Parrita in Puntarenas province.
Unfortunately, in 1996 the tití monkey was listed by the International Union for Conservation of Nature (IUCN), as a critically endangered species.
Five years later, a group of business owners within the eco-tourism industry, environmentalists and volunteers from the harbor town of Quepos, joined efforts to create the Titi Conservation Alliance in 2001It aims to protect this emblematic species, Juan Pablo Agüero, a forestry engineer and Titi Conservation Alliance's member told The Tico Times.
The Tití Monkey, a Symbol of Costa Rica
"The tití monkey represents biodiversity," said Agüero. "Biodiversity is our future."
Agüero said that the tití monkey's habitat symbolizes the convergence point that exists between the terrestrial and marine systems.
"Ecotourism is supported in a great extent by biodiversity," said  Agüero. "If we lose our biodiversity, our fauna, our flora, we will lose everything"
Agüero said that ecotourism was Quepos' principal economic activity. He stated that without ecotourism his community's future would perish.
"Tourists who come from different countries and visit the Central Pacific wish to spot these primates," stated Agüero
Their diet consists of insects, leaves and fruits. Ecologically, the tití monkey also plays an important role in seed dispersal and insect predation.
Threats to The Titi Monkey in Costa Rica
Insecticides, herbicides, power lines and illegal pet trade threaten the tití monkey. However, deforestation is the major cause of their habitat loss. The tití monkey is an indicator of environmental degradation in the Central Pacific.
Agüero said that in the last 80 years, the tití monkey's population have gone through severe changes.
"The tití monkey's habitat was drastically reduced in the 1930's when the booming of banana companies established its operations in Quepos and other towns in the country's south.  Agüero.
"At that time, those forests became crops."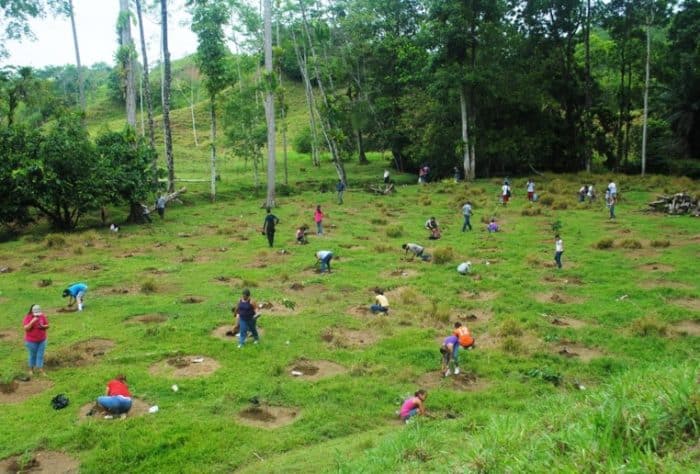 Paradigm shift in Costa Rica
However, Agüero said that Costa Rica began to experience philosophical, political and social changes aimed at improving the land use and natural resources management.
Agüero stated that the changes put in place sought to find a balance between activities of utmost importance, such as agriculture and tourism.
This came to positively impact Costa Rica's Central Pacific biodiversity.
Titi Conservation Alliance's achievements:
In 2006, there were approximately 1,500 primates of this subspecies.
In 2001, Titi Conservation Alliance through its conservation project called Naranjo's River Biological Corridor, aimed to plant 10,000 trees alongside the Naranjo River, which sought to achieve restoration of the tití monkey's habitat through reforestation and environmental education.
The corridor spans from Manuel Antonio National Park to the Naranjo River basin, an area of approximately 55.350 acres, a forest cover of 45 percent of primary and secondary forests.
In 2008, the organization began its environmental program Educatiti, aimed at children from the Naranjo River Biological Corridor. "We believe environmental education is the seed for the future," said Agüero.
In 2010, Titi Conservation Alliance had already planted 40,000 trees.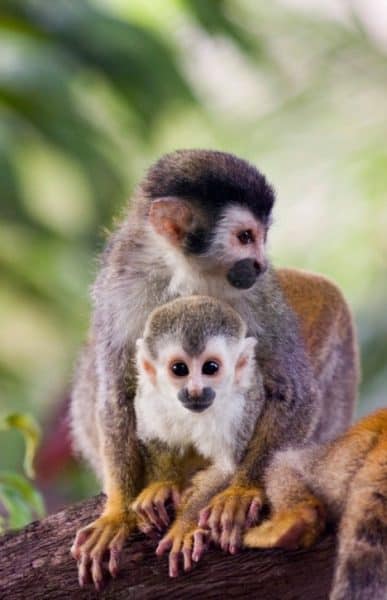 Between  2011 – 2015
, its reforestation and environmental programs gained more traction and Titi Conservation Alliance's philosophy: "We are all part of the solution," became a reality for the Quepos community, the pioneers of Titi Conservation Alliance.
Agüero said the projects have been logistically supported by institutions like:
The Ministry of Environment, Energy and Telecommunications (MINAET), which has been a strategic supporter of the Naranjo River Biological corridor.

The National Electric Institute in the pacific region (ICE) that upon request adapts electrical power lines with insulating materials to prevent tití monkeys being electrocuted.

The Education Ministry (MEP) that has supported its environmental program along with the Costa Rican Red Cross, Costa Rica's Coast Guard and police force, which has been crucial in environmental education activities with kids.

The University of Costa Rica (UCR) and the National University of Costa Rica (UNA), which has carried out wildlife studies.
In 2014, 14 out of 20 schools within or near the corridor were fully reached by the environmental program, amounting to more than 750 children per year.
2018, more than 77,000 trees have been reforested.
Today, according to Titi Conservation Alliance, there are approximately 2,500 individuals of this subspecies.
In 2008, thanks to the hard work of Titi Conservation Alliance the tití monkey's category changed from critically endangered to endangered species.
Agüero said "It is important to raise awareness and support environmental conservation initiatives emphasized. "We sow to reap."
If you would like to know more about this initiative visit www.monotiti.org.
---
The Tico Times Costa Rica Changemakers section is sponsored by the Costa Rica USA Foundation for Cooperation (CRUSA) and Amigos of Costa Rica.