Bar La Selegna has been run by the same family in Liberia since the 1970s. While the family has stayed the same, the name hasn't. It started out as El Taconazo, then it became Discoteque Selegna, before finally adopting its current name: La Selegna.
Selegna is, curiously enough, Angeles spelled backward; which is a play on Los Angeles, the neighborhood in Liberia where this bar is located.
La Selegna is one of few bars of its kind still around as new, more modern players have come on to the scene. It's sad, really, as these places have always been an important meeting point for Costa Ricans to socialize and get drunk on beer, whiskey or Cacique guaro.
It's a welcomed spot to tuck into to escape the midday Guanacaste heat — especially here in Liberia — and enjoy a few ice-cold refreshments.
Nowadays, it's become more than just a spot to get drunk. Yes, the bar stools will be full of old cowboys, three sheets to the wind, each one with about 15 empty bottles of Pilsen lined up in front of him. But grab a spot at one of their 16 tables — each with 4 seats — and you will find they also offer a delicious food menu.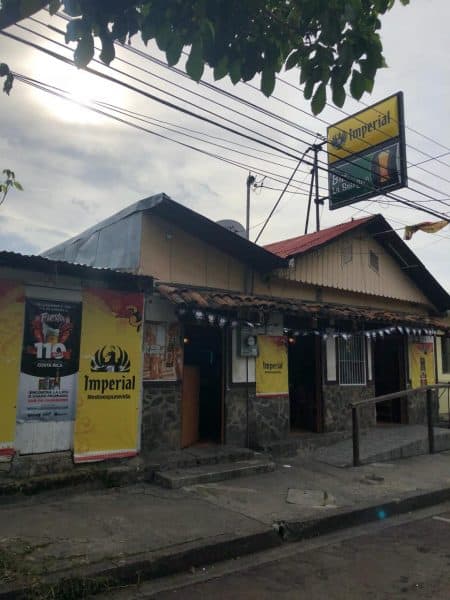 For me, the two must-haves at this place are the mixed chifrijo and the tenderloin tips in a creamy jalapeño sauce. Unlike any other chifrijo I have ever tried, the one at Bar La Selegna is made using beef, instead of pork. It's how they have always done it, and honestly, their customers wouldn't have it any other way. Somehow, it just works.
Pro tip: when you order it "mixed," as I do, it also comes with crispy pork rinds. When topped off with a fearless portion of their house chilera (be careful, it's spicy), this is my favorite chifrijo in the country. For me, it just doesn't get any better than the combination of flavors and textures served here.
I always have a hard time deciding what to order, the chifrijo or the tenderloin tips, which are equally satisfying. They're both cheap, too, at 3,500 colones each (about $7). When I'm very hungry, I'll order both.
The tenderloin is served with a side of white rice and french fries that I use to soak up the remaining jalapeño sauce on the plate. That's only after I've devoured the steak, which is impressively tender, every single time. I suspect it to be the same steak that they use in the chifrijo and the sauce is only mildly spicy, regardless of the addition of jalapeños.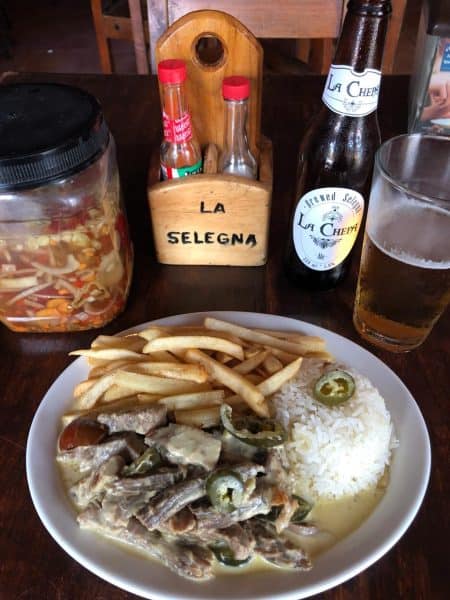 Portions at La Selegna are on the smaller side, wich explains the prices. They're more like bocas, but when washed down with a few beers, as they should be, you end up leaving with a full stomach. Oh, and the beers are cheap here too, as you would expect them to be at an authentic cantina.
Of course, they offer all the national beers, as well as Heineken, which was available for 1,000 colones (about $2) a bottle the last time I visited. They also have their own in-house brand of craft beers that they call La Chepa.
I also always get a kick out of La Selegna's jukebox while enjoying my food and drink. It's just something that you don't see a lot of anymore. The one here still works, you put 1,000 colones in and you can pick 4 or 5 songs. The selection of music on this jukebox is surprisingly deep, which makes for another great trip down memory lane in a place that is already so full of nostalgia.
It's safe to say that many people have fond memories at Bar La Selegna. You're reminded of this every time someone walks through the hinged-wooden doors — think Western movie — greeting the staff and owners like lifelong friends, or even family.
Everyone seems to be a regular here. All the customers seem to know one another and the affection toward the owner, Don Chepe aka Jose Antonio Hernandez Rodriguez, is obvious.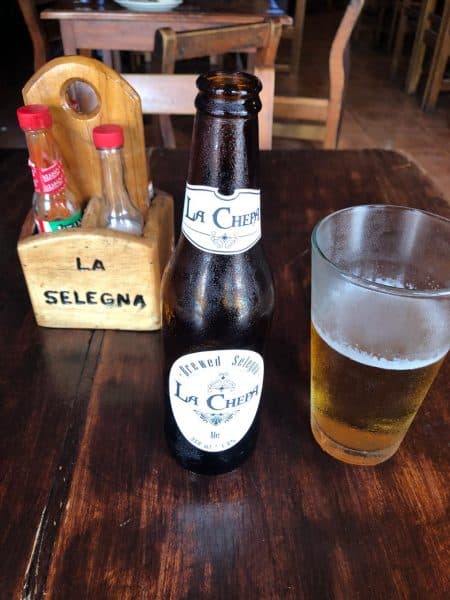 The mother of its current owners originally opened this family business, which she ran herself until she got too old to continue.
Now Don Chepe carries on the traditional cantina style bar, with the help from his own two sons Ronald Hernandez and Jose Antonio Hernandez Jr., along with the rest of their family. Together, their intention is to continue passing it on from one generation to another, so that it can continue being a cherished icon in the farmlands of Guanacaste.
Ronald, one of the brothers, who is also a national champion in taekwondo, was proud to tell me that their oxtail soup and their carne frita seca are two of their most popular dishes. But to be honest, even though I have been here a hundred times, I have never actually tried them myself.
The other brother Jose, who also doubles as the fire chief at the Liberia airport, brews their beer, La Chepa, himself. While this spot does in fact hold on to its old-time charm, they still strive to continue being innovative, and so there are still a few signs of the changing times here and there. Try one of his beers, I recommend the pale ale.
Bar La Selegna is open seven days a week, from noon until midnight All major credit cards are accepted. Please keep in mind that this is, in fact, a bar, with food. Minors are not allowed, even if they're their "just to eat."
The bar is 450 meters north of the Banco Nacional in Liberia, you can search it in Waze or follow the thirsty cowboys to arrive conveniently.
---
William Ayre is a Canadian born chef and restaurateur who has spent the last half of his life doing business in Costa Rica, where he now considers to be home. Inspired by Anthony Bourdain, Ayre's passion of experiencing different cultures through food has taken him to 35 different countries over five continents. Whether it's a 20-course meal at a fine dining restaurant in Toronto, or cantina hopping in search for the best chifrijo here in San José, he fits in just fine.