You might have already walked past by Azotea Calle 7 in downtown San José without realizing it. It's just around the corner from the Hotel Presidente's old entrance, you'll find their new entry right on Calle 7. Then there's a spiral staircase straight to a rooftop garden, the Azotea.
If the hike didn't take your breath away, the view certainly will. I cannot imagine a better view of the city anywhere else in San José, except maybe the last floor at the Hotel Costa Rica. From the Azotea, you can easily see the Nuestra Señora de La Soledad Church, the traffic on Avenida Segunda, and if you get to the bar early — they open at 4 p. m. — all the vibrant colors of a Costa Rican sunset.
The Azotea is pretty. The garden is paved with bricks and, with nice weather, customers can use the outdoor furniture. You can even get a selfie with both your drink and the San José sky on a pair of benches that look out to the east of the city.
On my visit, I felt that everything was meticulously arranged to be cute and Instagram worthy. And that was way before I got to my table holding two pink gin and tonics, with a rosebud swirling in one of them.
But for the Hotel Presidente director, Daniel Mikowski, "pretty" wasn't even the first choice of words they used when Azotea was conceived.
Apotecario's amazing kombucha margarita is not (yet) on their menu
"This cocktail bar was designed as a place to share a conversation between friends. The tables are small so guests can hear each other when they talk," Mikowski said in an interview. "There are no stools over the bar and we don't own a TV. We built this place for conversations."
Long gone is the memory of the News Café, a more crowded venue the Hotel Presidente used to have on their first floor. A city relic, the hotel was baptized in 1963 while American president John F. Kennedy made his historic visit to the city. For a while, San José changed its pace to match the hotel, but Mikowski's family also took the chance to rethink their business personality a few years ago.
The bar's decorations were brought from the original owner's home: Louis XVI furniture, books, old appliances and even a set of doors that were preserved from a demolished old property.
"We thought at some point that we wanted a bar that experimented with complicated cocktails. But in the end, we figured out we just wanted a place where people can talk comfortably. So right now we offer some drinks that are in fashion," he says.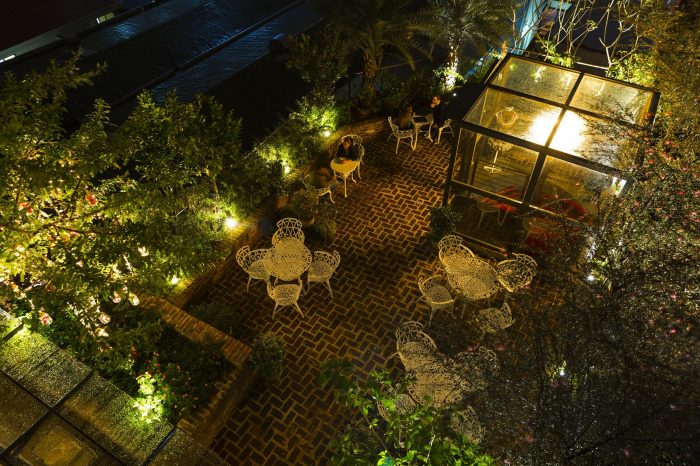 Among others, the menu offers Aperol spritz, moscow mule, mojitos, and a few Cacique shots. But the Azotea's bar only serves gin and tonics. I was told it's what patrons enjoy the most and they're quite popular.
If you choose to drink from the bar, the Azotea staff will suggest a gin (Tanqueray Ten, Hendricks, Bulldog, The Herbalist, and others), or a kind of tonic you should use for your cocktail (mine was pink. because I like grapefruit).
After that, you get to pick some ingredients from bowls with fruit (watermelon balls, macerated pineapple, fresh strawberries, dried orange slices) and spices (rosemary, pink pepper, cardamom, salt, and others). Choose wisely and work those choices with the staff, because some flavors might clash.
Before my gin and tonic and rooftop conversation, I had already tried two other drinks on the menu, both with funny names. The first was Sargento Pimienta (Sergeant pepper, most likely a Beatles pun), it was a sweet but spicy drink that mixes green tea, tequila and triple sec. Culo quemao, which translates to burnt ass, was the other. It's not as spicy as its name suggests and most of its sweet flavor came from tamarind — a fruit I'm not really fond of.
Espresso gets NSFW treatment in Franco's 'carajillo' cocktail
The cocktails were beautifully served; our waiter even playfully juggled the coasters before serving them to us. After that, we were able to drink and converse peacefully while watching the city lights.
Mikowski says drinking in the Azotea shouldn't feel like drinking in a hotel bar and it doesn't. Even though you will meet some of the hotel guests, plenty of Ticos visit the cocktail bar.
After all, the place offers one of the best views of San José, one you can hopefully share with a date or a group of friends, they can accommodate a 20-person party over the garden but you better use their reservation system they offer over their Facebook page, especially on weekends.
"Azotea is a bar for local people," assures Mikowski. "We believe that local people should appreciate a business in order to feel authentic for the tourists."
---
Natalia Díaz is a freelance journalist. She likes her reading the same way she likes her music: with a side of gin tonic. Natalia just started this new liquid diet and she's writing all about it. You can follow her on Twitter @natdiaze.