La Merced Park has been a meeting center for Nicaraguan migrants for decades. Then it was abruptly hit by a xenophobic group marching against immigration last week.
"We want Costa Rica free of bastards," "Let's fly the flag for our country and kill these Nicaraguans," can be heard in the recordings.
"It was a nightmare, the memory is horrifying," says Doña Socorro, an enchilada vendor who asked not to be identified. Doña Socorro says she didn't know that they were going to descend on the park that day.
"We, who come here, do not have access to the internet. We didn't know they were coming to hit us, I wouldn't have come if I knew," she said says the vendor.
"That day," as she calls it, was going to be a normal Saturday for her, as it had been for eight years. She was going to sell her products to the park, but she didn't. She was robbed and assaulted. Her merchandise and the money was gone.
"Give me that. I'm sure you stole it, bitch," they told her.
"They treated us like we were criminals," she said.
Although the police intervened and arrested 44 people, the trauma remained. The park was closed for a day and a half. That day the Nicaraguans stayed in their houses or on the street.
False social media posts preceded anti-immigrant protest in Costa Rica
The Tico Times tried to reach police officers who were guarding the park, but they said they weren't allowed to talk about what happened on that Saturday.
According to a 2006 report by La Prensa in Nicaragua, the tradition of reaching La Merced began in the 1980s, when the Catholic Church gave space for Nicaraguans to celebrate La Purisima there, a religious custom in honor of la Virgen de la Concepción, patroness of Nicaragua.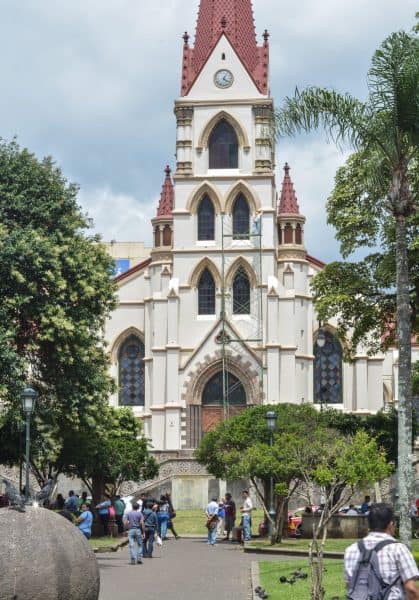 Historically, the place is used for four reasons: to receive information about migration, to sell Nicaraguan products or to look for work, to leave remittances, and to regain their roots.
La Merced Park is a small Nicaragua in the heart of San José. Located in front of the doors of the centenary church of Nuestra Señora de la Merced, it has an air of the Nicaraguan central gardens. Its smells, its sounds, its people; everything reminds you of Nicaragua.
"Vendo vigorón, Vendo Chancho con Yuca. ¿Qué querés, amor?" A symphony of Nicaraguan women selling food can be heard all along the park. Many of these women have been coming here for more than 20 years. However, in La Merced Park, or Braulio Carillo Park as it is officially called, has been changing.
Since the beginning of the crisis in Nicaragua, it's housed dozens of refugees who have migrated for fear of being persecuted by the Nicaraguan government.
"There they come," now breaks up the standard symphony of food vendors. Costa Rican police have stepped up their presence and the vigorónes, quesillos, and the chancho con yucca get hidden and their vendors leave terrified before the police crack down. It's almost a routine: The uniformed men leave, the women return.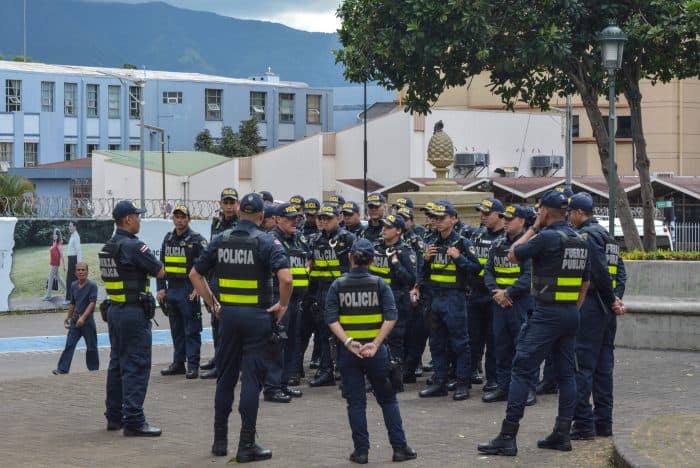 But the routine was stopped, beaten, and run over on Saturday, August 18. About 400 people entered the park shouting "Fuera Nicas!" Some were dressed in Costa Rican soccer jerseys and waving Costa Rican flags. The march came about four months after the start of the protests and government repression in Nicaragua.
Carolina López, a frequent park visitor, said it was painful to see how people acted that day.
"It hurts me because I come every day," López said. "But it hurts more that young people came here to sleep because they were running away from Daniel Ortega and didn't know anyone here. They haven't showed up here anymore. What happened to them? We don't know."
The park opened on Monday, Aug. 20. Slowly the rhythm getting back to normal. At La Merced park a Costa Rican flag flies every day. Its visitors know that they are out of their country. Even so, the sound of the recognizable Nicaraguan accent won't go away soon.
They'll keep telling stories about "the old Managua" and the smell of yucca will remain. New visitors with new stories about repression will show up and be supported.
"We will support our brothers and sisters. Our fighters that come here to protect themselves," people in the park say.