Andrés Cervilla has done so much throughout his career that it's impossible to cover it all in one sitting. He recently opened his studio to us and talked about all the bands he's played in, the people who changed his life, and some of his upcoming projects, such as Pee-Pah!. There was more, though: Cervilla also showed us his musical seashell collection.
Yes, seashells.
Cervilla is more known for playing the trombone, however. He's played that instrument for bands like Cantoamérica, Son De Tikizia, Los Skankers, Amarillo Cian y Magenta, and the renowned Argentine band Nonpalidece. He's currently a part of the national band Infibeat and the beloved Panamanian band, Señor Loop. (Read our 2017 interview with the band here.)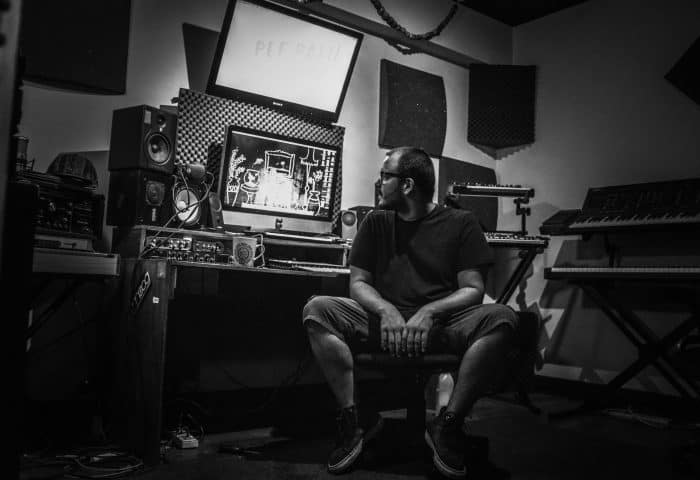 He's also played alongside international musicians such as Ralph Irizarry, Cheo Feliciano, Tito Nieves, Más Salsa Que Tú, Panamerican Big Band, Los Cafres, Gondwana, SOJA, The Skatalites and Kennyatta Hill, and Pure Feeling.
Cervilla started studying music at the National Institute of Music of Costa Rica in 2000 and then studied trombone at the Conservatory of Music of Puerto Rico with Luis Fred and Hommy Ramos. He then learned from noted trombonists like Steve Turre, Jimmy Bosch, Luis Bonilla, Moises Nogueras (El Gran Combo) and more.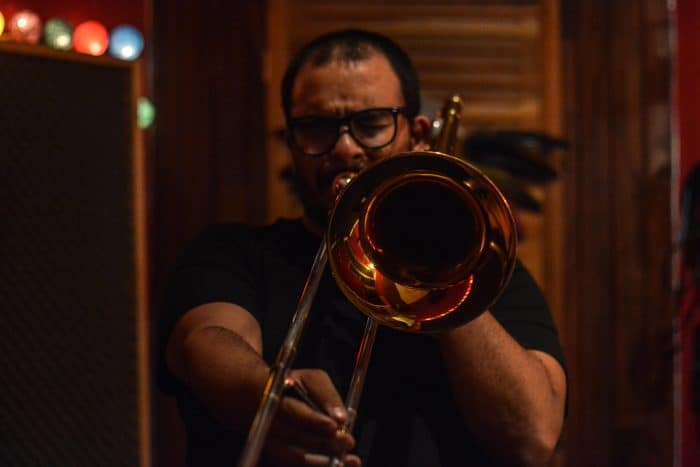 Seashells
What's set Cervilla apart from a very young age onstage has been seashells. He started playing them after listening to Steve Turre record that his aunt gave him when he was younger. Cervilla was then able to contact Turre, and he taught Cervilla how to play the seashells over the phone.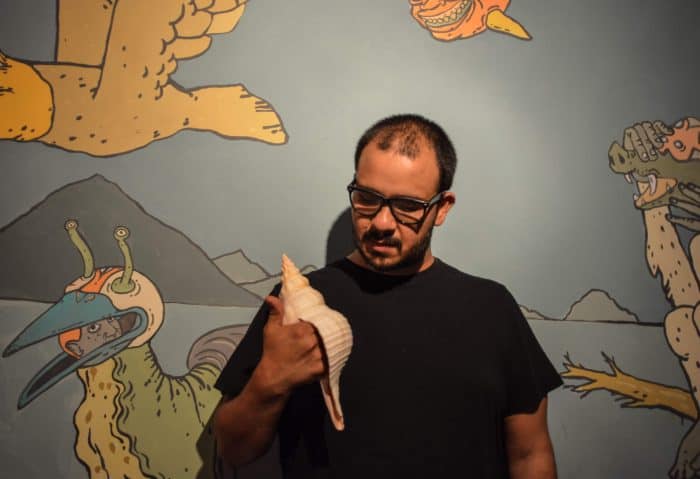 Turre is also a significant jazz trombonist who pioneered of the use of seashells as instruments. Turre's recorded songs Carlos Santana and toured with Ray Charles. He's also been trombonist for the Saturday Night Live band since 1985.
Cervilla keeps an autographed photo of Steve Turre. It's to remember the day they met in New York when Cervilla was touring with Nonpalidece. They've been close friends ever since.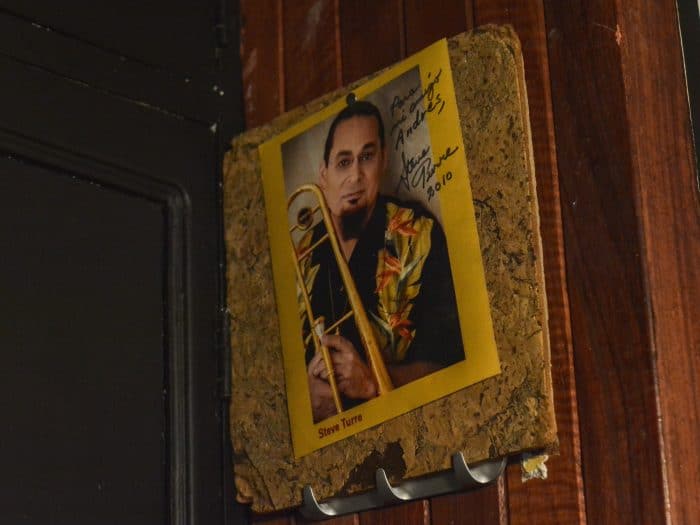 Turre also took Cervilla to buy the trombone that day; Cervilla still uses it to this day. Cervilla thought it was the last time he would see Turre on the trip, but Turre showed up to the Nonpalidece concert and played with them on stage the next day.
Turre also took Cervilla to the Saturday Night Live studio and introduced him to Elijah Brueggemann, the program's musical director. Brueggemann has worked with one of Cervilla's bands ever since.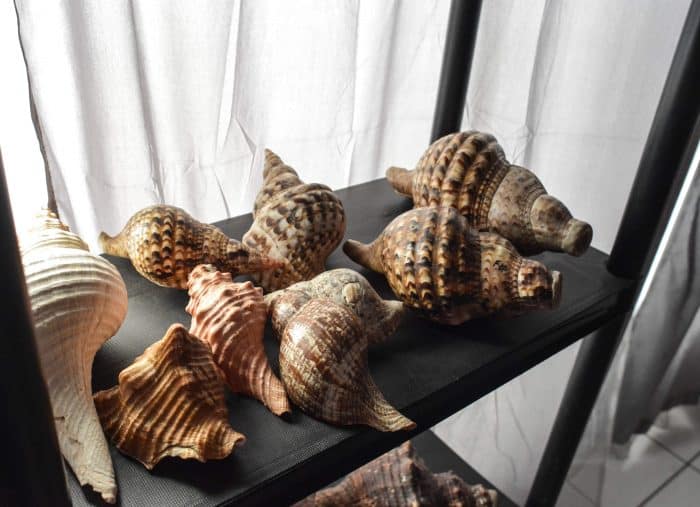 Masks
Cervillaa also has a private collection of masks. Several of them were gifts from Héctor Gordillo, a Mexican artist.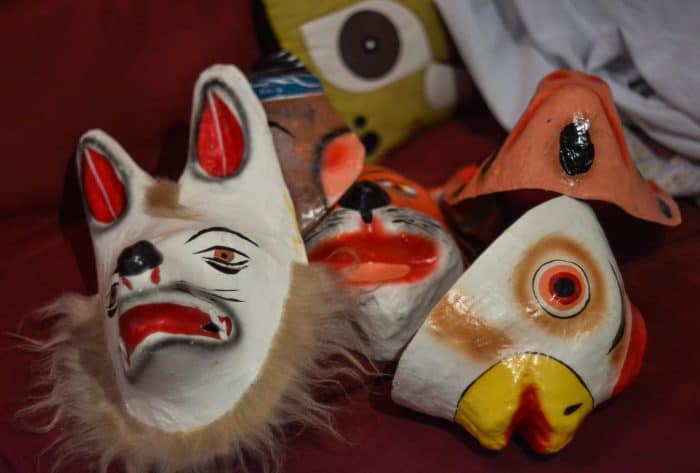 This mask was a special edition for an Infibeat concert: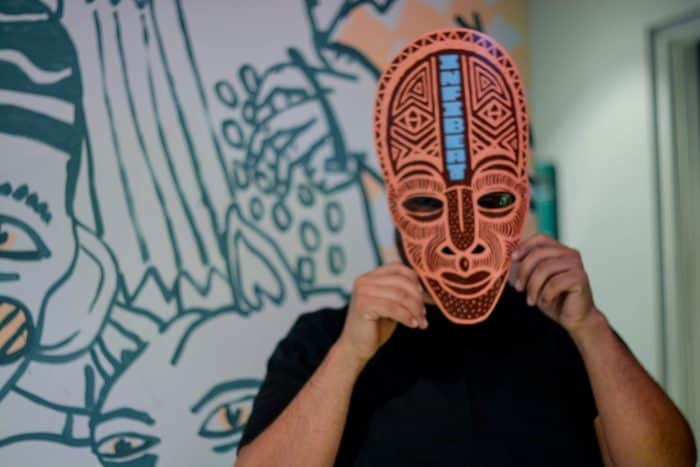 Cervilla also adds new instruments to his collection every trip. They include exotic odds-and-ends that he tries to work into his musical production.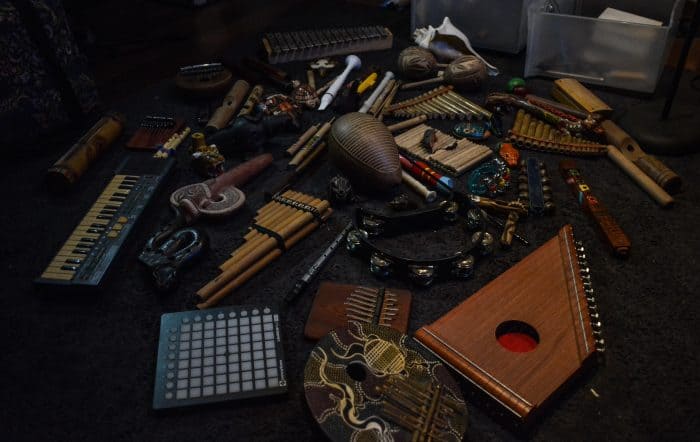 Pee-Pah!
You can't talk to Cervilla without talking about Pee-Pah!. It's his personal sound factory that's focused on design, visual arts, and advertising.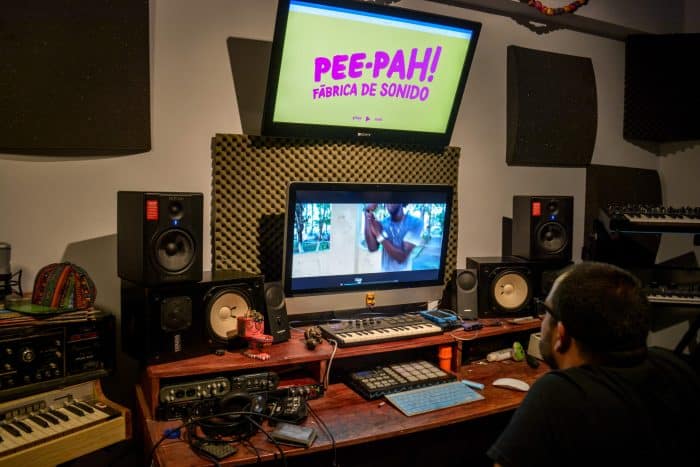 The project started when Cervilla worked for a video game company that needed sound effects. Since then, he's made the sound branding of Sinart (Channel 13) and FID (International Design Festival). He's also designed sounds for Chocofrutas, museums, documentaries, and more.
Now Cervilla is working on a new album for Señor Loop, the new iteration of Infibeat that includes of Elijah Brueggemann and new Pee-Pah! projects. Cervilla says it'll be released soon.
---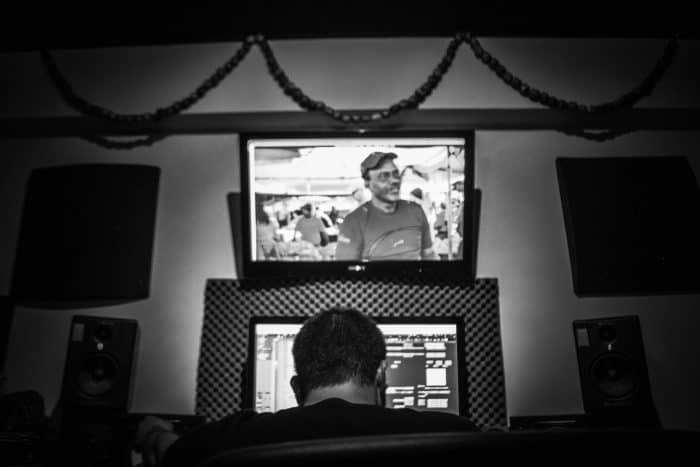 Our Weekend Arts Spotlight is brought to you by the Jason Babchuk Gallery/W22 Galería.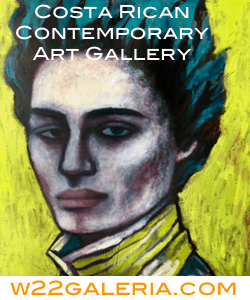 "Weekend Arts Spotlight" presents Sunday interviews with artists who are from, working in, or inspired by Costa Rica, ranging from writers and actors to dancers and musicians. Do you know of an artist we should consider, whether a long-time favorite or an up-and-comer? Email us at alex@ticotimes.net.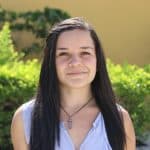 Ivannia Alvarado is a communicator and inveterate traveler. Photography captured her world about a year ago; she found in this art the perfect medium to communicate, report, create awareness, but most of all, demonstrate that life's not that bad if you can look at it. She also works in production and development of content related to culture and the city. Instagram: @ivacaminando.