Harnessing the emotional and expressive power of acting: for Leynar Gómez, that's been a driving force during the past 18 years, as the Costa Rican actor has sought to play ever more complex and intense characters.
His journey began at the age of 16 in his hometown of Puntarenas, on Costa Rica's Pacific coast. That's when Gómez joined a local theater group after he accompanied a friend to a rehearsal.
He went on to join a theater group at the University of Costa Rica (UCR) while still a high school student. There, he developed a passion for acting, which landed him a cultural scholarship at the UCR in Puntarenas. Slowly, Gómez began integrating himself into the Costa Rican acting scene while working as vice principal at the UCR's Scientific High School in Puntarenas. He obtained his first small role as Elías in the Costa Rican movie "Puerto Padre" which led him then to the role of Jason, on of the main characters in the film "Presos."
That was only the beginning of a process that would completely change his life. Shortly after finishing his work in "Presos," Gómez was contacted to audition for Netflix without even knowing what Netflix was.
"I didn't know it was a platform where movies are streamed… When I finally begin auditioning I started to see that it's something big and it got bigger, and bigger, and bigger. I'd tell myself that it couldn't be for me. I'd won the lottery," Gómez says now.
Gómez was cast as Limón, Pablo Escobar's guard, for the second season of Netflix's production "Narcos," a series about drug trafficking in Colombia. Gómez worked for a year in Colombia filming Season Two's 10 episodes.
Gómez, 34, has won several awards and traveled throughout Latin America, the United States, South America and Europe. During the past year he has also worked on two movies: "El despertar de las hormigas" (Costa Rica) and "Sumergible" (Colombia and Ecuador).
On a warm morning in Cariari, Belén, at the home of a friend of the actor's, The Tico Times sat down and spoke with Gómez about his life and work while drinking some glasses of agua de pipa. Excerpts follow.
What made you decide to become an actor?
Finding that space in which I can express myself. I drew a lot, read poems and listened to music, but… when I found acting I said, Wow. This is the motor I need to express myself.
I needed to communicate what I felt and I then found in acting that I could capture people's attention, communicate and channel all my personal experiences. Acting represents a moment or a space in which I can find relief…. and create a connection that gives me a sensitivity towards the world. You begin seeing people in a different way. You become more careful and learn to read people and the environment. My life changed when I discovered acting. I became much more perceptive.
Why has led you to give back through social action?
The link with the social part comes from my life experience. Growing up in a place in which there are no big opportunities makes you, or at least in my case, give back. It's like going away from home and returning to your house, which lacks certain things, and your experience of getting outside has filled you [with things] to take back home.
I feel that. My birth was from [a place] of emptiness where there certain opportunities didn't exist. Now that I've seen them I say: wow, if I know what it's like to be in need and I sometimes have the opportunity to give back to that need, then why don't I do it?
Besides that, [charity] is something wonderful for me… There's something that happens that makes you a better person when you detach yourself from what you have, whether it's material things or non-material things. You share and that gives you well-being. We grasp towards many things, and as we let go, we grow. That's the way you get to the next level.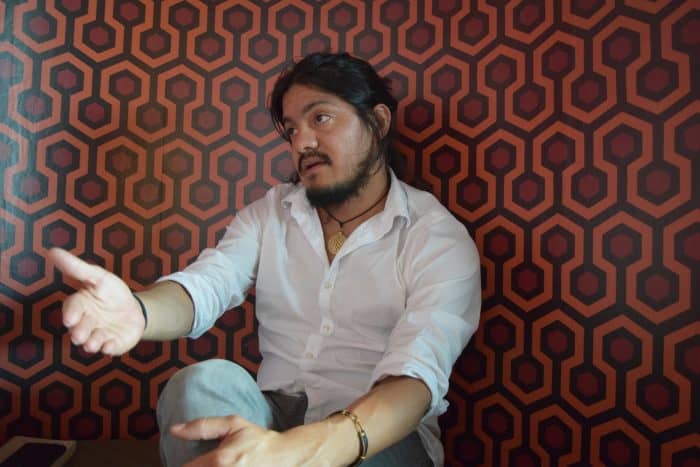 When you get into character, which are the challenges you're faced with?
Time. The less time you have, the less you get to know the character. The more time you have, the more you can contribute to the character.
Trying to find that sensation of security, forcefulness and truth is very difficult because you're looking for it in someone you're not. Someone you're building. It's about aligning the elements you can contribute and the elements that exist, but don't belong to you. Achieving that truth is very difficult because you must be secure about it.
Internationally renowned Costa Rican film 'Presos' to premiere back home
.What draws you to complex characters like Jason and Limón?
They're different from my life because I'm neither a hit man nor a felon. I'm fascinated with trying [to interpret] how other people think… The intense characters… somehow bring me back to my adolescence when I had that contact [with that environment]. It's that cassette of saved information and returning. That memory is very alive.
Maybe if I hadn't had a childhood surrounded by such a hostile environment, maybe it wouldn't be so easy to look towards those emotions within the characters. Maybe it's not that easy, but it's something I have present with the emotions, which is more familiar and easy to get to.
Watch Esteban Ramírez's movie Presos trailer in which Gómez appears:
What was your experience like working in "Narcos"?
I got to Colombia and got to know the culture, which allowed me to understand a bit how to build the character. I was interpreting a character who's a hit man, who is "good" throughout the story and ends up being not that good. He has that duality that starts out well and throughout the story can become someone who's capable of killing. It's a challenge as an actor.
Watch Narcos' Season 2 Trailer in which Gómez appears:
https://www.youtube.com/watch?v=nkOKkS7mKfY
Our "Weekend Arts Spotlight" presents Sunday interviews with artists who are from, working in, or inspired by Costa Rica, ranging from writers and actors to dancers and musicians. Do you know of an artist we should consider, whether a long-time favorite or an up-and-comer? Email us at kstanley@ticotimes.net.