The Costa Rican artist Ulises Rivera, known as Ulillo, beautifies San José one wall at a time. Ulillo, 31, studied graphic design and works as an art director at the technology company Codemachine. He was exposed to the art world as a child by his grandmother, who is an architect, and has developed a characteristic aesthetic that is very geometric and symmetric, all done by hand. His work can be found downtown; in the eastern San José neighborhoods of San Pedro, Barrio La California, Barrio Otoya, and Barrio Luján; and in Parque de La Paz, Escazú and Santa Ana.
On a beautiful afternoon, The Tico Times sat down with Ulillo at his home in Vargas Araya, San Pedro, and spoke about his life and work. Excerpts follow.
What is the difference between painting on a canvas and on a bigger scale, such as a wall?
With the smaller canvas, I prepare much more. Since it's on a smaller scale, I try to make it as symmetric as possible because my work is very geometric. I do so in order to avoid a visible mistake in the geometry.
Painting a wall on the street takes more time, but the difference is the sensation or feeling it produces. When you're painting alone, you have no communication with other people. When you're on the street, millions of cars and people pass by. These people want to speak to you to know what the work's meaning is for you. There's that transference. For me it's very enriching to have that communication with a person I've never met in my life. That's one of the coolest things.
What is your process for creating artwork?
First, I sketch out my idea on paper. Most of the time I do both geometric sides by hand; sometimes I pass it then digitally to the computer. I often start by hand, then work digitally, and finish up by hand again. When I work on a space such as a wall in a public area, I have to size it up very well beforehand. I try to search for a way in which the wall can become part of its environment.
I enjoy using triangles: I like the degradation that an angle can have, because it can be either obtuse or acute. I like that organized noise. That's why I try to make lines and things that seem very disorganized, but at the same time, in composition, it's something very fresh.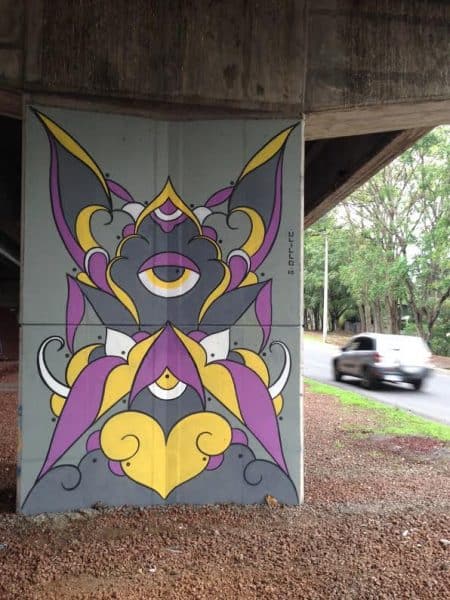 What materials and things do you like to work with, and what would you like to experiment with?
I tend to experiment more [with the way I interact with the street] than with the technique I use to paint. It's an exploration of… how I'm going to take that space, how I'm going to create a diagram. It's about looking at a spot and organizing it to make it look its best.
But there are many things I would like to experiment with: wood, iron and glass. I want to combine things a bit. I've got some ideas about creating lamps with a wood base… one whole painted piece. I also want to do some benches. I've got many projects in mind and I have several opportunities to develop things I've never done in my life, such as houses. I've always worked with architects, interior designers, product designers, photographers, and filmmakers. It's very nice to be able to have a dialogue with other artists in order to collaborate.
What does the eye represent within your artwork?
I'm a very observant person. That has always characterized me. Most of the time I'm very quiet; I'm just watching what's going on. That visual exploration that I try to do within my work is focused on one sole thing: the artwork is the one watching its environment. It's my way of watching where I am. People often ask me why I cover my eyes when I take my picture with the work. It's because my work is the one watching [now], not me.
Who are your influences and inspirations?
Even though my work is not within the same [realm] as Diego Rivera, I'm very influenced by his ideals. Someone who blew my mind was Siqueiros, who is super geometric. The mixture, the material is incredible and the volume he achieves is impressive. Artists such as Saner, Aryz, Felipe Pantone, Gussa, Quien, Mush, and Negus are artists that also have caught my attention. Many of my direct influences are Costa Rican artists due to that dialogue I've had on the streets. I've never stopped admiring the big artists here in Costa Rica. One of my favorite artists from here is Fabián Monge, known as el Fab. He's an incredibly good person. My best friends are incredible tattoo artists; my direct influence is Juan Vargas. He makes organic geometric tattoos, and has been one of my teachers. I've known him for 12 years and he's someone who I admire and respect a lot, both as an artist and friend.
My biggest inspiration will always be my daughter. In every piece I do I there's a 10 written there. That 10 is the date on which she was born, and I've got it tattooed on my finger. She's my greatest inspiration.
Our "Weekend Arts Spotlight" presents Sunday interviews with artists who are from, working in, or inspired by Costa Rica, ranging from writers and actors to dancers and musicians. Do you know of an artist we should consider, whether a long-time favorite or an up-and-comer? Email us at kstanley@ticotimes.net.