MATAPALO, Puntarenas — With my oldest best friend and his family in Costa Rica for two weeks of vacation, we quickly established that not everyone agrees on what "vacation" means.
Murphy Allen, 53, with whom I attended the 10th grade in Cochabamba, Bolivia, a few decades ago, was looking for some serious R&R, a minimum of driving and not too much stress on his trick knee. His idea of exertion seemed to be staying in a two-story hotel with no elevator.
But his wife, Cindy, and her daughter, Mia, who are both distance runners, wanted a lot of hiking, a lot of nature and a lot of beaches. So we agreed that not everyone had to do the same things.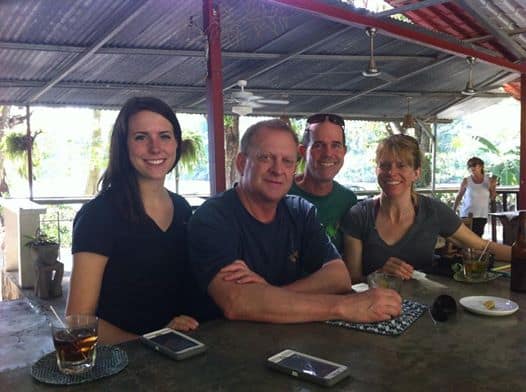 They arrived on a Friday, rented a car and spent the night at Villa San Ignacio near Alajuela (which they really liked). I joined them Saturday morning, we had a happy reunion, and we caravanned to Dominical (with the obligatory stop at the Tárcoles River bridge to see the crocodiles).
In Dominical we checked into the Río Lindo Resort, went to the beach, had fish tacos at Tortilla Flats and later sampled the Río Lindo's savory pizza. Murphy was hoping to clean up at the pool table but was swiftly humbled when his opponent sank the 8-ball on the break, winning the game.
The next day we drove to Puerto Jiménez, where my brother Paul lives in a three-story house called the Fishack — which has air-conditioning that could induce hypothermia, a widescreen TV with hundreds of channels and a swimming pool on the roof.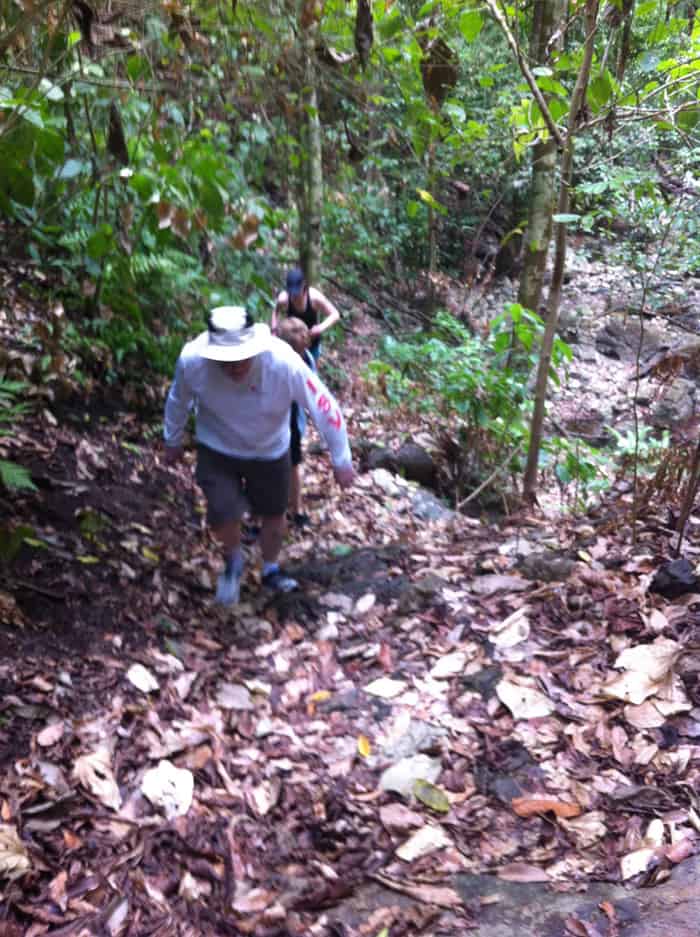 Paul had hatched an ambitious plan to entertain our guests: Drive to Dos Brazos del Río Tigre, take a horseback ride to the Piedras Blancas Creek and then hike to an overnight at La Leona Lodge in Carate — traversing the entire Osa Peninsula, just outside Corcovado National Park.
I loved this plan, as did Cindy and Mia, but to Murphy it sounded like as much fun as being probed by aliens during a root canal. So he decided that while we did that he would hold down the fort at the Fishack, maybe treating himself to a leisurely drive to Playa Preciosa.
This left us with a day to kill, Tuesday, before the epic trek on Wednesday. The ladies wanted to hike, and Murphy didn't want to be too much of a slug, but we needed a hike that was neither too hard nor too easy. We needed a Goldilocks hike, one that was just right.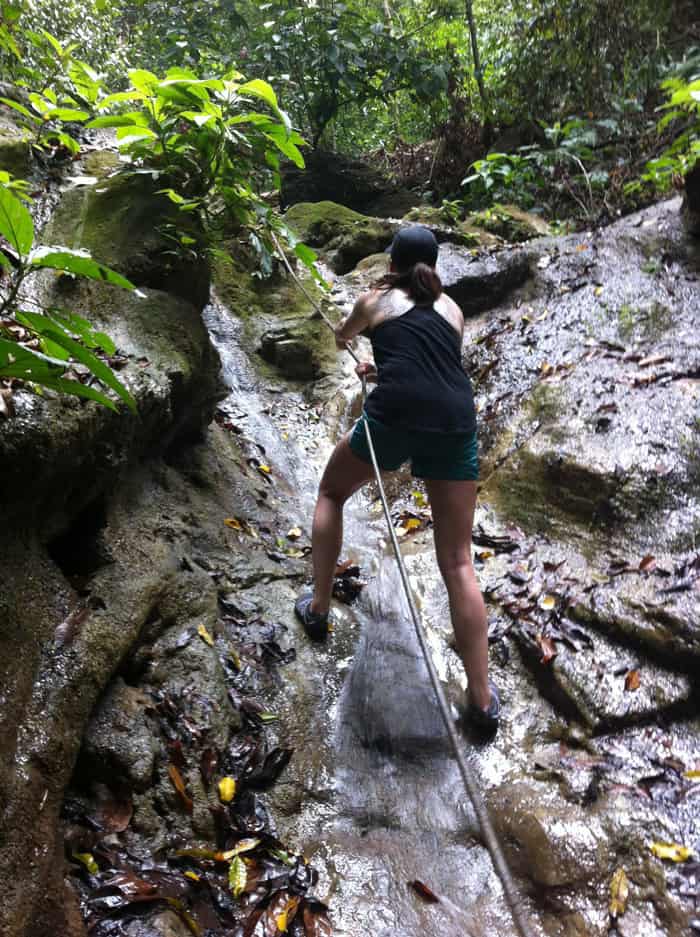 Paul had the perfect suggestion: Drive down to Matapalo and hike to the waterfall known as King Louie, then spend some time on the beach. So we did.
I actually knew where we were going, as I had done this hike twice with a guide from Everyday Adventures, once to climb a giant matapalo tree and once to go waterfall rappelling.
The trail is at the very end of the Matapalo road, the nature is spectacular and the beaches are breathtaking. Scarlet macaws are everywhere, and you can almost always see monkeys here. We spotted a green and black poison dart frog on the trail.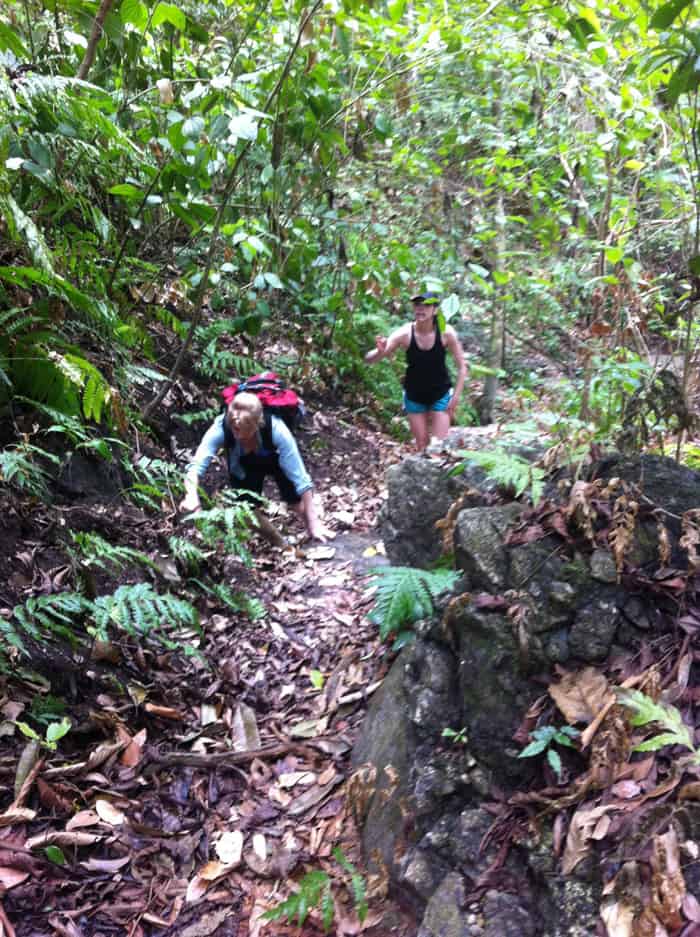 The best part of the hike is when you follow a riverbed, including one spot with a rope to help you walk up a waterfall like Batman. At the end is King Louie, where the waterfall rappelling is offered. Unfortunately, this being April, there was no water.
Murphy called it "the waterfall hike with no waterfall."
We climbed the cliff to the left of the waterfall, which is steep but has good footholds, and ventured all the way to the upper fall, which was tough going. Murphy spotted a white-faced monkey, and I said it was probably wondering if he was the same species.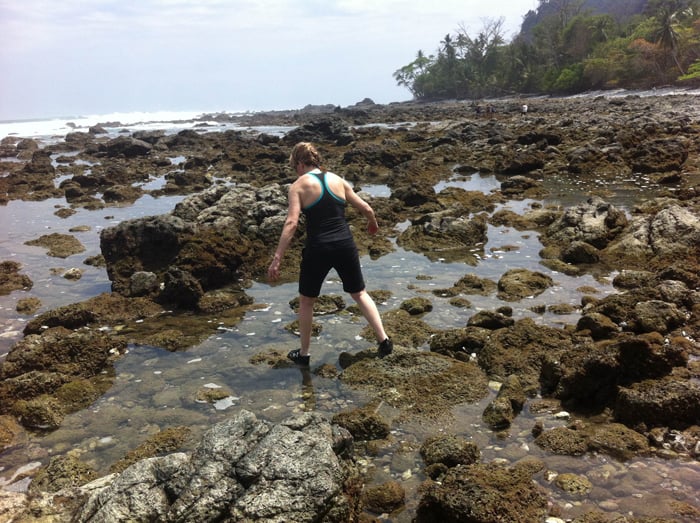 We took some beach time to explore tide pools, and watched the macaws having a raucous convention in a tree. On the way home we stopped for lunch and beers at Martina's, the only restaurant in town that isn't connected to an ecolodge.
And we made one final pit stop at the supermarket to stock up on water and snacks for what promised to be an epic adventure the following day.
If you're ever in the Osa, I'd strongly recommend a visit to Matapalo, whether it's for an overnight at an ecolodge, a surfing lesson with Pollo's Surf School, some rappelling or tree climbing, or just a waterfall hike.
Even if there's no waterfall.
(To be continued)
IF YOU GO
Getting there: Drive south out of Puerto Jiménez about 40 minutes, watching for Martina's on your left. Shortly after that, keep an eye out for a little bench on the left that serves as a bus stop, and turn left down the steep little road. Four-wheel drive is strongly recommended if not essential beyond this point. Turn right between the two pillars just below, and follow this road until it ends at the beach, where you can park. Follow the trail that continues from there until it branches right toward the creek, and head upstream.