In downtown San José, a man in rubber boots is carefully measuring grains to be transformed into his award-winning beer. In Cartago, another man is glued to his cell phone, trying to persuade investors to give him the money he needs to expand his brewery.
Near Escazú, a third is sitting in front of a computer, daydreaming about how to turn his beer-making passion into a full-time job.
And that's just in the Central Valley.
The craft beer revolution is in full swing in Costa Rica. The number of small breweries here has grown tenfold in just the past four years — to around 40 today.
We at The Tico Times want to be part of this revolution, and we want you to be part of it, too. So on May 14, we're hosting a community event "News and Brews: A conversation about Costa Rica craft beer."
It'll start with a roundtable discussion with some of the instigators and difference makers in the local craft beer movement, followed by Q&A from the audience.
Then participants can sample beer from our eight invited brewers and breweries — Costa Rica's Craft Brewing Co., Cervecería Primate, Treintaycinco Fábrica de Cervezas, La Micro Brewing Co., Hoppy Ideas Craft Brewing Co., Costa Rica Meadery, La Cofradía Brewing Co. and TicoBirra — and chat with them about their craft. Heck, we might even drink beer during the panel discussion.
This is the first of what we hope will be periodic events for English-speaking Ticos and foreigners with a curious mind and a desire to connect with and learn from their community.
Tickets are available through our online store or at The Tico Times offices in Barrio Amón, San José. Space is limited and you must purchase your ticket in advance.
Also, keep a lookout for our reporting on Costa Rica's beer industry in the coming weeks.
Full details for the event are below. We hope to see you there!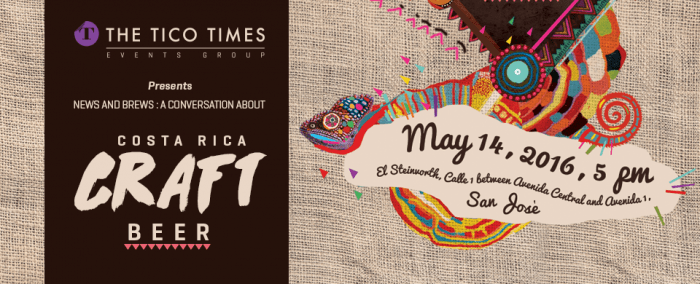 "News and Brews: A conversation about Costa Rica craft beer"
What: A panel discussion with key players in the local craft beer industry moderated by a Tico Times reporter. Beer and mingling to follow.
Price: ₡10,000 ($19), includes a Tico Times commemorative tasting glass and three vouchers for 5 oz. samples. Additional vouchers will cost ₡500. Tickets can be purchased through our online store or in person at our offices in Barrio Amón.
Place: Steinvorth, Calle 1 entre Avenida Central y Avenida 1, San José
Date/Time: Saturday, May 14, doors open at 5:00 p.m., panel discussion starts at 5:30 p.m.