As I dig my fork into the warm omelet con hongos, I get the distinct feeling I am not alone.
Ever since waking to gray morning light peeping through the opaque orange curtains in my room at Río Celeste Hideaway Hotel, I've heard the sounds of the jungle – leaves rustling, birds calling, water rushing.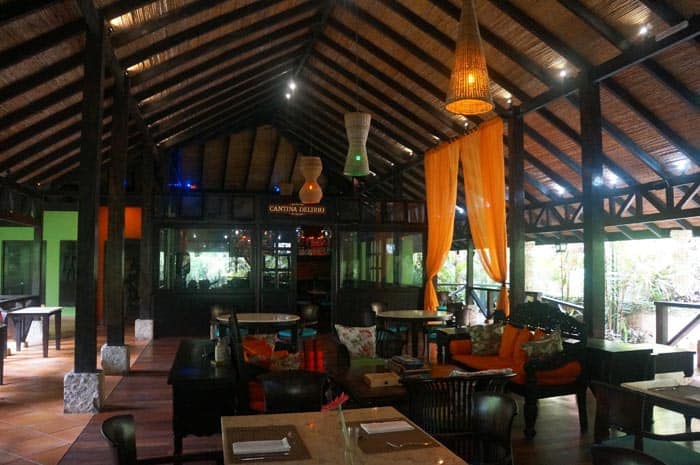 In the open-air dining room of the hotel's restaurant, Kantala, the feeling of being enveloped by the jungle grows in intensity. I look up from the pineapple and watermelon on my plate and realize that indeed, I am not alone.
Enticed by the aroma of my breakfast, a curious coati has emerged from the foliage to peek at me from the wooden railing near my table. I've never been so close to this adorable, raccoon-like animal, and I quickly snap some pictures, keeping a respectful distance yet making sure it doesn't steal my breakfast.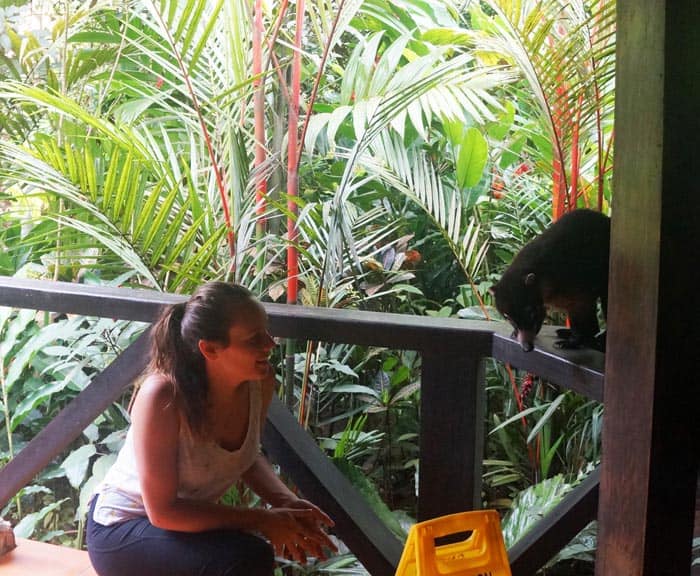 Located less than two kilometers from the entrance to Tenorio Volcano National Park, Río Celeste Hideaway Hotel is aptly named, with 26 secluded cabinas and private jungle paths that provide luxury and comfort in the midst of a lively section of the rain forest.
Built in 2010, the hotel reflects a fusion of designs from all over the world. There's wooden furniture from India and Indonesia in the restaurant, a traditional Moroccan tea table in the bar, and chairs from an island in the South Pacific at reception. Rooms are spacious and elegantly appointed — mine has a four-poster king-size bed, a private deck and an outdoor shower surrounded by rock walls.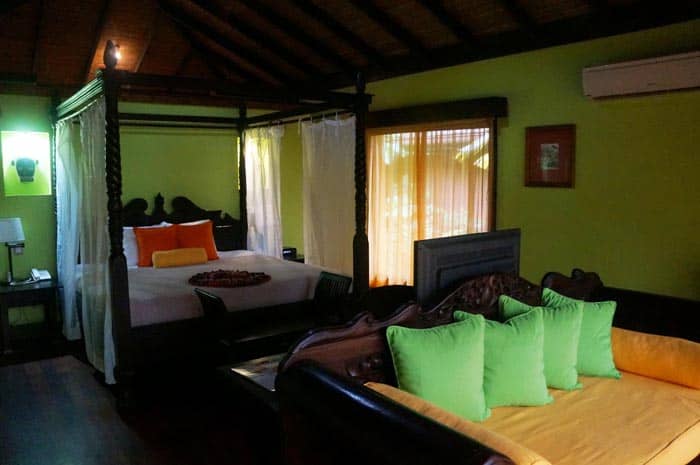 Fueled for the day, I leave my new forest friend behind and hike down the hotel's private trail to see the Río Celeste. Alone at the water's edge, the brilliant blue is a feast for my eyes. The colors are even richer in person than they are in photographs.
Río Celeste's jewel-toned hues occur when two rivers – the Quebrada Agria (Sour Creek) and Río Buena Vista (Good View River) – converge at a point called Teñidores, where the water turns bright blue because of alumino-silicate particles suspended in it. From here, 14km of sky-blue waters flow downstream.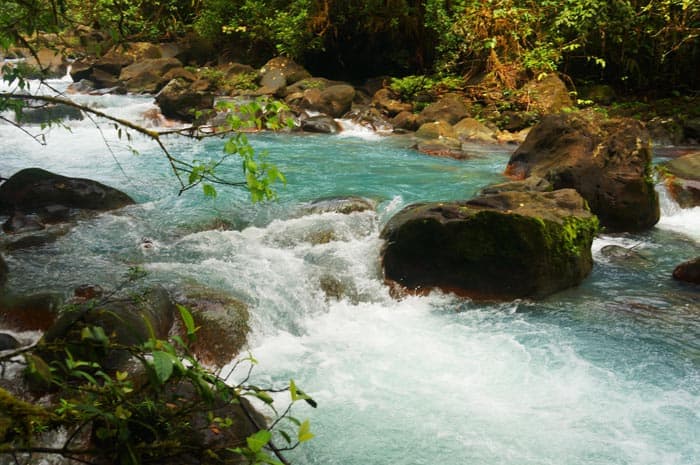 Knowing the serenity and peace of this private spot will be hard to top, I have to peel myself away. I couldn't come all this distance and not hike through Tenorio Volcano National Park, so I walk back to the lobby to drive the short distance to the park's entrance.
Just as anticipated, the ranger station is brimming with other tourists and my solitude is gone. I follow the trail and pass the turnoff for Río Celeste Waterfall, continuing on toward the spot on my map marked "mirador." My breakfast server recommended saving this gem for the end, as a final reward after a grueling hike.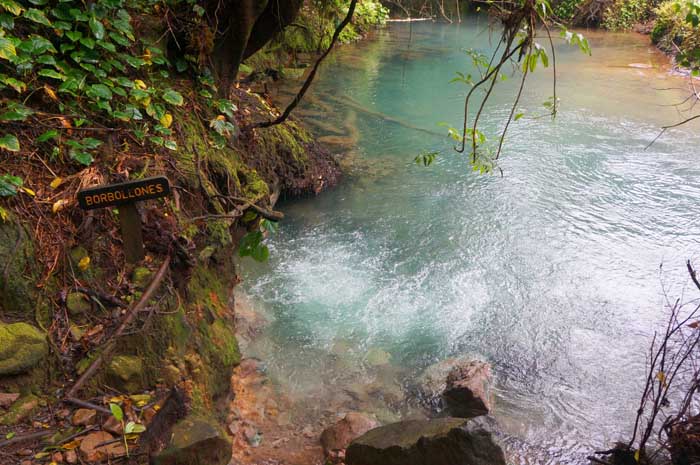 The trail narrows and thickens with mud, and as I trek through deep trenches I look down to find my boots, legs, clothes and arms speckled with mud. Already I am looking forward to rinsing off in my room's private outdoor shower to avoid trekking all that dirt and grime into the bedroom.
I slog to the mirador, which doesn't actually offer a view of the river as I expected, but instead showcases an unremarkable panorama of trees. As I descend the path and cross rickety wooden bridges, the views of Laguna Azul, the bubbling Borbollones and Teñidores exceed my expectations, filling me with a sense of wonder at the magic of nature.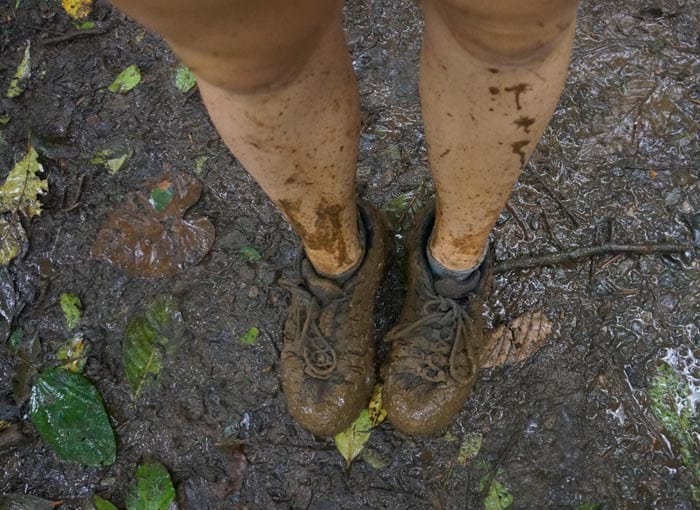 I complete my hike with a descent of 250 steps to a vista of Río Celeste Waterfall, and the palette of colors – white water cascading into a deep turquoise pool, surrounded by orange rocks and green leaves – is a treat for not just my senses but my soul.
Back at Río Celeste Hideaway Hotel, I unwind in a pool with a swim-up bar and three hot tubs. From my soothing spot in the hot tub, surrounded by lush rain forest, I feel as if I am not just an observer, but that I actually belong.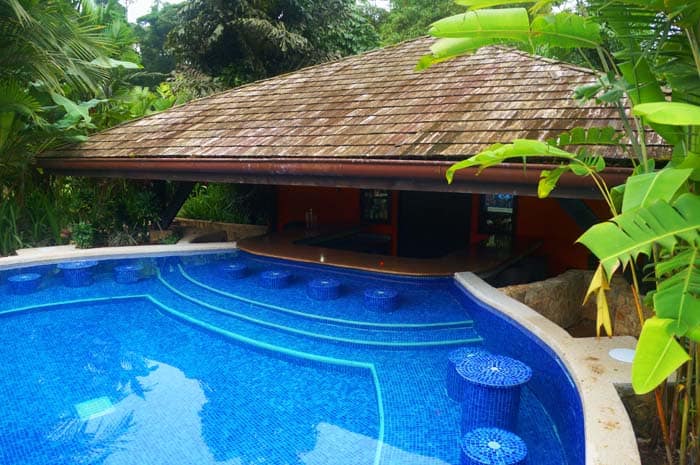 Rare and beautiful moments to forge a personal connection with nature, like this one and my coati encounter, are what make Costa Rica such a special place to call my adopted home.
IF YOU GO
Getting there: Take the Inter-American Highway north from San José or south from Liberia, and watch for the sign pointing to Tenorio National Park just north of Cañas. Go north on Highway 6 to Bijagua, 35 km away, and watch for the sign in town pointing east toward Tenorio. Buses also run to Cañas from San José and Liberia, and a bus from Cañas to Upala stops at Bijagua.
Rates: $199-299 standard room with garden view, $249-349 suite with forest view, including breakfast. 13% tax not included.
What to bring: Rain gear and hiking shoes or boots to tromp through mud.
For more info: http://www.riocelestehideaway.com
Contact Lauren Salisbury at lsalisbury24@yahoo.com.